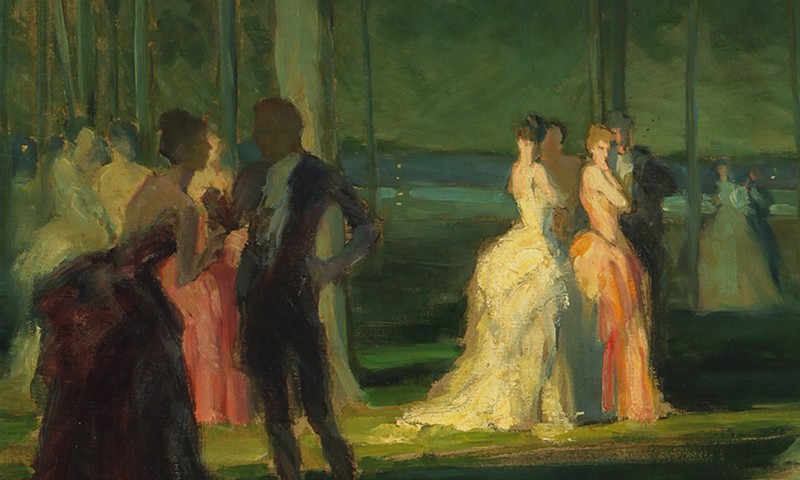 Detail of Summer Night, c. 1925
Aloys Bohnen (American, 1889-1967)
Oil on canvas; 34 x 27 in.
31163
Gift of the James Earl Fraser Estate
Into the Grove
During the day Californian summers can become oppressively hot—to the point of us wondering if the day's warmest hours wouldn't be better passed in siesta. The few respites from this heat can be found inside cool, climate-controlled places like the Bowers Museum, but both historically and today unless one is within crawling distance of an ocean or pool it is not until nighttime that it makes sense to be outdoors. Among the most beloved paintings in the Bowers Museum's California Bounty: Image and Identity, 1850-1930 is a scene of a nighttime summer gathering painted by the talented, but little-remembered Aloys Ludwig Bohnen. Here we discuss the artist's life, works, and legacy.
Composite Aloys
Bohnen was born in Minnesota in 1889 to Dutch immigrants. Much of his youth is shrouded by the pall of anonymity, so his first reappearance is not until 1922 when he makes the journey westward from New York to San Diego. From then on California was his home. He took any odd job he could find which gave him the excuse to wield a brush or pencil. His skill, particularly in pencil portraiture, made him a feature of several Southern Californian social circles—something he earned by sketching portraits of well-known personalities. Once he became more established, he divided his time between a studio in Point Loma, San Diego, and work in a burgeoning Hollywood. He principally worked as a muralist, decorating well-known buildings such as the Santa Fe train depot in San Diego, the Catalina Casino and was purportedly one of the hands in decorating Grauman's Chinese Theatre. But no one could escape the pull of the silver screen. Bohnen received credits for art department work on films such as The Last Days of Pompeii (1935). Later in his life he began teaching out of a studio in Balboa Park, and later still in 1952, he became an instructor at the Coronado School of Fine Arts.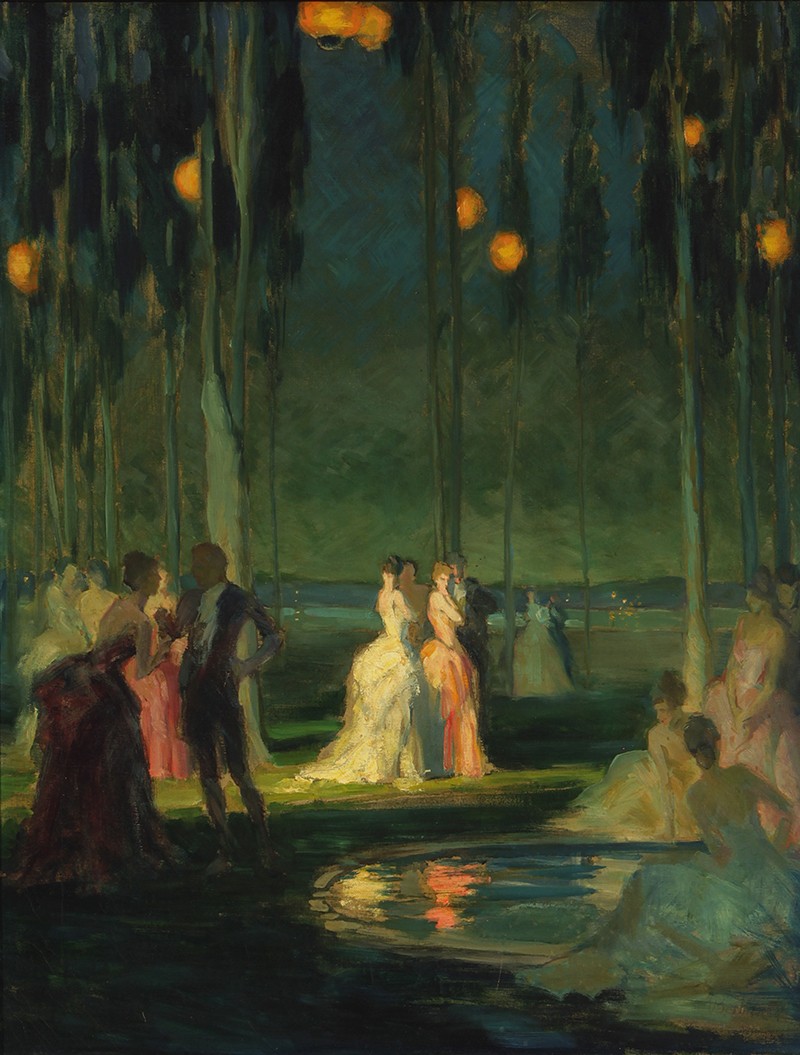 31163
Gift of the James Earl Fraser Estate
Scene and Scandal
The paintings in the Bowers' collections speak little to Bohnen's assorted artistic jobs and are instead good representations of his personal projects. The largest Bohnen holdings at our museum are seascapes, making Summer Night's dreamlike soirée an outlier to the outlier. Among tidepools formed in a eucalyptus grove, women in ballgowns and men wearing cravats stroll and gossip. An elegant, bashful lady in center frame angles her head ever so slightly, covers her mouth, and stares right at the viewer as if she has a message to convey. Above, paper lanterns hang like orange stars in the night's otherwise lightness sky. The scene is one of quiet sophistication.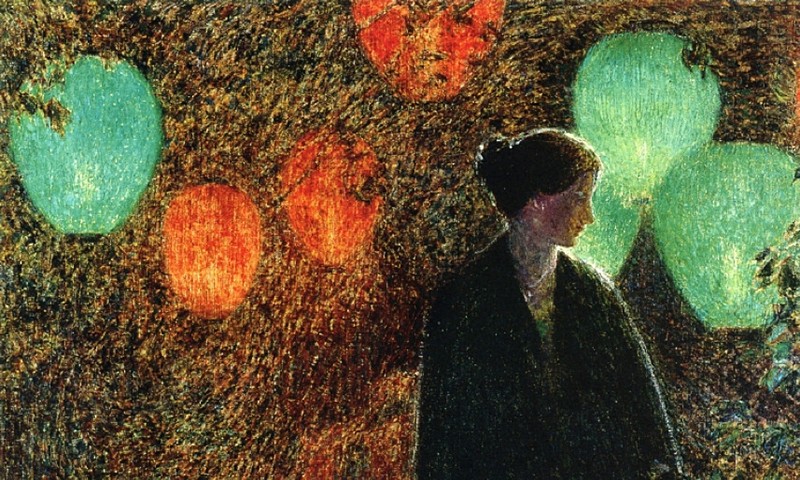 Detail of July Night, 1898
Childe Hassam (American, 1859-1935)
A Note on Style
The impetus behind this scene is likely just as sophisticated. Like so many of California's other painters in the early 20th Century, Bohnen was drawn to plein air impressionism. The first artist colonies in Laguna Beach were producing such works while Aloys was being reared in Minnesota, and their influence is very evident in his work. For example, the incorporation of paper lanterns in the scene was a choice made by many impressionists as the light they threw gave scenes a pictorial effect. Similar works by Childe Hassam show just how vibrant this could make a scene. Other elements feel less intentional. Considering Bohnen's capacity to paint in near-photorealism, a talent we see in the one portrait still in the Bowers' collections, it is odd that a close examination of the background reveals a cross hatch layer was added after the eucalyptus trees had already been painted. This peculiar brushstroke was not used by many painters, and the effect is to almost bring the night's empty sky into the foreground.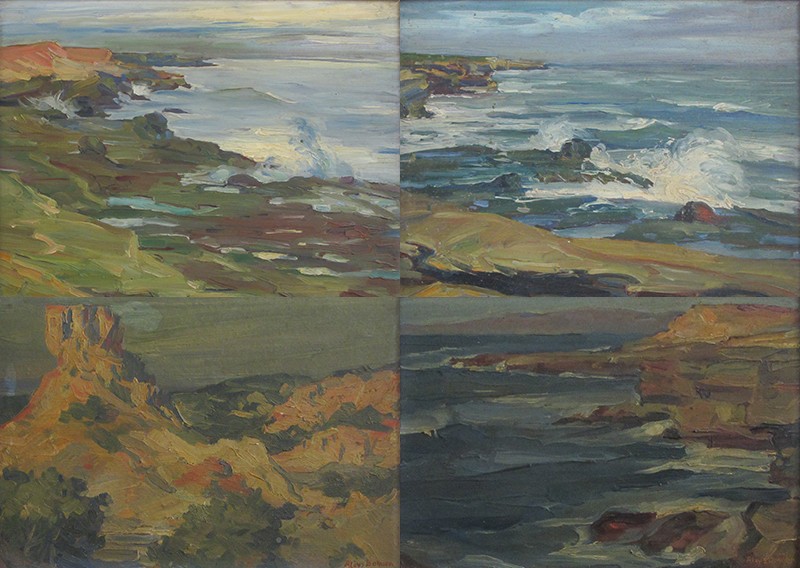 Four other paintings by Aloys Bohnen at the Bowers Museum
31169-31172 (left to right, top to bottom)
Gift of the James Earl Fraser Estate
Summer Twilight
Bohnen's legacy has sadly been diminished by time. The lack of any heirs to defend the works he painted in public spaces has meant that many of them were destroyed when the buildings underwent renovations in latter half of the 20th Century. In other cases, credit for the murals his family believes he painted has been taken by disreputable artists. The paintings which do remain appear to have been clouded by time itself, though this yellowing may have been the result of either Bohnen's or the donor's smoking habit. California Bounty is the perfect home for a painting by this otherwise receding Sothern Californian artist. Hanging on the walls of the Bowers Museum it suggests a cool summer night on an otherwise sweltering summer day.
Text and images may be under copyright. Please contact Collection Department for permission to use. References are available on request. Information subject to change upon further research.