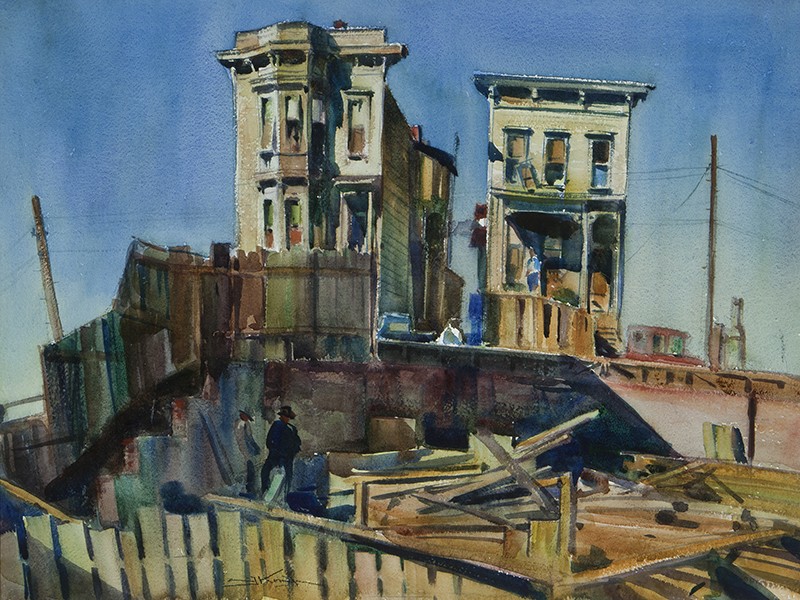 Bunker Hill, mid 20th Century
Emil Kosa Jr. (French-born American, 1903-1968); Los Angeles, California
Watercolor on paper; 22 x 28 in.
2018.6.17
Gift of Ann Cullen
First Kosa's First
Full… absolutely full to the brim with life and a love for painting. Is there any other way to describe Emil Kosa Jr.? In the second post of this series on the Ann Cullen Collection, we take a close look at another of the four elite painters of the mid 20th Century's California Scene Painting. Like the other painters of the time, Kosa Jr. was smitten by the untouched landscapes of Southern California. His interest in the region did not end there, however. The movement rose to prevalence during the Great Depression. The old romantic notions had already disappeared, exchanged for men passing weekdays drinking in parks, oil derricks and refineries looming over neighborhoods, and Victorian homes being demolished to make way for skyscrapers. In the Kosa Jr. paintings in the Ann Cullen collection we see that these scenes of change are uncondemned by the artist. Indeed, they are as lovingly painted as his idyllic landscapes.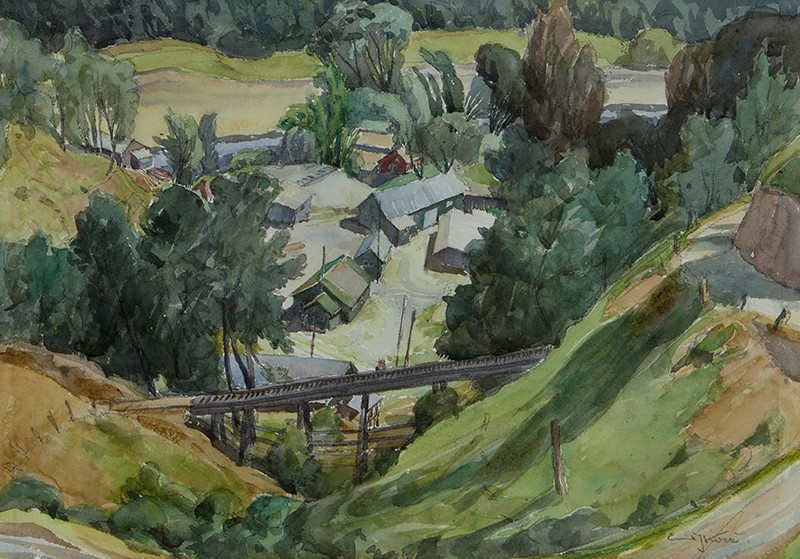 Ravine with Bridge, mid 20th Century
Emil Kosa Jr. (French-born American, 1903-1968); California
Watercolor on paper; 15 x 20 in.
2018.6.18
Gift of Ann Cullen
And Here's a Second Kosa
Emil Kosa Jr. was born in Paris in 1903 to a Czechoslovakian father and French mother. From an early age, he was taken by the arts and developed an early interest in both painting and music. Ultimately, he decided to go into the former. The decision was a weighty one, and came a great deal of resolve. Kosa Jr. believed to his dying breath that art was a thing which took incredible patience, persistence, and practice. When his family moved to the United States following the Great War, Kosa Jr. followed them shortly thereafter, arriving in California in 1921. He traveled on and off throughout his life, but Los Angeles was his base of operations from then on. Continuing in his father's footsteps, he earned his living painting backdrops for Hollywood. His well-earned reward for a lifetime in the film business was a 1964 Oscar for Best Visual Effects in Cleopatra.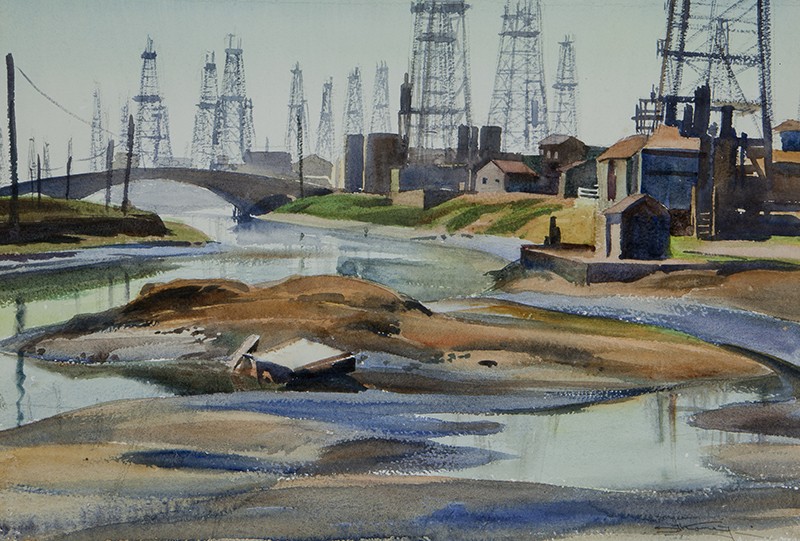 Near Playa Del Rey, mid 20th Century
Emil Kosa Jr. (French-born American, 1903-1968); Playa del Rey, California
Watercolor on paper; 15 x 22 in.
2018.6.14
Gift of Ann Cullen
Tragic Aside
Despite the love Kosa Jr. kept within himself, the '40s and '50s met him with the devastating loss of his daughter and wife to leukemia. The world he cherished so much had betrayed him, and he entered a long period of artistic despondency. Love defined Kosa Jr., though, it was a characteristic which made him indefatigable. Two years after his wife's death he met Elizabeth Twaddel on a trip to France and the pair married.

Detail of The Plaza, Los Angeles, c. 1930, Collection of the Los Angeles Public Library;
and detail of Nothing to Do, c. 1932, Emil Kosa Jr. (French-born American, 1903-1968), 2018.6.15, Ann Cullen Collection.
Birds of a Brush…
As with Rex Brandt, Kosa Jr. was well invested in the California Scene Painting movement. First and foremost, this meant that he was a member—and for a brief period in 1945 the President—of the California Water Color Society. The roster from this club and the names of the artists in the Ann Cullen Collection bear a striking resemblance, and both are testimony to how well-acquainted these artists were. For example, at the onset of his career as a painter in 1930, it was the ever-charismatic Millard Sheets who dispelled his concerns about the representational aspects of his work differing from European trends saying, "You know how to paint. Go out and paint to suit yourself. Paris is all right, but we have a job to do here in America and California." Paintings like Nothing to Do were the product of day trips to Los Angeles' Plaza Park undertaken by Kosa Jr. and George Gibson, and many other works were the results of the various trips Kosa Jr. took all over the world with his talented contemporaries. To his final breath, Kosa Jr. returned the passion for painting others inspired in him. When Brandt visited Kosa Jr. on his death bed, Emil's last words were, "Paint Brandt, paint! Don't ever stop painting."
Purple Shadows, mid 20th Century
Emil Kosa Jr. (French-born American, 1903-1968); California
Oil on canvas; 27 x 35 ½ in.
2018.6.16
Gift of Ann Cullen
Paint for the Rush
Any landscape begins in the great outdoors. Before the advent of Plein Air, the trick most artists employed was to create a quick sketch in pencil and then complete their work in the privacy of their studio. The process could take weeks. Kosa Jr. preferred an abbreviated method performed entirely on location. He could complete a smaller work in situ in approximately two hours, but later in life he truly set himself apart by taking larger unstretched canvases—some over three feet in length—securing them with rocks, and painting nature on nature itself. Like so many artists, he focused, on many different subjects, painted in a variety of methods—he was every bit as talented with oils as he was with watercolors—and lived many different lives. The unifying theme was simple enough. Following Emil Kosa Jr.'s death a critic noted that appreciating his paintings required only to see them "as Emil did, with the eyes of love."
Text and images may be under copyright. Please contact Collection Department for permission to use. References are available on request. Information subject to change upon further research.