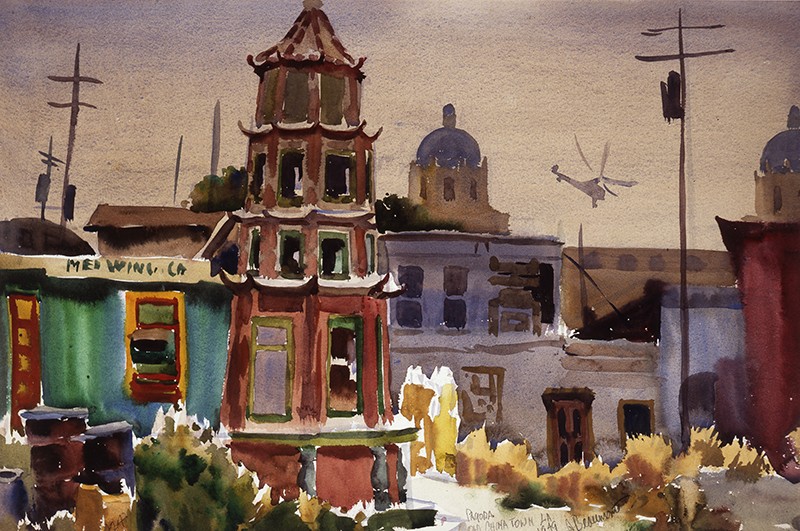 Pagoda, Old Chinatown, Los Angeles, 1949
Arthur Edwaine Beaumont (English-born American, 1890-1978); Los Angeles, California
Watercolor on paper; 14 x 21 x ½ in.
86.40.1
Gift of Mr. Paul J. Knaak
A Perfect Beau…
As one among many artists who painted the California Style watercolors that developed during the early and mid 20th Century, the English-born Edwaine Beaumont (1890-1978) adopted a method characterized by broad, sweeping brushstrokes, vibrant colors, and stylized forms—tools he used to portray scenes from all walks of life along the California coast. This new style was a departure from the Plein Air paintings of the half-Century before, distinguished by using watercolor instead of oil paints as a medium, and by mainly painting lively urban or genre scenes as opposed to landscapes. Pagoda, Old Chinatown, Los Angeles, epitomizes the subject matter of the California Style. In this post, we use its somewhat misleading title to explore the various Chinatowns of Los Angeles.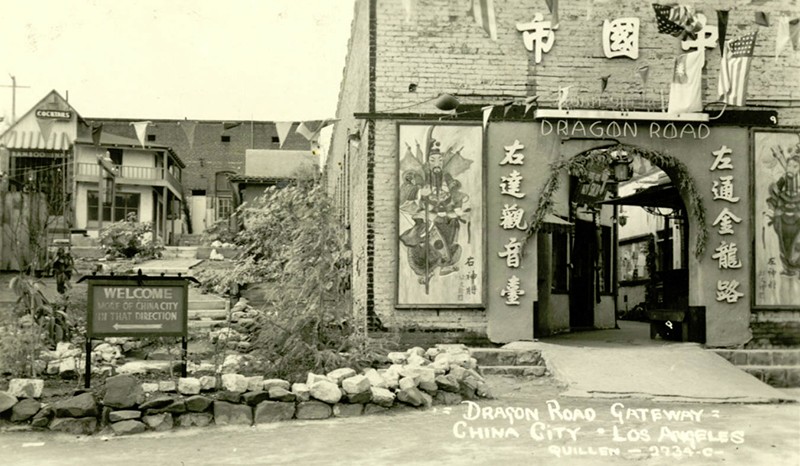 Dragon Road Gateway, China City, Los Angeles, c. 1945
Special Collections, William H. Hannon Library, Loyola Marymount University
Leads to a Perfect Union
In Beaumont's painting we see a vibrant, colorful Los Angeles scene with what is immediately recognizable as a Chinese pagoda in the foreground. Visible in the background are the two domed towers of the U.S. Postal Service building, a landmark which still stands next to Union Station. While many may relate the pagoda in this painting to the architecture in today's thriving LA Chinatown, it is actually the iconic structure in a short-lived tourism attraction intended to replace Los Angeles's original Chinatown: China City. While China City eventually gave way to the New Chinatown that exists along North Broadway Street today, both of these areas are vastly different from the community where Los Angeles' first Chinese inhabitants settled.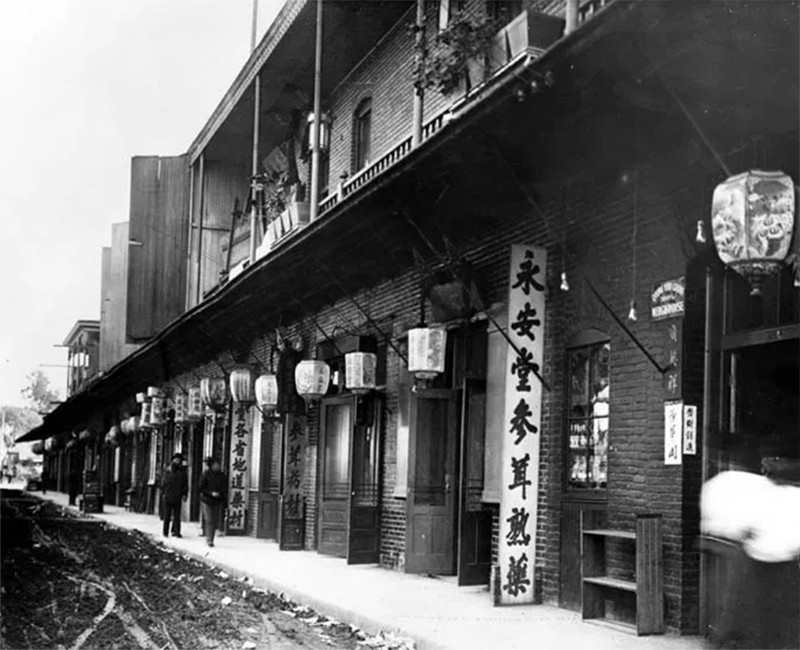 Marchessault Street, Old Chinatown, date unknown
Old Chinatown
The first Chinese immigrants to California came in the 1850s to take part in the Gold Rush. After the mines were exhausted, like countless other settlers, many traveled south. By the 1870s, a recognizable Chinese community existed in Los Angeles, consisting of a few simple wooden buildings inhabited by an almost exclusively male population no larger than 300. Despite its poor conditions and reputation for the vices of the time, Old Chinatown grew in size and distinction over the course of the late 19th and early 20th Centuries, and became a large, fully functional community boasting a population of over 3,000 at its height. However, due to the ongoing development of Downtown Los Angeles and a significant amount of racial discrimination against the Chinese population, Old Chinatown was slowly taken over and its population pushed out until the area was finally razed to make way for Union Station in 1931.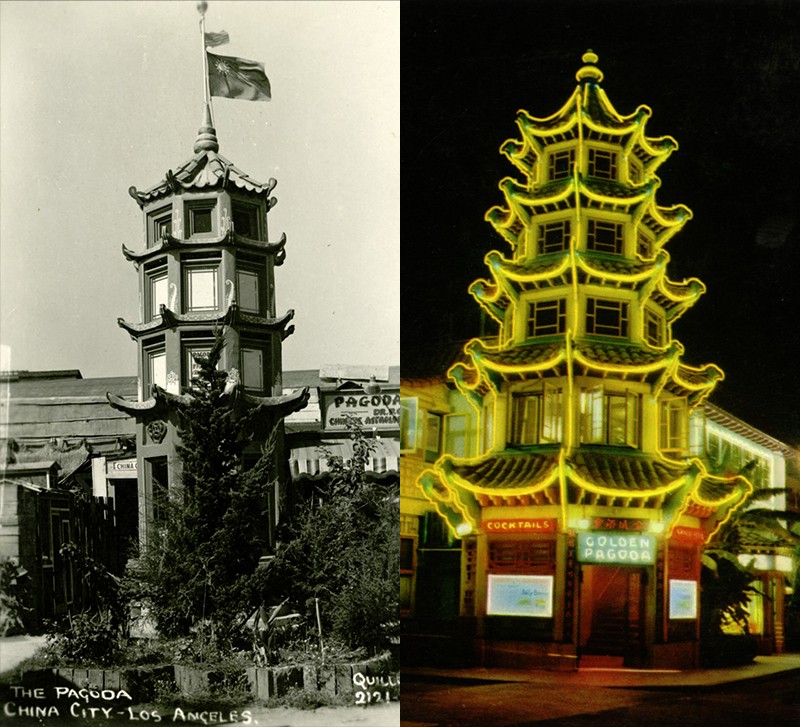 The Pagoda at China City, c.1945 and the Golden Pagoda in New Chinatown, c. 1960
Special Collections, William H. Hannon Library, Loyola Marymount University
China City
At this point, community developers devised two separate plans for the relocation of the displaced Chinese community. The first opened in 1938 and is the very same depicted by Beaumont in 1949. Called China City, it was developed by Christine Sterling, a prominent socialite and civic leader—and the same woman who designed the now-famous Olvera Street Market. China City was a relatively small community located near the site of Old Chinatown. Based almost exclusively on tourism interests, it consisted of several buildings made in Chinese architectural style and surrounded by a model of the Great Wall of China. Visitors could ride a rickshaw; pose with scenery from the Hollywood film The Good Earth; or enjoy a "China Burger," a hamburger topped with bean sprouts. The development was ultimately flawed, however. It did not provide enough space or economic support to become a permanent location for Los Angeles's rapidly growing Chinese population, and the public even outside of the Chinese community began to realize just how offensive the site was. After suffering from a fire in 1939 and arson in 1949, China City closed its doors forever shortly after Beaumont painted it.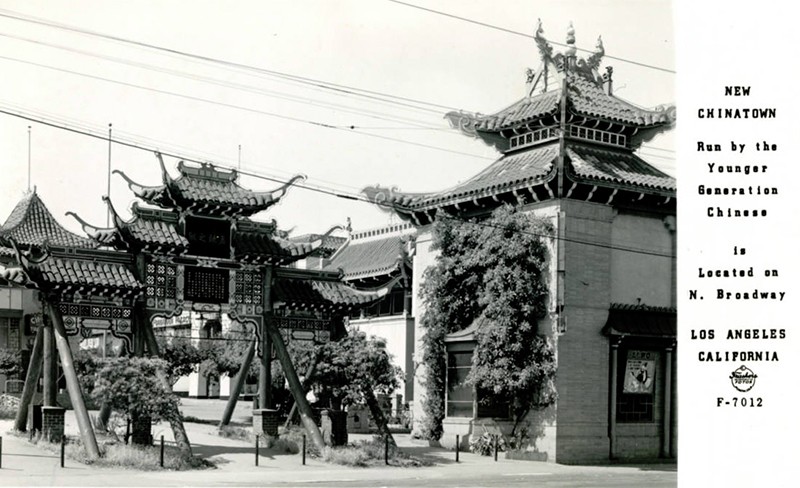 New Chinatown, Los Angeles, California, 1945-1950
Special Collections, William H. Hannon Library, Loyola Marymount University
New Chinatown
The second community relocation plan, originally called New Chinatown, opened shortly after China City and was planned and owned by the Chinese community. Of the three Chinatowns discussed in this post, it is the only complex that still exists today. New Chinatown's architecture shares some similarities to that of China City with its towering pagodas and grand dragon gateway, but both its location and the design have allowed it to grow into the thriving commercial and residential community that it is today.
Post originally authored by Katy Hess, Collections Department Registrar, in 2012.; expanded edition release in 2018. Text and images may be under copyright. Please contact Collection Department for permission to use. References are available on request. Information subject to change upon further research.