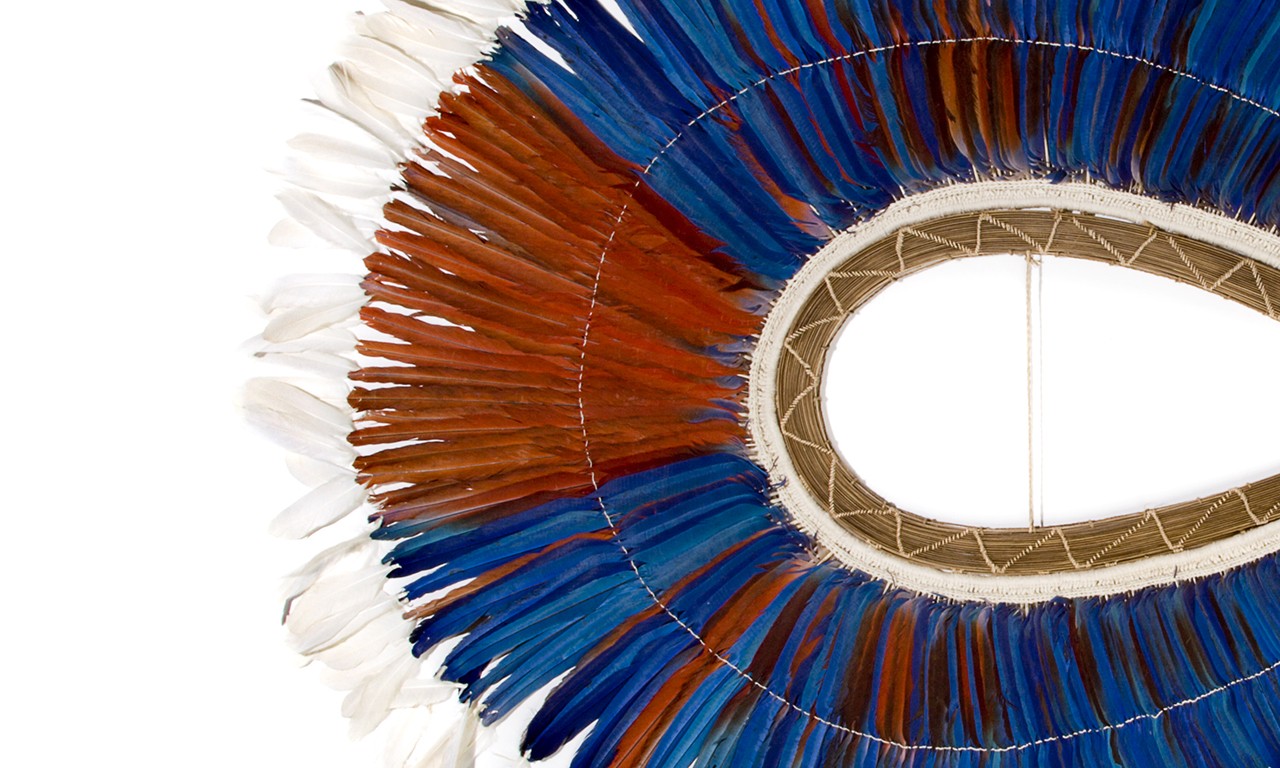 Detail of Feathered Headdress, 20th Century
Kayapo Mebêngôkre culture; Xingu River area, Para, Brazil
Macaw and waterfowl feather, string and cotton; 68 x 57 in.
91.34.1.1-.2
Bowers Museum Acquisitions Fund Purchase
As the Crow Flies, Not So Far
Bird feathers are surprisingly intricate structures: leaflike in nature with a rigid or semi-rigid midrib called the rachis from which smaller barbs extend, feathers are composed from keratin, the same protein that fingernails are made from. Almost every place inhabited by man has at least a few vibrantly-colored species of birds that shimmer like stained glass when danced or worn in the light of the sun, and though their science is fascinating, it is their beauty that led cultures all around the world to use them in their adornment. This post looks at four feathered headdresses from the Bowers Museum's collections, looking at the birds they came from, how they were used and what their design can tell us.
Wings of Red, White and Blue
The Amazon rainforest is home to many tropical birds, not the least of which are 17 or more species of macaw. Practically the whole range of visible colors can be found in the feathers of these birds, and many of the rainforest's indigenous groups rely on this cornucopia of color to create brilliant headdresses. This red, white and blue example was created by the Kayapo Mebêngôkre living in the north central area of Brazil. These headdresses are often woven so that the largest feathers would sit atop the wearer's head, with either alternating colors or a single color used for the inner band of feathers. The radial distribution of feathers not only draws a visual parallel to the rays of the sun, but also serves as a symbolic representation of the same. The Mebêngôkre traditionally adorned their pubescent girls with these headdresses during times of solar and lunar eclipse and also during the important ceremony when children are named. These headdresses are now worn by both men and women as part of Kapayo ceremonial attire.

Feathered Headdress, c. 1920
Shasta culture; Northern California
Flickertail feathers and string; 4 x 49 1/2 in.
F85.16.5
Gift in name of Mrs. Hoiles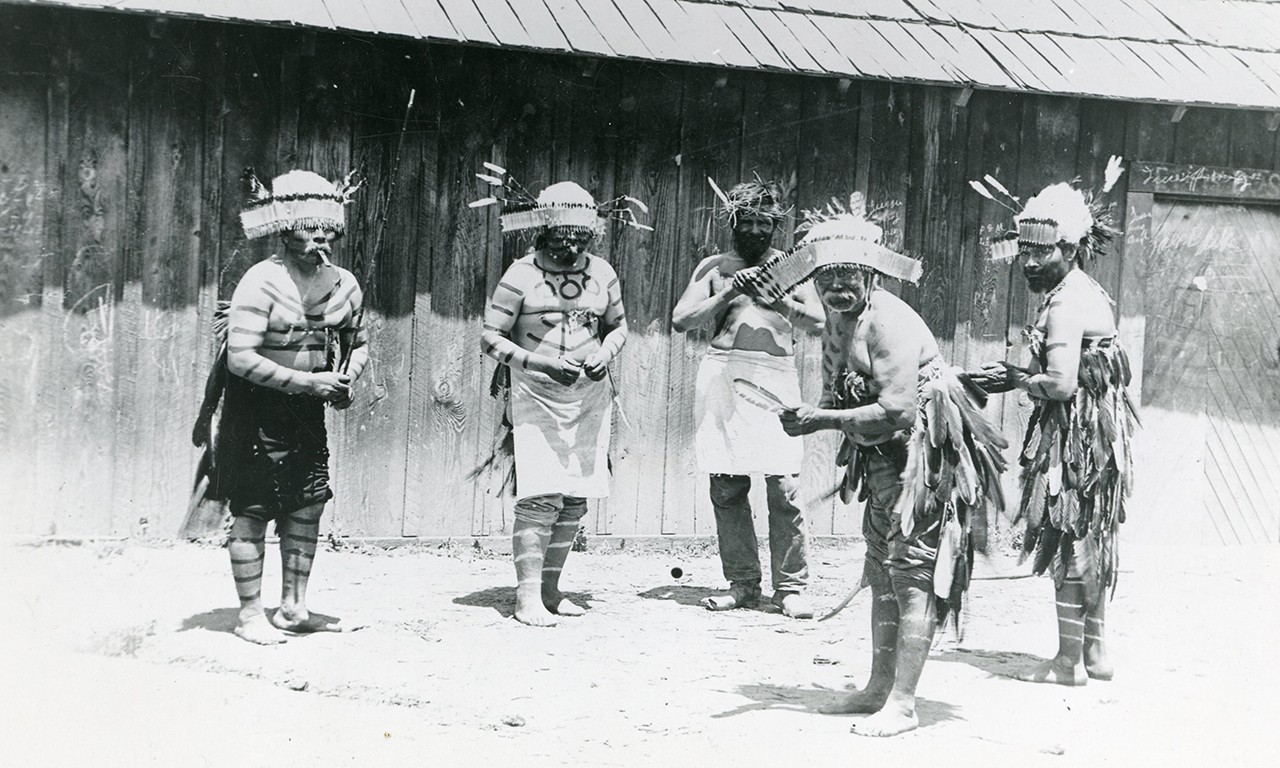 Shasta Men in Ceremonial Dress, 1914
Unknown Photographer; Lakeport, Lake Country, California
Photographic print; 6 x 8 in.
18426A
Gift of the Autry National Center
In the Band
Many feather headdresses are directly linked to ceremonies and dances as part of intricate costumes. This black and reddish headband was formed using the tail feathers of the Red-shafted Flicker, a member of the woodpecker family, and multiple pieces of thread. Rather than encircle the head, these bands were generally two dimensional with a cord passing behind the wearer's head and tied at the back. In this rare example, the headband splits in the middle so that it surrounds the wearer's head but still maintains the signature side flaps of the headband. The movement of these flaps when the headdress is danced mimics the free-spirited nature of Red-shafted Flicker. This headdress is only worn by men on ceremonial dances and other occasions. In 2014 these headbands were danced by members of the Winnemem band of the Wintu tribe in protest of dam construction that would submerge sacred sites.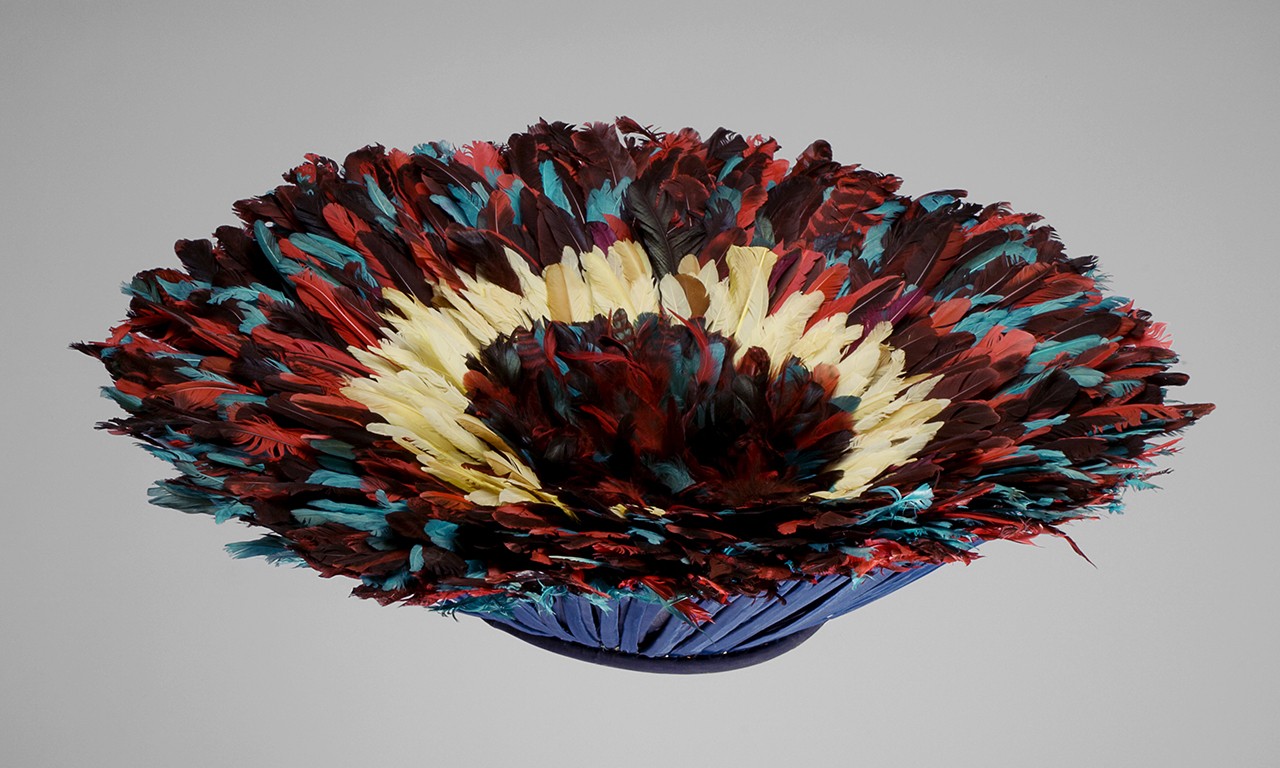 Feathered Headdress, 20th Century
Bamileke culture; Cameroon
African gray parrot feathers, wood, cloth and twine; 32 in.
2002.47.14
Gift of Anne and Long Shung Shih
On the Trunk
The incredibly vibrant headdresses made by the Bamileke culture of Northwestern Cameroon are woven together from the feathers of several birds, including the tail feathers of the African gray parrot. These headdresses were originally worn only by high-ranking members of the Kuosi society and the fon, or Bamileke king. These circular feathered headdresses accompanied long, beaded elephant masks which allowed wearers to assume some of the power of elephants. The historic significance of these headdresses is further reinforced by African gray parrot feathers almost exclusively worn by the king. The design of theses headdresses is also particularly unique as they can open or close to varying degrees but tend to have a roughly conical shape. Like some of the other objects in this post, within the past half century these headdresses have come to be used more widely for their aesthetic properties.
Feathered Headdress, mid to late 20th Century




Southern Highlands Province, Papua New Guinea, Melanesia




Cassowary feathers and fiber; 15 1/2 × 15 × 15 in.




2017.10.91




Anonymous Gift

Man in cassowary feather headdress at Sing-Sing, Mt. Hagen,




Southern Highlands Province, Papua New Guinea, 2008.




Photograph taken by Peter or Signe Keller.
A Hair Apparent, but Actually Feathers
Due to its unique geography, Papua New Guinea is fortunate to be populated by an incredible number of rare bird species not found anywhere else in the world. While colorful headdresses are made from the feathers of the many bird-of-paradise species, perhaps the most unique feather headdresses from the region are made from cassowary feathers. This object comes from any one of a number of cultures living in the Southern Highlands Province, who hunt cassowaries for use in headdresses. The design of Highlands headdresses tends to vary widely, but usually will include either feathers or hair. They are mostly worn by men on special occasions.
Text and images may be under copyright. Please contact Collection Department for permission to use. References are available on request. Information subject to change upon further research.