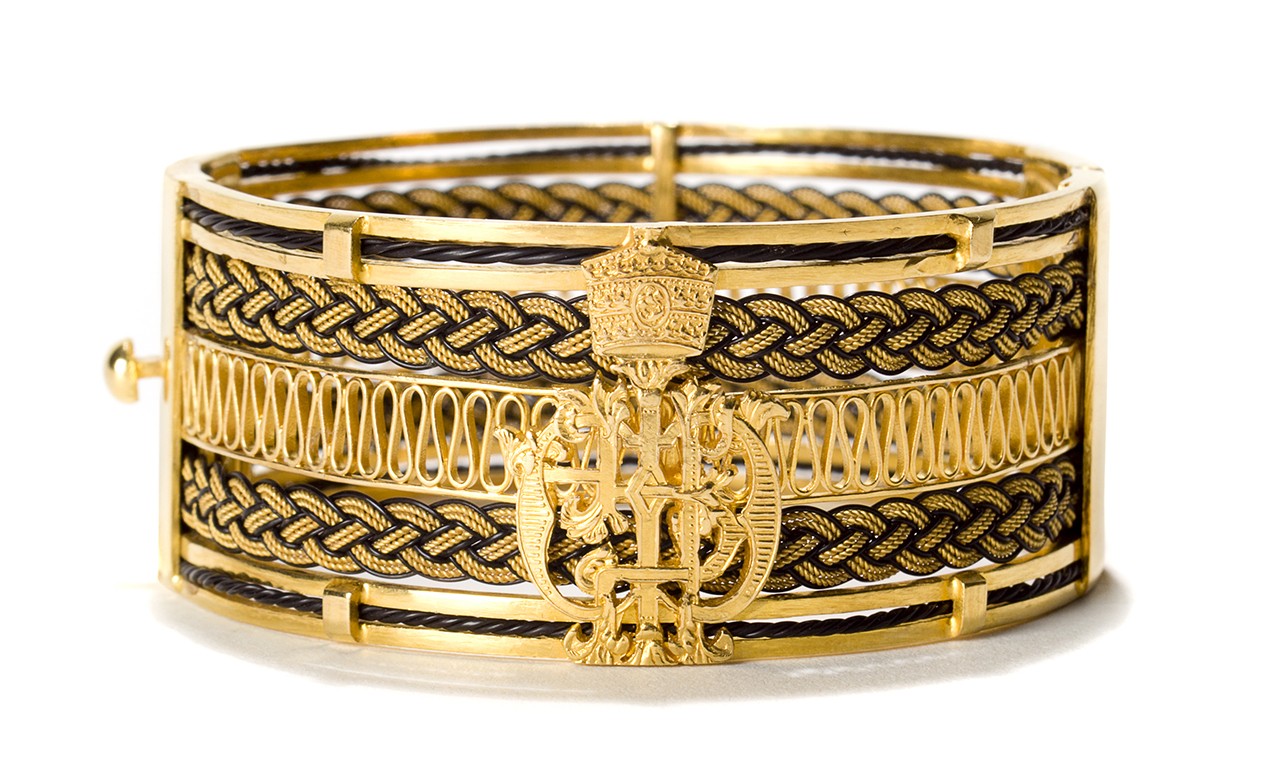 Gold Bracelet, c. 1970
Jordanian
Gold and elephant hair; 1 1/8 x 2 1/2 in.
77.4.8
Gift of United States Government
The Gift that Keeps on Taking
In the United States there is a price that can be put on changing someone's mind. It exists in the form of an upper limit for the value of gifts that can be accepted from foreign dignitaries and, given that it is readjusted every three years, in 2019 it comes in at $390.00. This ideology dates to just after the Revolutionary War when one appropriately stationed turncoat could still have toppled the US Government. At the same time though, gift giving is a fundamental part of diplomacy for the world entire, so United States foreign policy is to accept gifts of state and then relinquish them to the National Archives. This post features several objects from a collection of 24 gifts of state that the Bowers Museum acquired from the National Archives in 1977, discussing the objects as well as the men who received them.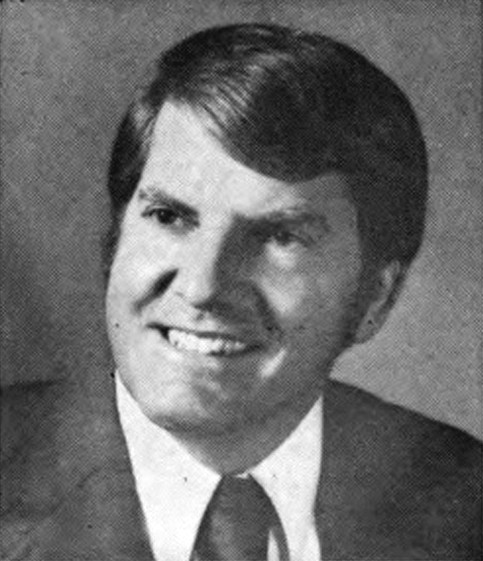 Jerry M. Patterson from the 1975 Pocket Congressional Directory
Mountain of Paperwork
Most of the modern regulations for the foreign gifts of state are governed by the Foreign Gifts and Decorations Act of 1966 with more specific amendments applied later. This act outlines that federal employees up to and including U.S. Presidents need to declare gifts of state that are valued above the minimum value and then transfer them to the National Archives. Certain exceptions do apply, and in some instances these objects can be purchased by the recipient following their time in office. As lamented by the original recipient of one of the objects in this donation, however, most are not claimed and end up languishing in anonymity in archives.
Better Recognize
In the 1970s the National Archives opened themselves up to allow institutions from around the United States to either borrow or permanently acquire surplus objects from the Archives. Congressman Jerry Patterson personally facilitated the transfer gifts given to members of the United States Department of State to the Bowers Museum. The gifts were originally presented to Henry A. Kissinger, Henry E. Catto, Jr., Major General H.A. Twitchell, William P. Rogers and Elliot L. Richardson. Other members of the Department of State who received gifts within the collection are Major General H.N. Maples, Paul F. Gradener, Arthur H. Hartman and General W.A. Temple. The beautiful items represent the finest work from several countries including Korea, Iran, Peru, Brazil, Bahrain, New Zealand, USSR, Japan, Saudi Arabia, Khmer Republic, Vietnam, Italy, Thailand and Portugal. Presidents, Kings, Queens, high-ranking military officials and other government leaders presented the gifts.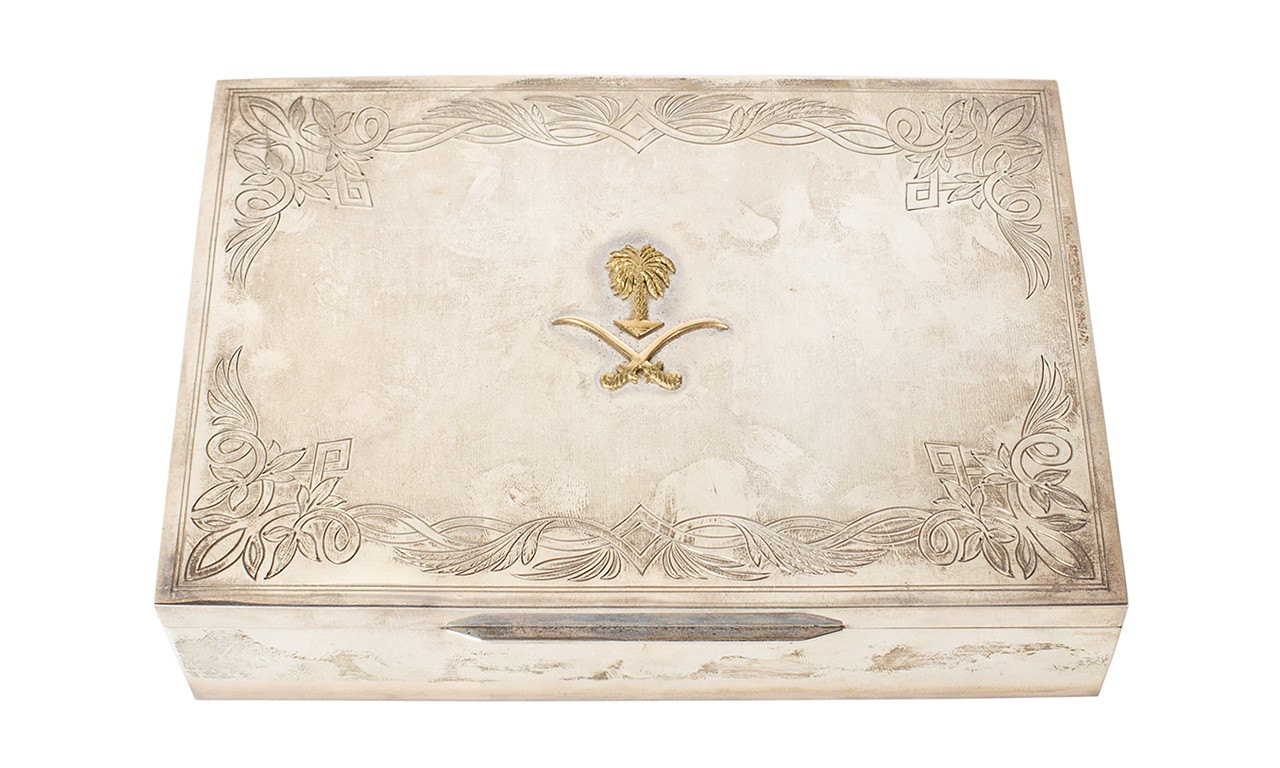 Cigarette Box, 1970-1974
Saudi Arabia
Gold and silver; 1 7/8 x 7 11/16 x 5 1/2 in.
77.4.20
Gift of United States Government
The Case for Kissinger
Henry A. Kissinger served as the Secretary of State for both Nixon and Ford and has come to be well-remembered for the turbulent time in which he was in office. This cigarette box was given to Kissinger shortly after becoming Secretary of State in 1973 by Faisal bin Abdulaziz Al Saud, the King of Saudi Arabia until he was assassinated in March of 1975. The silver box features the emblem of Saudi Arabia—a single, straight palm tree above two crossed scimitars—in gold. The top of the box is framed by swirling leaves and coiling geometric lines. The remainder of the box is entirely undecorated, with no markings around any of the sides or underside. The interior is equally plain with the bottom lined with wood paneling. A card and envelope contained within is addressed to "His Excellency Dr. Henry Kissinger."
Cigarette Box, c.1970
Portuguese
Gold; 1/2 x 2 11/16 x 4 7/8 in.
77.4.21
Gift of United States Government
Have a Hartman
Arthur Hartman is best-known for being the Ambassador for the Soviet Union just prior to its dissolution. In 1974 he was appointed as the Assistant Secretary of State of European Affairs and this was given to him by the Portuguese Minister of Labor in the same year. This exquisite gold filigree cigarette case is decorated on both sides with an airy, feather-like design that radiates from the hinged end and is suggestive of peacock plumes. Unlike the cigarette box from the king of Saudi Arabia, this design continues inside the case as well. Inside, two elastic bands secure cigarettes in place. The box opens lengthwise by a small hinge.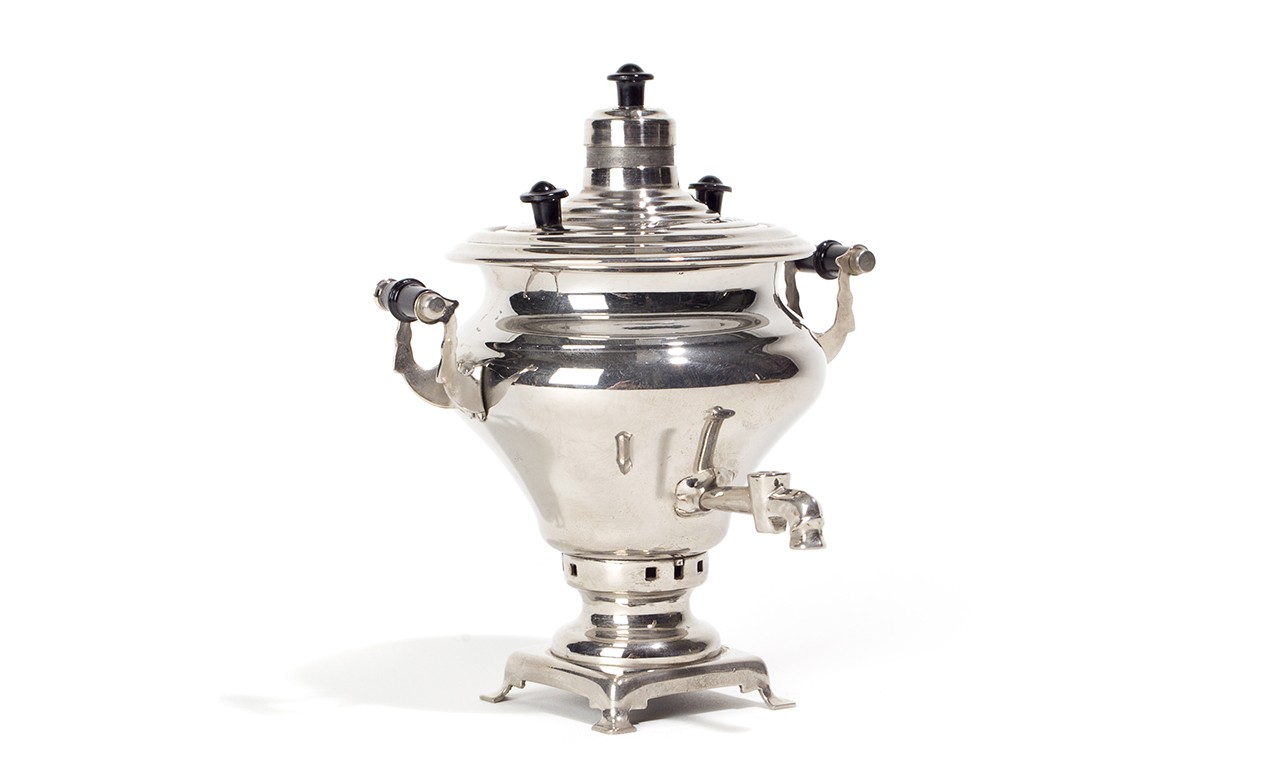 Miniature Samovar, c. 1970
Union of Soviet Socialist Republics
Silver; 5 1/2 x 4 7/8 x 4 in.
77.4.13
Gift of United States Government
Rogers in the Affirmative
Perhaps the most curious object in this collection is a miniature silver samovar that was made in the USSR as a souvenir from the Yasnaya Polyana, the writer's house museum for Leo Tolstoy, and given to the U.S. Secretary of State William P. Rogers between 1968 and 1972. The samovar's parts are all fully articulated and removable and the object is wholly functional, though it would barely hold enough tea for a full mug. Actual samovars would be heated above coals to serve warm beverages, though the pristine condition of this example and being relinquished so shortly after being acquired—despite its value falling under the federal minimum at the time—indicate that it was never used.
Text and images may be under copyright. Please contact Collection Department for permission to use. References are available on request. Information subject to change upon further research.