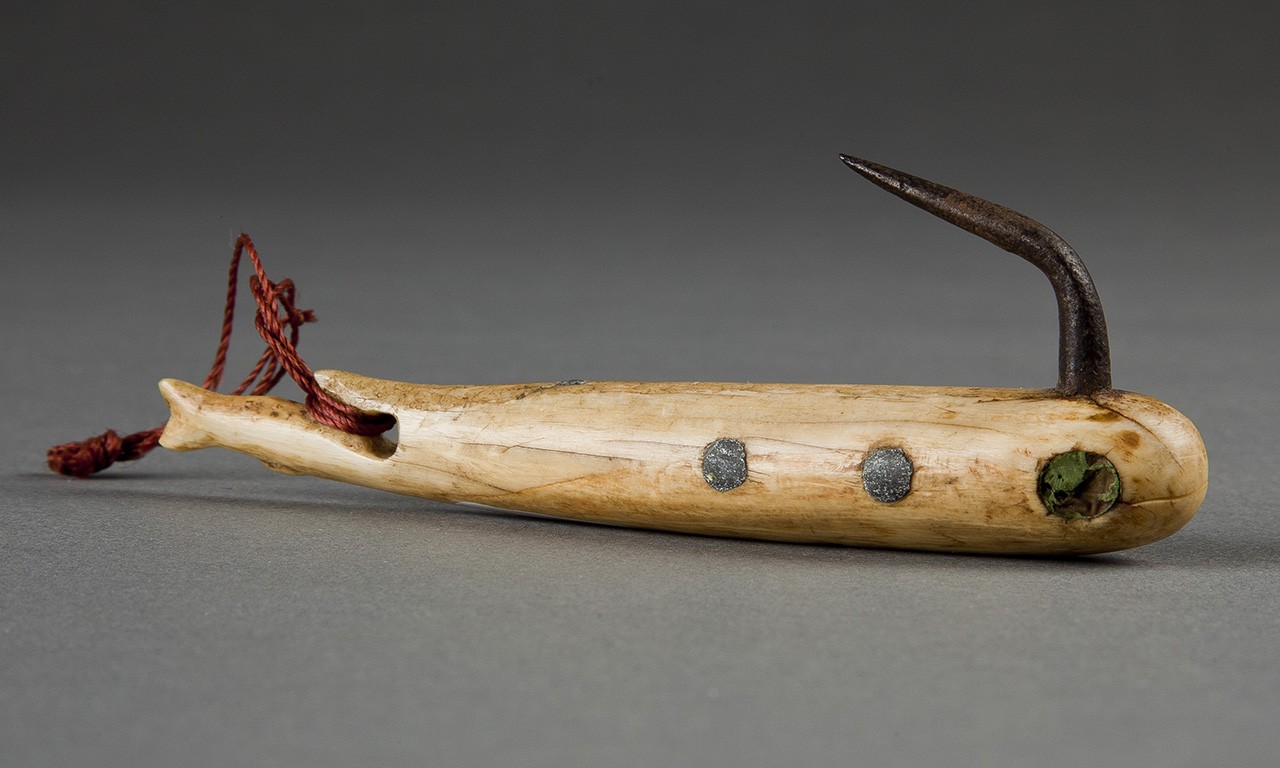 Fishing Hook, late 19th to early 20th Century
Iñupiaq culture; Seward Peninsula Area, Alaska
Walrus ivory, lead, iron and cotton thread; 2 1/4 × 4 1/8 in.
39352
Gift of Winifred P. Morgan
Let's See What's Biting, Champ
Some dads fit all the clichés. They are handy when something needs fixing, quick with a pun but otherwise tactful enough to let mom handle things and they never shy away from a trip to a local brewery or game. Some dads are roguish types that don't fit into those categories at all. They're swell for their own reasons. Having previously used Father's Day as an excuse to feature pipes and straight razors, today's celebratory post relies on yet another tried and true dad stereotype: fishing. If your dad never dragged you out of bed well before the waking hours to "see what's biting," then you'll just have to bear with today's Father's Day examination of how a selection of different cultures around the world traditionally fished.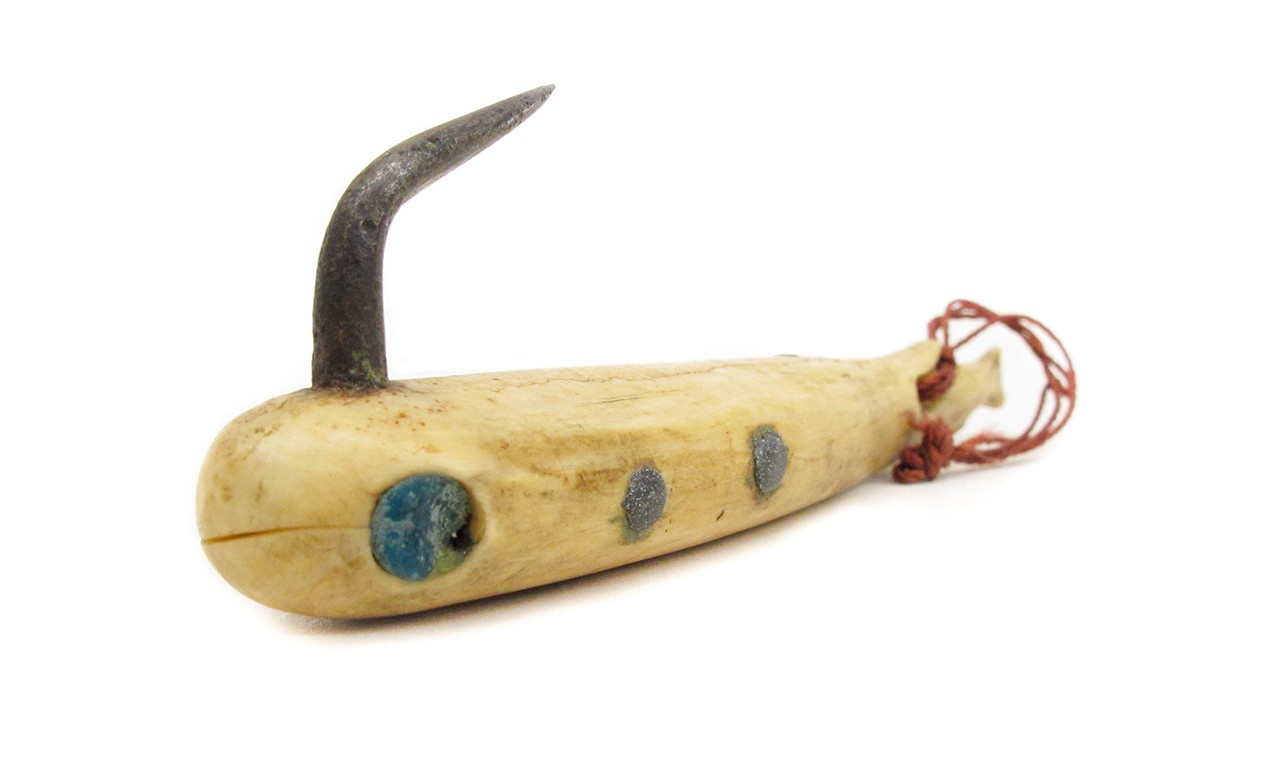 Alt. view of 39352
Gift of Winifred P. Morgan
Hook, Lure and Sinker
We begin in the Seward Peninsula Region of Alaska, where Iñupiaq fishermen practice ice fishing by carving small holes in the thick ice that forms over lakes. This hook represents only one of the many fishing tools practiced by the Iñupiaq, who also used nets and harpoons to catch unsuspecting fish. Some of the design decisions in this object are aesthetic but most aspects play into the effectiveness of the object. It is carved from walrus tusk to resemble a small fish, an attractive form for a hungry catch. The hook is also weighted with lead, making it sink to the appropriate depth to catch Alaskan whitefish. The Iñupiaq create different lures to catch various species of fish. Though this object has been strung with nylon cord, originally sinew would have been used for the line.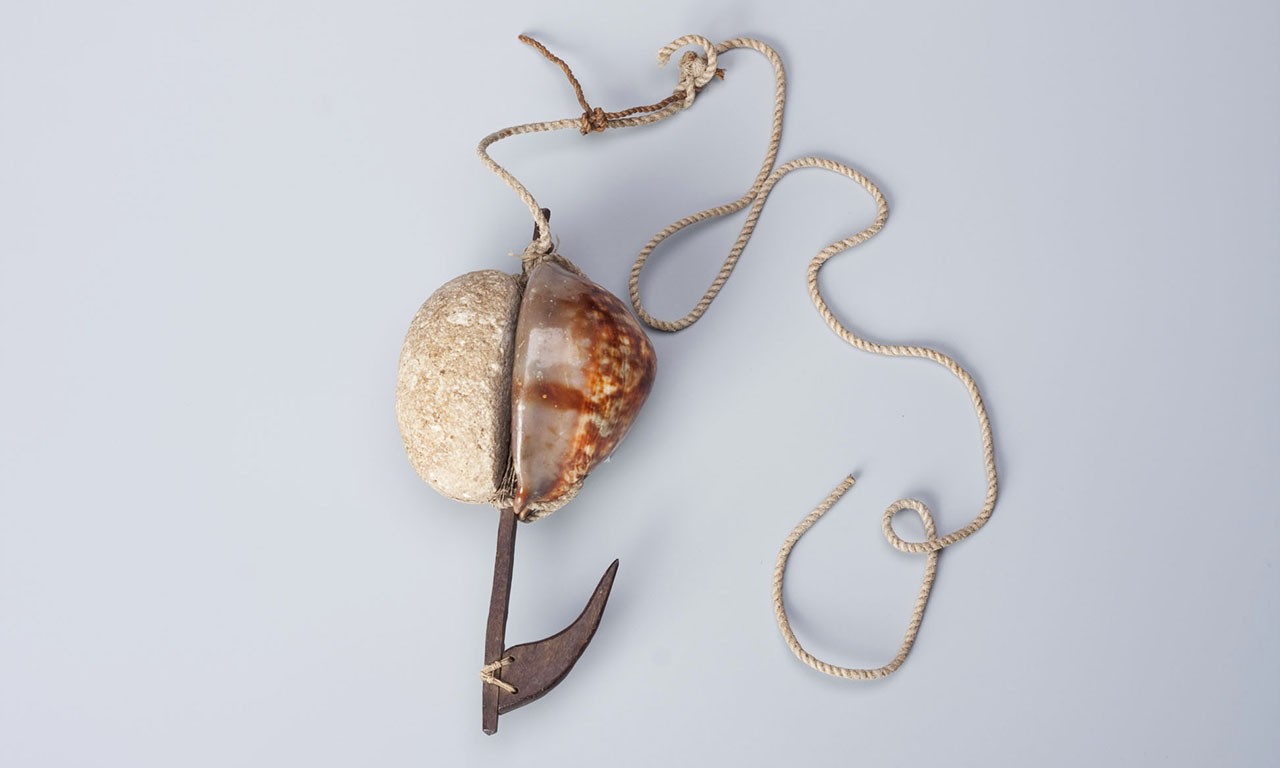 Octopus Hook (Leho He'e), 20th Century
Hawaii, Polynesia
Shell, stone, wood and fiber; 8 1/2 x 4 x 3 in.
95.2.2
Gift of Mr. Daniel Ostroff
Giving Up is Holding On
Octopus fishing—as a niche cousin to fish fishing—was regularly practiced in the waters off Hawai'i. As with Iñupiaq fishing, multiple methods were used to catch different kinds of octopus, though primary consumptive fishing was done by diving with a spear. An alternate method involves dangling an octopus hook or leho he'e from canoes in deeper waters, usually at a depth of 480 to 720 feet. The leho he'e is made of wood, cowrie shell, cord and a weight such as the stone employed in this object. The brightly colored cowrie shell operates as a lure, catching light and the attention of octopi as the cord is tugged up and down. The principle behind this object was not that the hook would get lodged in the cephalopod's mouth, but instead that the octopus would latch on to the shell and refuse to let go, even at the cost of its life. This method of octopus hook fishing was done for both sustenance and sport by Hawai'ians with high social status.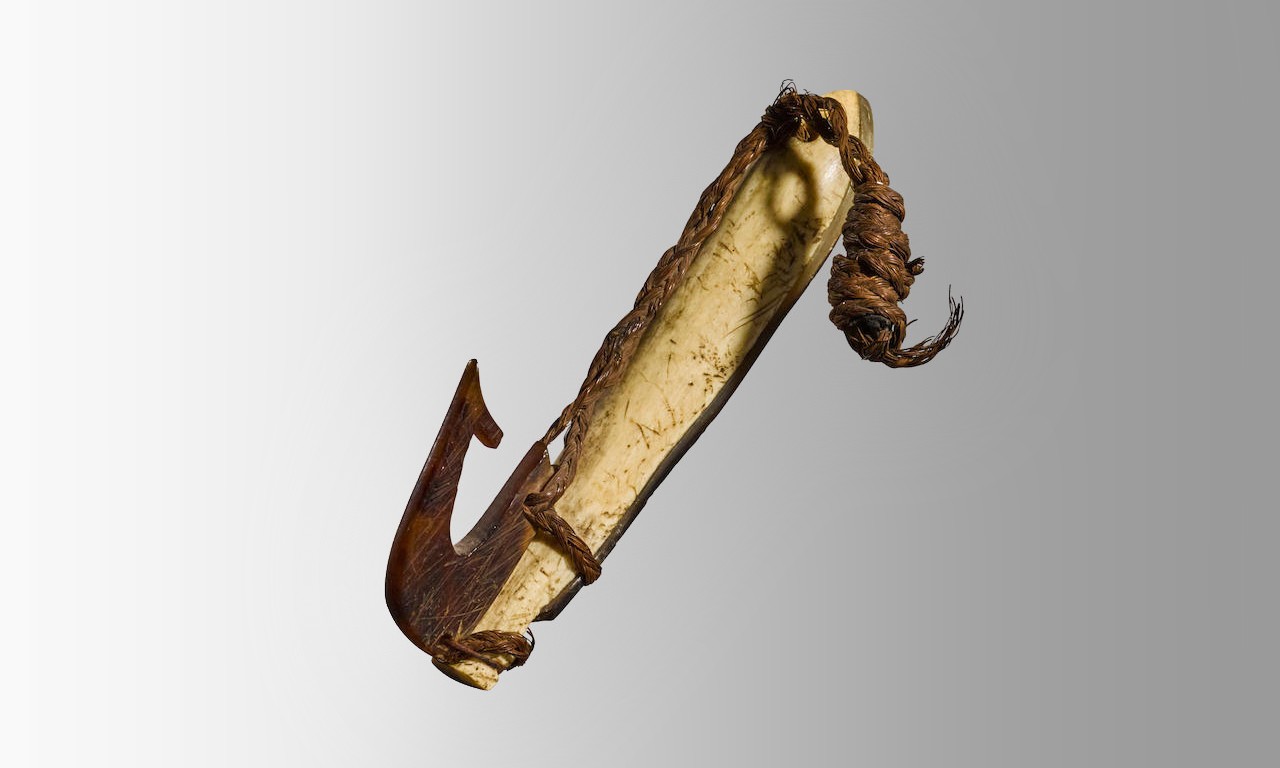 Fish Lure (Pa), 19th Century
Tongan culture; Tonga, Polynesia
Sperm whale tooth, marine turtle, bivalve mollusk shell, sennit cordage; 8 1/4 × 3 1/4 × 2 3/8 in.
2018.9.2
Gift of Mark Blackburn
Pa for Short
Lures for fish were also used throughout Polynesia. Though a similarly designed lure was used to catch bonito fish in the waters surrounding the Tongan Islands, both the length and the presence of a barb on this lure's hook indicate that it was used to catch tuna or kingfish. The size of these larger fish required that lures be reinforced with whale bone or teeth, again similar to what was done by the Iñupiaq. When paired with a reflective mother-of-pearl plate, the combination was highly effective at attracting fish.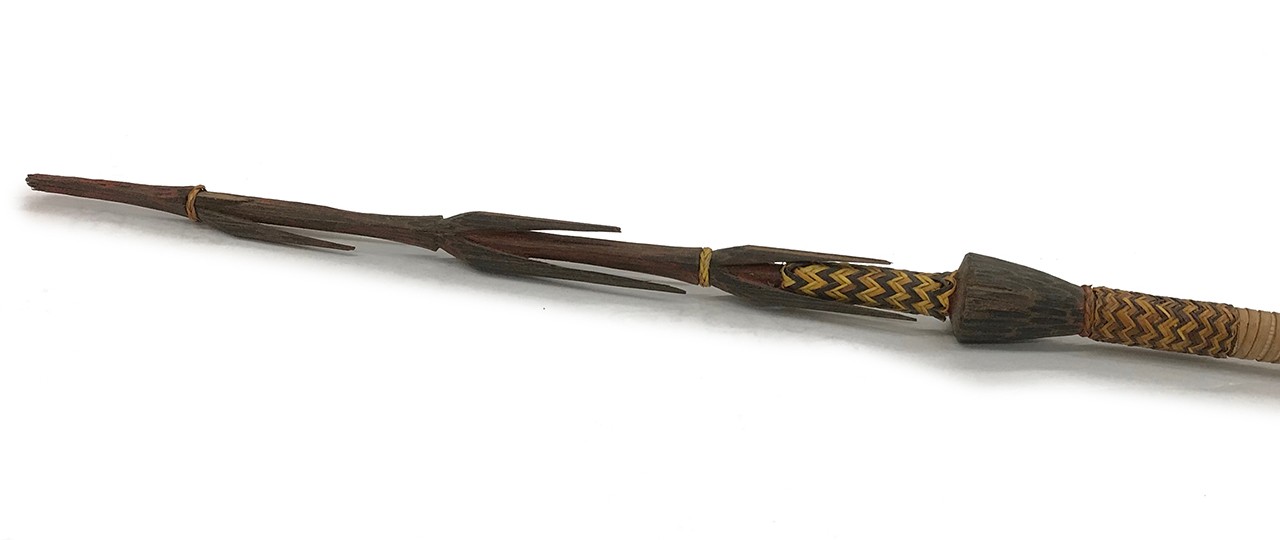 Fishing Spear, 20th Century
Neotropics Forest Culture; South America
Wood and fiber; 5/8 × 42 in.
2000.55.5
Gift of Gregory & Mechas Grinnell
Fish Stick
Like the hook fishing methods described above, Spear fishing was practiced in much of the world as an efficient way of catching fish either in shallow waters or by diving. The multiple barbs seen on this spear from the South American neotropics would have been used by indigenous fishermen to skewer any of a number of staple river fish endemic to the region. Arrows were also used for bow fishing, these would have been shaped similarly to this spear with a few potential variations for the tip including a forked point that would have increased the odds of successfully hitting the elusive targets.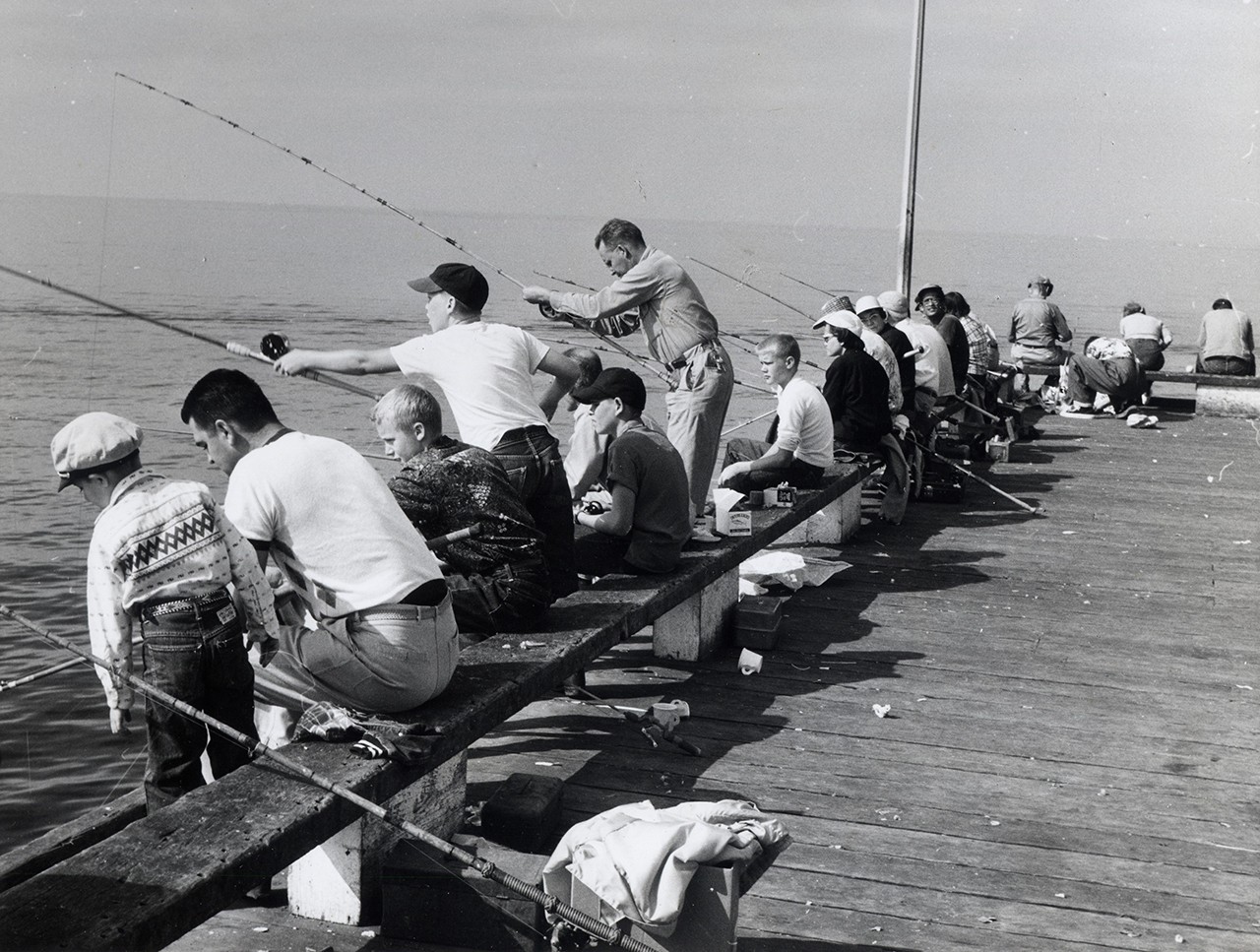 Fishing Off Newport Beach Pier, mid 20th Century
Unknown Photographer; Newport Beach, California
Photographic Print; 8 x 10 in.
37057.723.1
Leo Tiede Photography Collection
Apiering on the Line
Fishing and dads go like together like lemon on trout. If there was any doubt, perhaps the above scene from mid-century Orange Country will change your mind. Even today these piers are populated by dads who've brought their children for a day of father-kid bonding over fishing. Though this post barely begins to touch on all the methods used for fishing around the world, this sample of the types of lures, sinkers and hooks would surely demonstrate that fishing in some form is about as ubiquitous as fathers' love for their children.
Text and images may be under copyright. Please contact Collection Department for permission to use. References are available on request. Information subject to change upon further research.