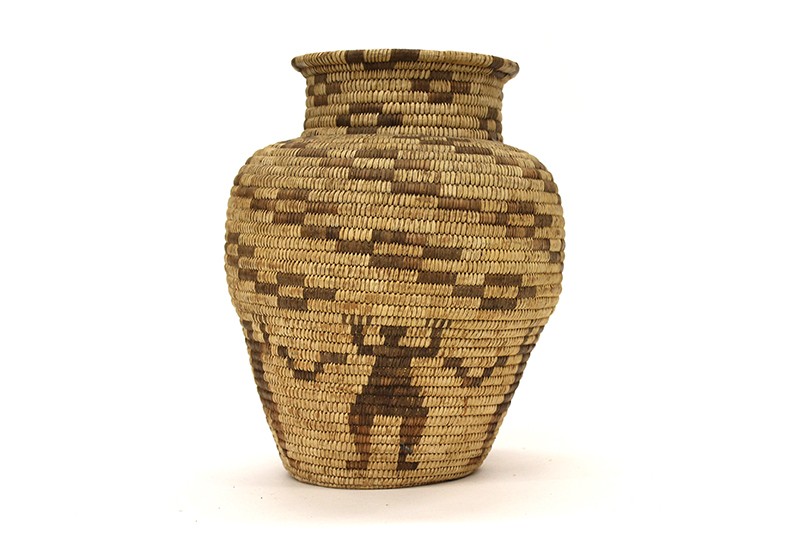 Basketry Olla, early 20th Century
Pima culture; Arizona, United States
Bear grass, willow and devil's claw; 11 3/4 × 9 1/4 in.
2018.3.3
Gift of Mr. and Mrs. John and Elizabeth Stahr
That's Moms
Moms are a fairly universal force of good in the world, seeking more often than not to safeguard their children's wellbeing and ensure their happiness. Top scholars all agree that moms have been fairly consistent in this regard for as long as anyone can remember. Unfortunately, for whatever reason not all women are afforded the ability to have children of their own. Such was the case for Maud McBroom, the subject of this Mother's Day post. By way of three recent Bowers acquisitions, this post tells her incredible story of love, healing, and motherhood.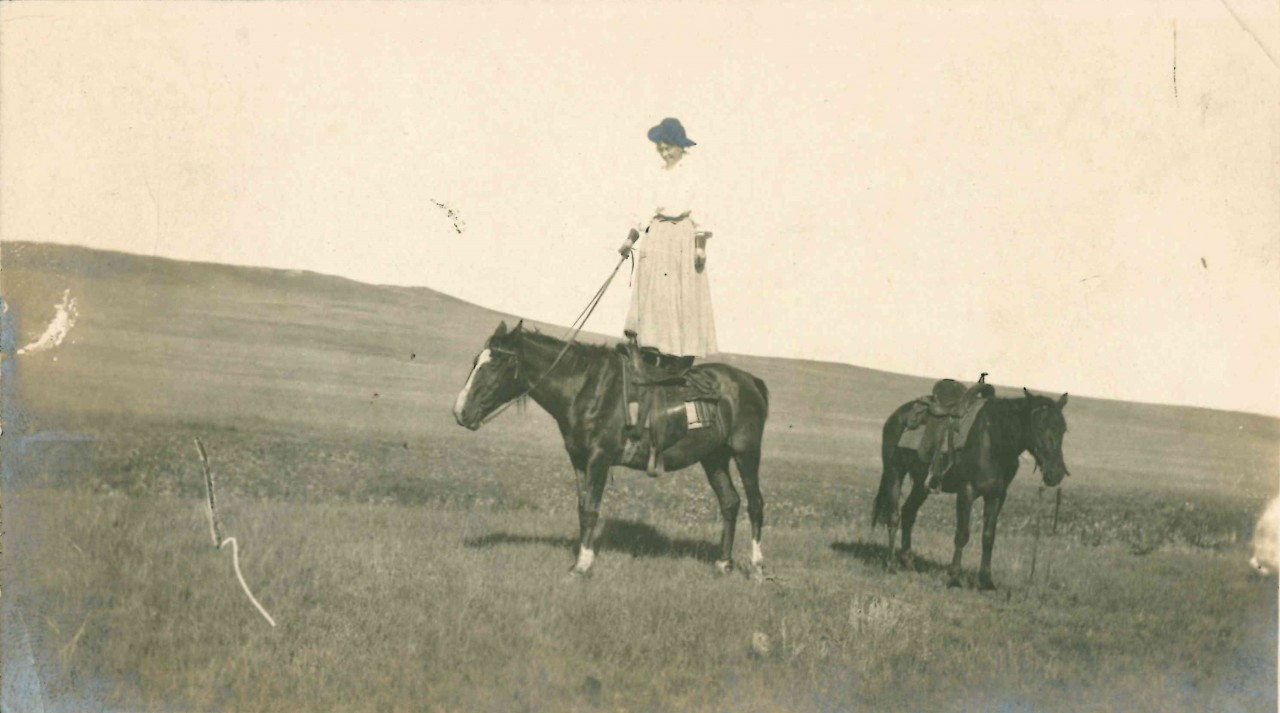 Maud riding a horse. Courtesy of Elizabeth Stahr.
High Horses
The tale begins as any should, with the birth of our curiously named protagonist. Maud McBroom entered the world in Fountain County, Indiana, on January 13, 1870. She spent much of her early years roaming the rugged badlands of Indiana, battling that awful realization which must have dawned on her own parents: that the one piece of land in the entire world that was claimed as their own was particularly boring. Maud was not one to take such monotony lying down though, photographic evidence shows she was rarely one to take horseback riding sitting down. She married George Edwin Rogers on June 26, 1901 and the pair traveled back and forth across the United States following his work on the railroad. In 1916 Maud's niece was put under her protection when her brother's wife passed away. By all accounts she raised her like her own daughter. No less than two years later the family had moved out to Dallas, Texas, which served as the primary base of operations for much of their later years. During the brief periods when there was no work to be done on the railroad, Maud and her husband vacationed in New Mexico and Arizona. It was here that Maud received the baskets.

Basketry Tray, early 20th Century
Pima culture; Arizona, United States
Bear grass, willow and devil's claw; 3 5/8 × 17 1/2 in.
2018.3.1
Gift of Mr. and Mrs. John and Elizabeth Stahr
McBroom In Her Heart
In the late 19th Century the Pima—recently discussed in The O'odham Maze of Life and Personhood—had just suffered being moved into reservations so as not to be competition for the limited resources in the region. The approximately 5000 Pima living on reservations when Maud would have visited between 1918 and 1932 were still reeling from this upheaval. Though there is no evidence that Maud had any expertise as a medical practitioner, she volunteered her time administering medicine to sick Pima Native American children. These three baskets were given to Maud as a show of immense thanks by the mothers of these children. Maud cherished the gifts and brought the baskets back to Texas with her. When she moved to Santa Ana, California she took them with her. She passed away in Santa Ana, California on May 16, 1969. The baskets were handed down to her own adopted daughter, just now donated to the Bowers where we can keep the story alive for many more years to come.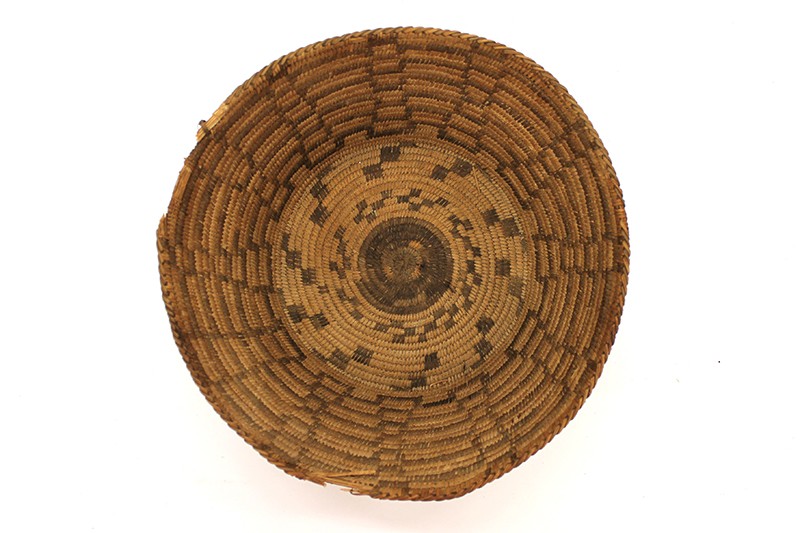 Basket, early 20th Century
Pima culture; Arizona, United States
Bear grass, willow and devil's claw; 6 × 12 in.
2018.3.2
Gift of Mr. and Mrs. John and Elizabeth Stahr
Más Pima Doñas
Maud's three baskets run the gamut of those made by the Pima. Perhaps the most iconically Pima of the three is the basketry tray, but the other two styles were also regularly made. As the Pima were one of the few groups to never use dyes, the darker patterns on the baskets were made with devil's claw, a heat resistant weed which was both decorative and allowed the baskets to be used to heat food over coals. The true differences are to be found in the baskets' flexibility, a result of the Pima switch from willow to grasses in the early 20th Century, and the motifs. The designs of the basketry bowl have faded somewhat over time, but the still-visible meandering patterns of the bowl appear to be a variation of the popular Pima vortex design. It's similarities to the Grecian key are totally coincidental, an example of two almost identical motifs having been developed in parallel. Staining makes it difficult to determine whether the center of the tray does in fact have the traditional devil's claw center, which symbolically represents the spring at the center of the earth from which all water flows.
Mother's Day
As with the best moms, Maud did everything in her power to make things better for the people around her. She took in a child who was heartbroken at the loss of her own parents and raised her like her own. She helped heal sick children and in return was rewarded with the love and thanks of their own mothers. This Mother's Day, when saying thank you to your own mother or receiving some well-deserved praise for being an awesome one yourself, take a moment to think about Maud. Happy Mother's Day!
Text and images may be under copyright. Please contact Collection Department for permission to use. Information subject to change upon further research.