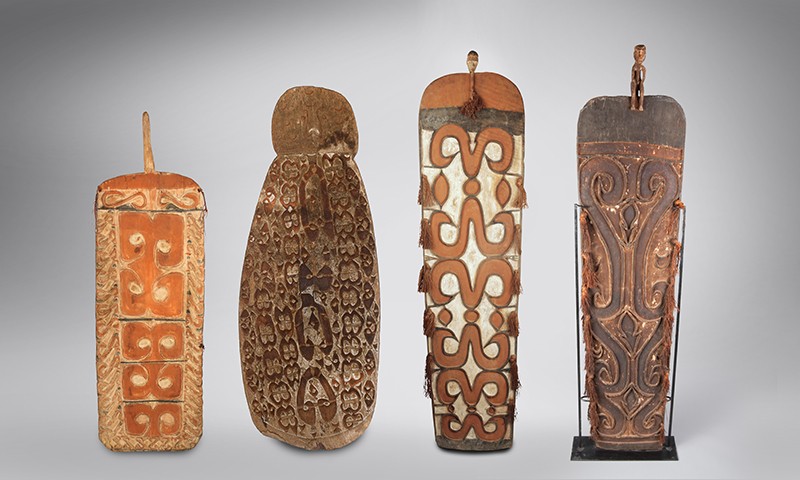 War Shields, 20th Century
Central and Northern Asmat culture; Papua (Irian Jaya) Province, Indonesia, Melanesia
Wood, pigment and sago-frond; Various Dimensions
2017.10.148, L.2010.4.4, F75.16.1 and 2006.19.1
Anonymous Gift, Bowers Museum General Acquisition Fund Purchase, Loan courtesy of Gayle and Edward P. Roski and Gift of Mr. and Mrs. Meyer Bello
Ye Olde Shields
Shields protect their bearer, a function which could not scratch a more basic human itch. Coexisting in a wary harmony with another seemingly universal human need to attack one's neighbors, it should come as no surprise that shields are found in cultures across the world. Every culture's shields have some aspect that make them unique, and even given a world's worth of fascinating forms and motifs, Asmat shields' role as wooden reincarnations of ancestors makes them particularly worth studying. In this post we look at carving culture and modes in New Guinea's Asmat regions and briefly explore the motifs and symbolic power of Asmat shields.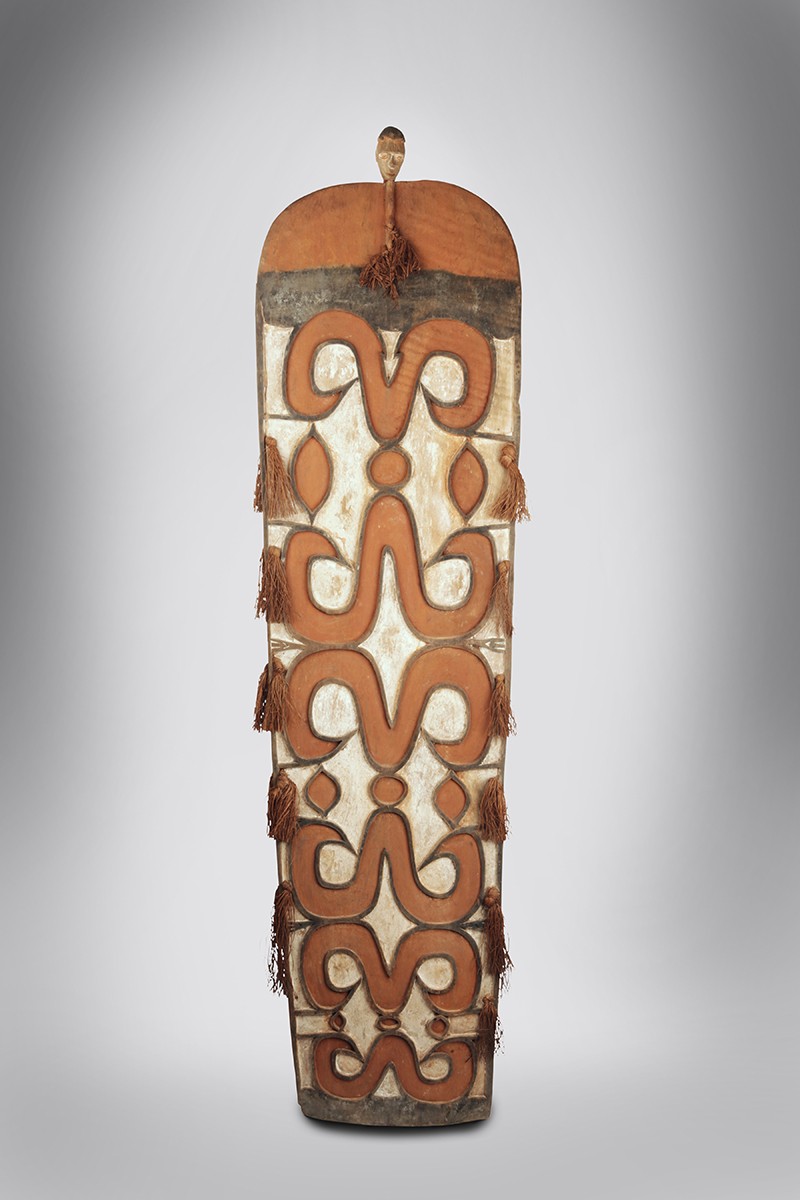 War Shield, 20th Century
Central Asmat culture; Papua (Irian Jaya) Province, Indonesia, Melanesia
Wood, pigment and sago-frond; 74 5/8 x 19 7/8 x 4 in.
2006.19.1
Bowers Museum General Acquisition Fund Purchase
Working Stiff
Carving exists on multiple levels within Asmat society. Just about every Asmat man has the necessary ability to carve regularly utilized objects such as bowls. However, each village also historically had a handful of particularly talented carvers that were the only men skilled enough to be trusted with the creation of larger, more important objects such as shields and sculptural works like bisj poles. Referred to by terms translating to woodcarvers, creators or inspired men—depending on skill—these carvers were still required to perform all the same hunting and gathering tasks as other Asmat men. Though a man commissioning a carving was expected to provide a carver with food and sometimes tobacco, the bulk of the compensation was in prestige. Within Asmat villages, carvers' styles were recognized and generated the same following artists generate anywhere. Some of the earliest well-documented meetings with Asmat groups involved local carving connoisseurs listing off the top ten or so carvers from the surrounding region.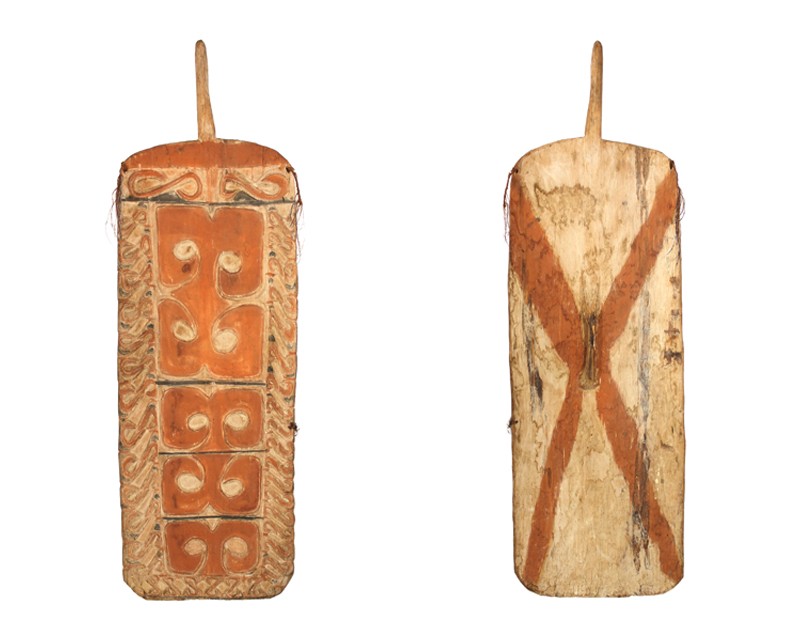 Shield, 20th Century
Central Asmat culture; Otsjanep Village, Papua (Irian Jaya) Province, Indonesia, Melanesia
Wood and pigment; 63 5/8 × 21 1/2 × 2 1/4 in.
2017.10.148
Anonymous Gift
Tools of the Trade
Despite there being wide variations between the four distinct styles of Asmat woodcarving, there are a few consistent standards. The first of these is the medium and manufacture. Older Asmat shields were almost exclusively created from the thick roots of mangrove and other swamp trees. As with other Papuan groups, Asmat woodcarvings were discarded after being used, meaning there was no intention by the carver that they would last. The pros of the more porous wood—particularly its ability to absorb pigments—made it an ideal medium for woodcarving even if it was more subject to rot over long periods of time. The tools used in carving also followed a similar trajectory throughout the four regions. Historically the bulk of the carving would be carried out with stone axes, with the finer detailing done with shell and bamboo tools. Metal tools first came from Europe in the form of old nails. Driven through wood they served as far more effective replacement to the old scrapers. Now metal tools including axes are predominantly used by Asmat carvers.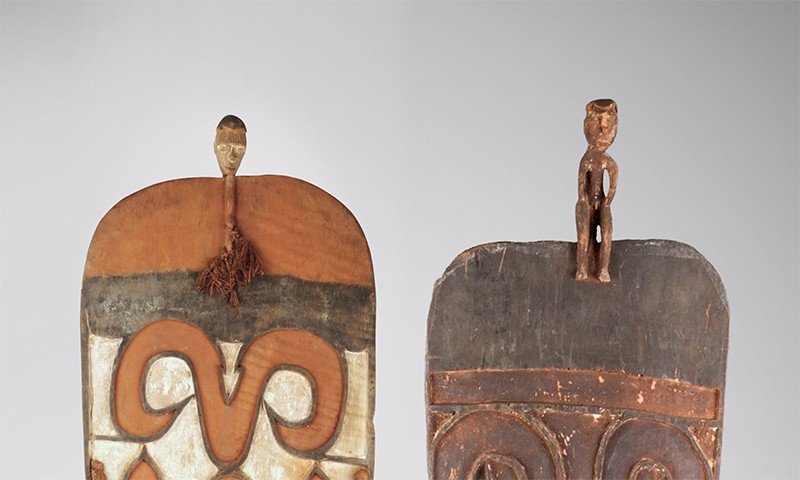 Detail of the finial elements of 2006.19.1 and F75.16.1
Herbivorous Headhunters
As mentioned before, Asmat carvings roughly fall into four different categories with the majority of Asmat carvings coming from the northwestern and central Asmat regions, and fewer objects coming from the Citak and Brazza River regions. Nine criteria have been outlined to differentiate shields from these four regions, the most readily identifiable being the overall shape of the shields, the motifs used, and the finial elements. Of the four shields in this post all but one hail from the central Asmat region and all display signature elements for their respective regions: the geometric motifs seen on the two highly pigmented shields are both common of the central Asmat region, particularly the designs on the taller of the two shields which are almost certainly an abstraction of the flying fox motif—an icon whose importance in Asmat culture can be linked to headhunting as the fruit eaten by flying foxes is symbolically representative of the head in Asmat culture; this same flying fox motif is seen on the rounder northwest Asmat shield in a less stylized form; pairs of the gently arching S-shapes of the tallest shield are said to each represent an ancestor. Central Asmat shields are also distinguished by their finial elements, either long undecorated shafts, complete figures or disembodied heads. In the northwest Asmat region this same area tends to be either carved or painted with a face, such as the stingray face seen on the Bowers' northwest Asmat shield.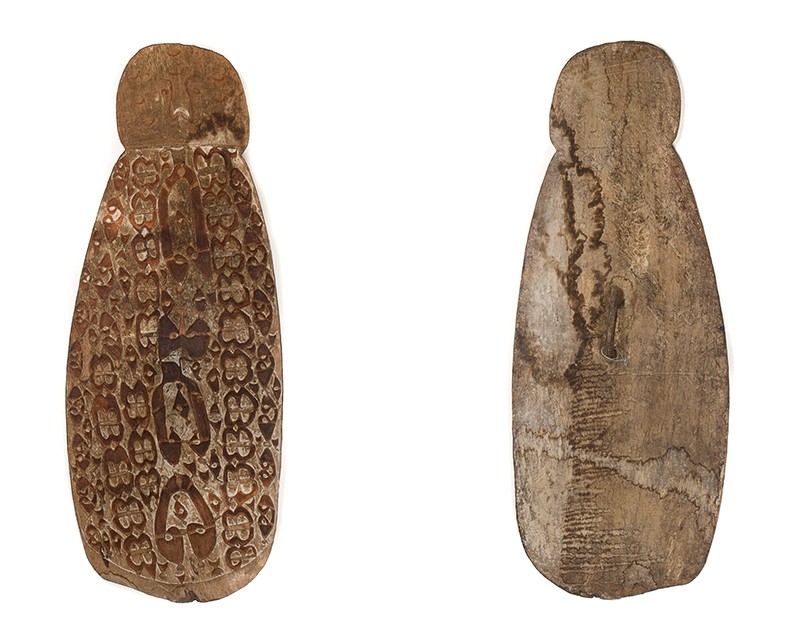 War Shield, 20th Century
Northern Asmat culture; Papua (Irian Jaya) Province, Indonesia, Melanesia
Wood and pigment; 68 1/2 x 27 1/4 x 3 1/4 in.
L.2010.4.4
Loan courtesy of Gayle and Edward P. Roski
People of the Tree
The word Asmat itself comes from one of two potential roots, one of which is as asmar, roughly translating to people of the tree. In Asmat mythology, their first ancestors were carved from wood and brought to life to dance to the beat of a drum. Some indeterminate amount of time past, these wooden ancestors reentered the Asmat carving tradition taking the forms of the figures and motifs outlined above. Shields in particular were traditionally only carved at shield festivals, Jamasj Pokmbu, the most important and final step of each was the naming of a shield as an ancestor. Once named, the shield became a link between the realms of the living and the ancestors. When used during a raid or while protecting oneself while being raided, it was an ancestor that would keep a watchful wooden eye over the bearer.
Text and images may be under copyright. Please contact Collection Department for permission to use. References are available on request. Information subject to change upon further research.