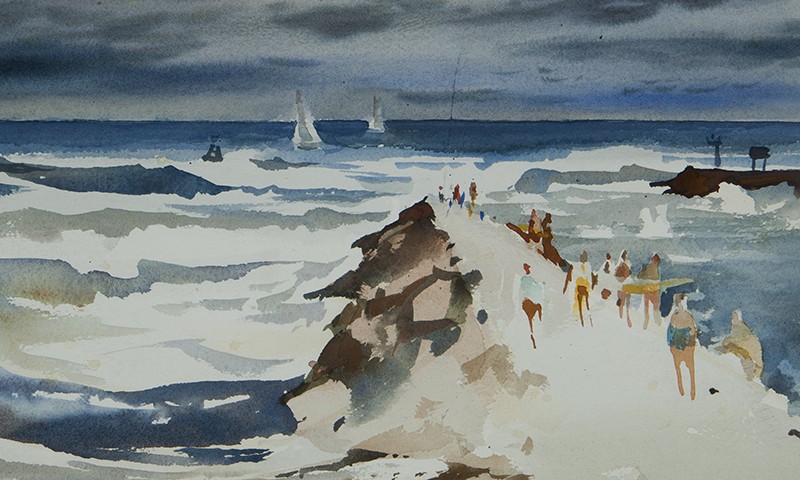 Detail of Corona Del Mar, 1960
Milford Zornes (American, 1908 - 2008); Corona Del Mar, California
Watercolor on paper; 14 7/8 × 21 1/2 in.
2018.6.48
Ann and Bill Cullen Memorial Collection
"The fact is that you never lick watercolor painting, and you can't very well give it up as long as you feel you haven't conquered it, and you never will, and the only cure for watercolor is to paint another one, so you become a watercolorist and you remain a watercolorist."
Milford Zornes
Long Unsaid
Following last Autumn's donation of 48 paintings by the great California Scene painters of the early 20th Century, the Bowers Blog did features on many of these artists. Milford Zornes has been a difficult artist to postpone writing about, as several factors led to him quietly becoming one of the most influential California Scene painters. Not the least of these factors is the long, productive life he lived as a teacher, only passing away in 2008. This post examines Zornes' late introduction to the world of art, his prolific career, and the unique attributes of his style as seen in his paintings.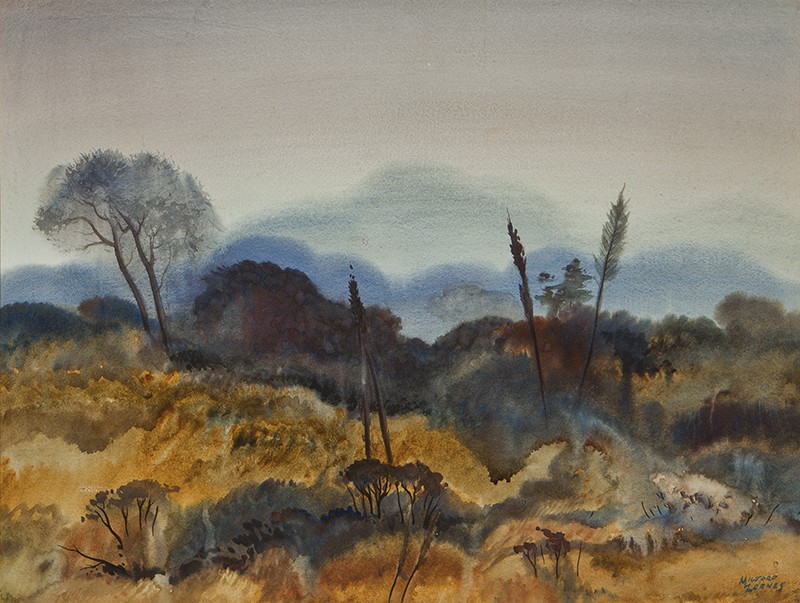 Claremont Afternoon, 1937
Milford Zornes (American, 1908 - 2008); Claremont, California
Watercolor on paper; 21 3/8 × 28 1/4 in.
2018.6.46
Ann and Bill Cullen Memorial Collection
Age and Adventure
The latent artist was born in Oklahoma in 1908, son to a farmer and a teacher. Zornes' mother and father respectively inspired in a young Zornes a yearning to visit all corners of this incomprehensibly large world, and an imagination that would give him the capacity to view it all through a lens unique to him. It was in these same years of his childhood that he first found his passion for drawing, making small commissions drawing portraits of neighbors or their pets. Finding his prospects in the family's recently adopted home of Boise, Idaho somewhat stilted, at the age of 17 Zornes exaggerated his years to join a survey crew working just west of Yellowstone. A similar gambit four years later found him signing up as a merchant marine headed for Europe and jumping ship as soon as he had crossed the pond. If the first trip had taught him independence, it was on this odyssey through the hallowed halls of Europe's fine arts institutions which gave him his last-needed nudge towards a career as an artist.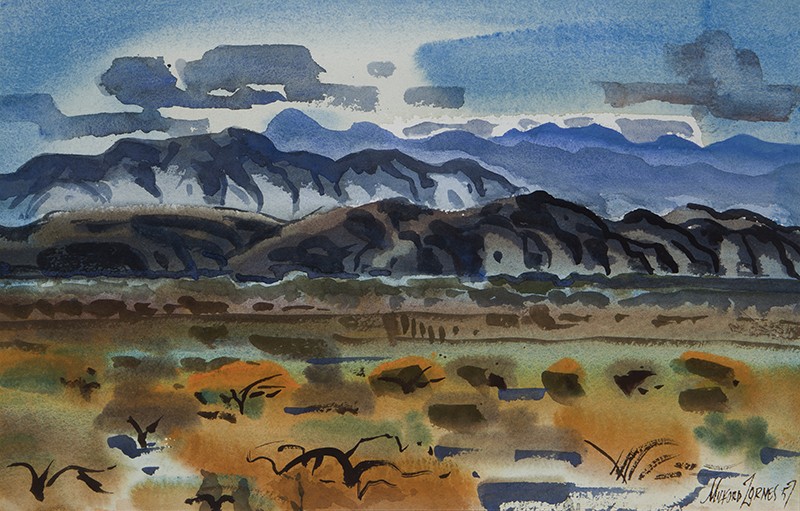 Devore Hills, 1957
Milford Zornes (American, 1908 - 2008); Devore, San Bernardino, California
Watercolor on paper; 13 1/2 × 21 in.
2018.6.47
Ann and Bill Cullen Memorial Collection
New Morns for a New Zornes
In returning to California, a home both he and his immediate family had adopted during his senior year of high school, Zornes made the decision to enroll in formal art training at the Otis Art Institute. It was around this time that Milford Zornes first became acquainted with Millard Sheets, who was already by this point teaching at Scripps College. The two would eventually find cause for disagreement, but Zornes' path as an artist indisputably took similar routes to Sheets'. The first step to this lied in receiving special dispensation to study with Millard Sheets alongside a fellow artist and Tom Craig, a painter who often travelled with Zornes on plein air painting expeditions.
Life in Service
Zornes' life then becomes a blur of one-man shows and awards, interspersed with significant events such as becoming a member and eventually the president of the California Water Color Society between 1941-42; painting for the government-sponsored P.W.A.P. in 1934 and actually earning much of his renown through government commissions, working briefly at Disney painting animation cels, getting drafted in WWII and assigned to capture and promote scenes of daily military life as an artist, and finding just about any excuse to travel the world. Primarily though, he served as a teacher. He worked at the same institutions that had reared him and taught watercolor workshops in four different continents during the summer months. Even in celebration of the artist's 100th and final birthday in 2008, Zornes led a lengthy watercolor demonstration.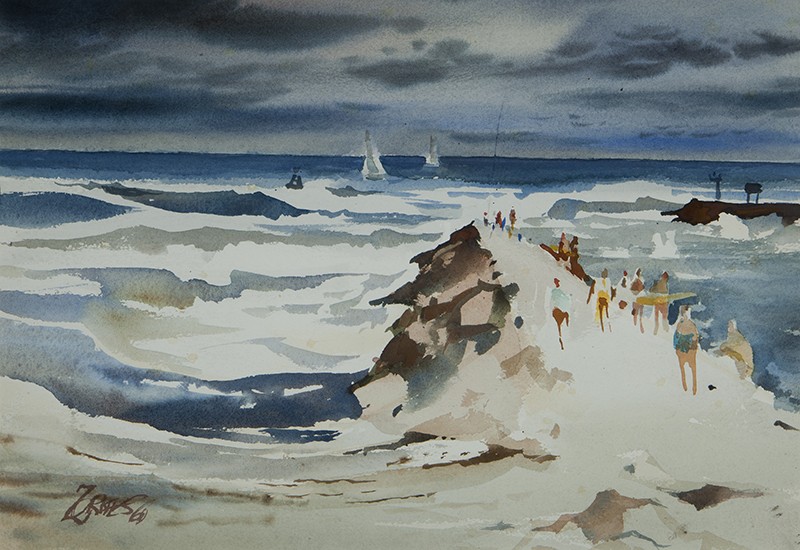 Corona Del Mar, 1960
Milford Zornes (American, 1908 - 2008); Corona Del Mar, California
Watercolor on paper; 14 7/8 × 21 1/2 in.
2018.6.48
Ann and Bill Cullen Memorial Collection
Architected Forms
So many of the artists in the California Scene movement saw painting as a function of color. The canvas was bathed in pure white light, and as if sculpting from marble, images were drawn from this brightness with color. Zornes looked at paintings like an architect examining a site. Proper plans needed to be laid out, proportions measured, and all-in-all the painting's composition had to be set long before color made its introduction. For Zornes this was a necessity, as he was one of the artists that was unafraid to leave bare paper for snow, white sand or the glint of light off water. Zornes' 1960 painting, Corona del Mar is a prime example of this style. His other defining trait as an artist is his usage of broad, bold brush strokes. The ribbed climbs and blocky clouds of Devore Hills both show how sparse, full lines evoke as powerful as the thin, definite lines of his much earlier Claremont Afternoon.
Ann Cullen Collection photography sponsored by the Bowers California Art Council. Text and images may be under copyright. Please contact Collection Department for permission to use. References are available on request. Information subject to change upon further research.