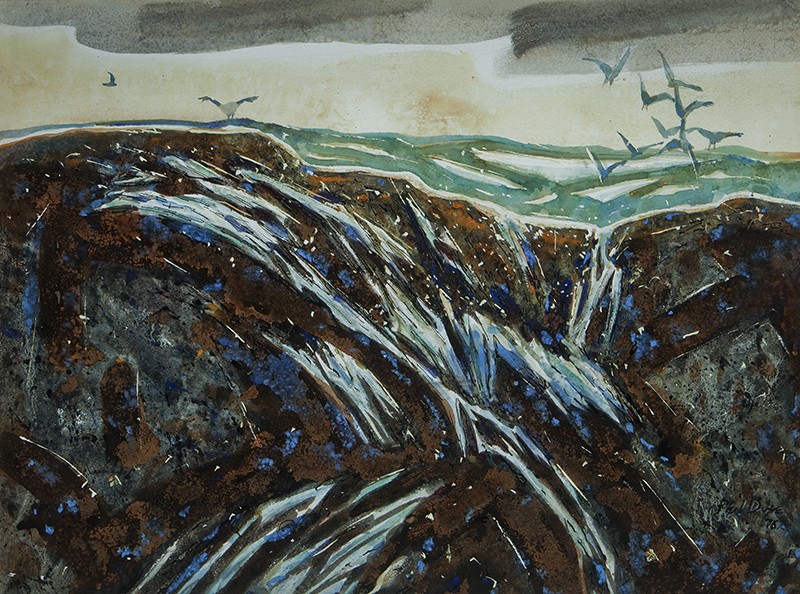 Waves Spilling Over Rocks, 1976
Phil Dike (American, 1906 - 1990); California
Watercolor on paper; 18 x 24 in.
2018.6.6
Gift of Ann Cullen
Something Else Entirely
In the Bowers Museum's recently acquired paintings by Phil Dike (American, 1906-1990), we see birds suspended in motion over breaking waves. Dike was drawn to the ocean just as he was drawn to birds, both unpredictable phenomena, in constant, dynamic flux. He believed art should be like birds or the waves: constantly changing, soaring higher, receding and returning as something new. His artistic credo was, "Whenever art becomes predictable, it is something apart from art." In this third post in our series on the artists of the Bowers Museum's Ann Cullen Collection we study Phil Dike, another of the core group of artists leading the California Scene Painting movement of the mid 20th Century.
Rex Brandt & Phil Dike, Summer Art Class June 30,1947. Never in the foreground except when on exhibition, Phil Dike stands behind Rex Brandt. Copyright of UC Irvine, Libraries, Special Collections.
Was Taught and Taught
Influenced by Eliza Twigg, an avid artist and his grandmother, Phil Dike began painting at a young age. She was his first critic, mentor, and fan—under her tutelage Dike was already a proficient painter by the time he applied for and was accepted into the Chouinard Art Institute in Los Angeles in 1924. After graduating he furthered his education studying under the ever-unorthodox George Luks in New York and with a year travelling abroad in Europe and Northern Africa. Like Rex Brandt, passing on the artistic torch to the next generation was important to Dike. After returning to Los Angeles in 1931, he taught at Chouinard until 1933 and again from 1946 to 1950. During this same period, he and Brandt together formed the Brandt-Dike Summer School of Painting operating out of Rex Brandt's home in Corona Del Mar. Emil Kosa Jr. and Milford Zornes numbered among the impressive list of guest teachers. In 1950, Millard Sheets offered Dike a professorship at Scripps College and the Claremont Graduate University and Dike spent the rest of his career teaching at the schools.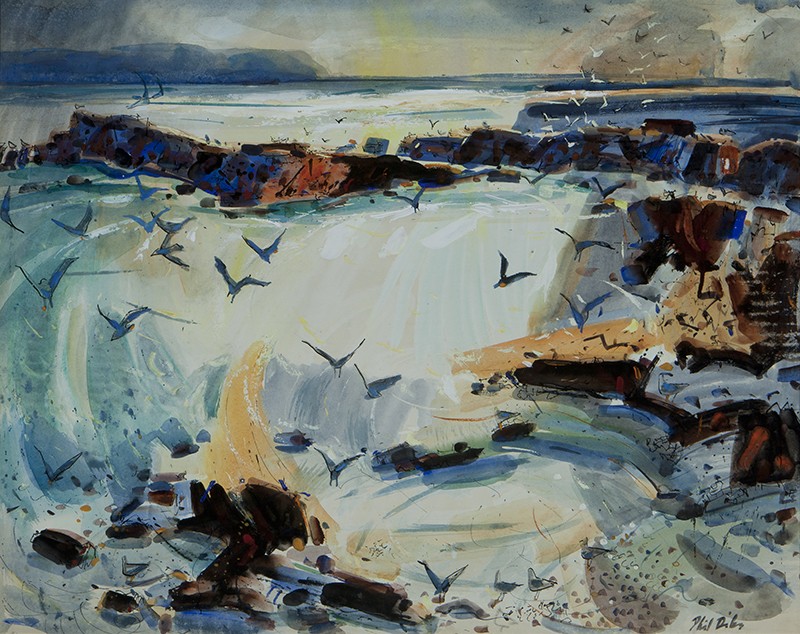 Golden Afternoon, c. 1970
Phil Dike (American, 1906 - 1990); California
Watercolor on paper; 21 x 27 in.
2018.6.7
Gift of Ann Cullen
Animated Man
Like Kosa Jr. before him, Dike also spent time working in a developing area of the film industry: animation. Between 1933 and '45 he worked at Disney as a painter and color coordinator. His role was primarily to teach the animators how to paint large backgrounds, but he did also do some work for Snow White and Fantasia. Many of his friends in the California Water Color Society attested to Dike's shyness in all matters not relating to art. In 1945, he was working alongside Walt Disney to screen the World War II propaganda created by his animators. Some aspect of this seriously upset Dike, and in 1945 he abruptly quit the studio and took his family out to the area around Palm Springs.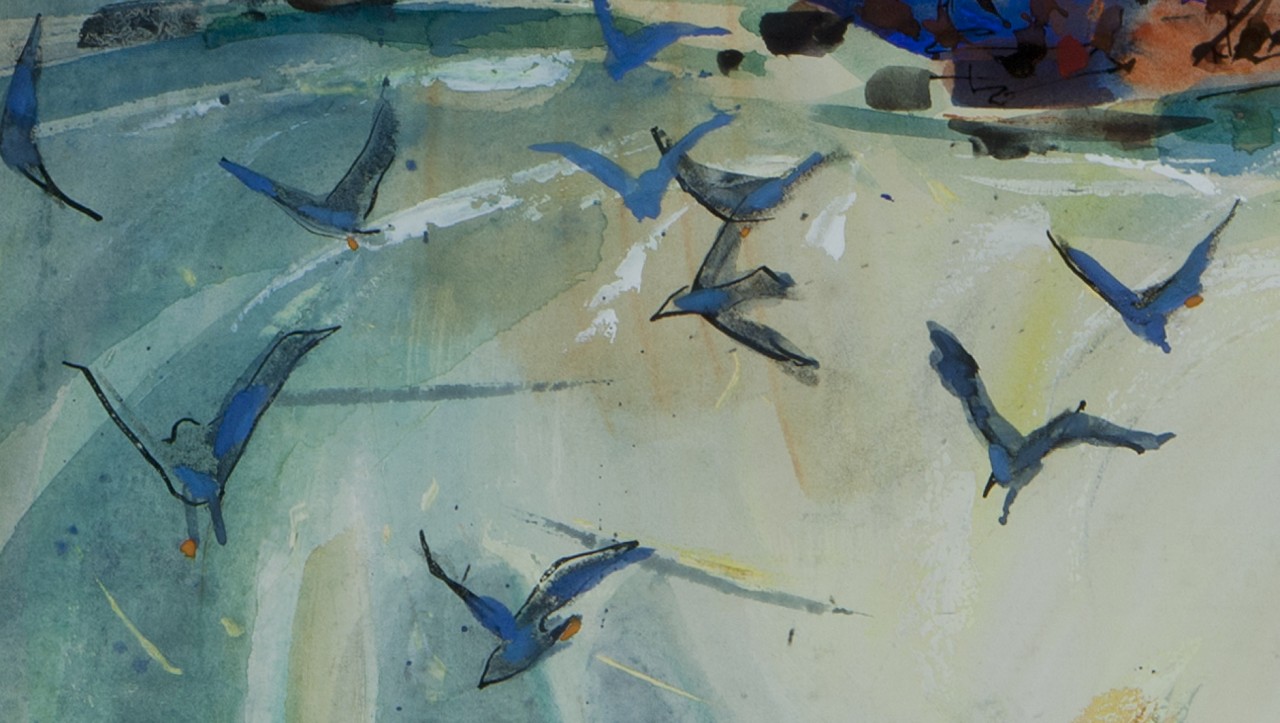 Detail of Golden Afternoon (2018.6.7)
Gift of Ann Cullen
Born Californian
One of the major changes that came with the painters of California regionalist art of the 1930s and '40s was that they were mostly native Californians. Earlier generations of Plein Air painters had all uniformly migrated to the Golden State. They loved their adopted home, but they had generally missed experiencing it during their formative years. Phillip Latimer Dike was born in Redlands, California. Every summer, his family piled into the family horse-drawn buggy and travelled to Newport. Much of his youth was spent not far from the shores of the Pacific training in painting with the help of his grandmother. What exactly this idyllic Californian childhood inspired in Dike is speculation, but just as we saw a similar upbringing led Brandt to an artistic fixation on sunshine, Dike returned again and again to the ocean. In '54 he purchased a house in Cambria, California. Based on the style and subject matter both the Phil Dike paintings in the Ann Cullen Collection, Waves Spilling Over Rocks and Golden Afternoon, capture the rocky shore surrounding this home.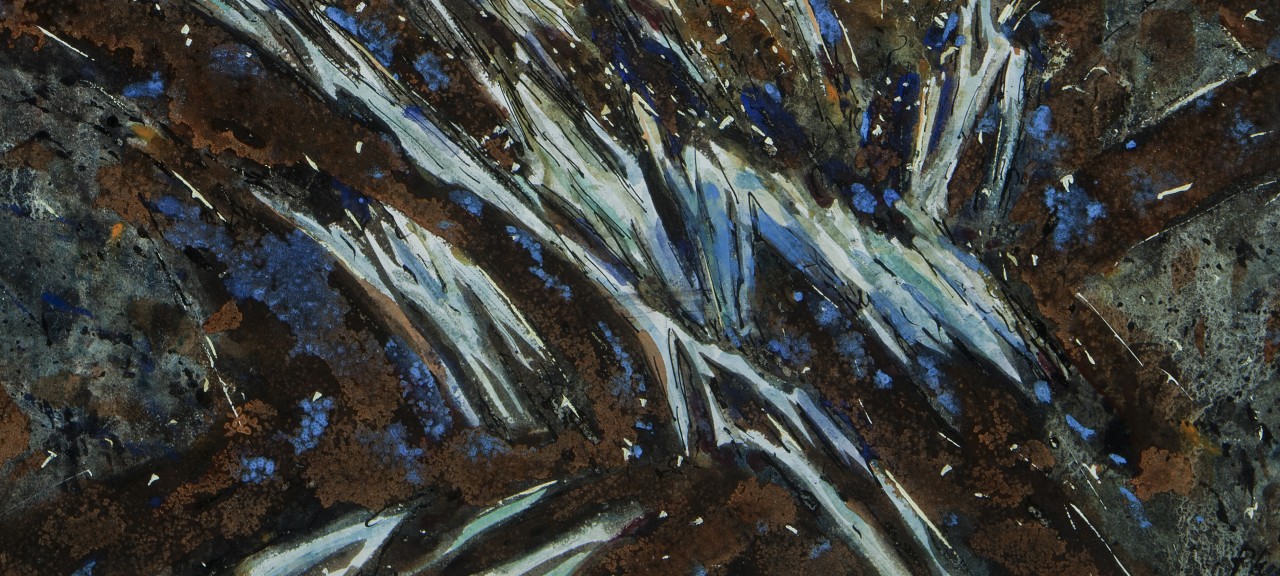 Detail of Waves Spilling Over Rocks (2018.6.6)
Gift of Ann Cullen
Like the Tide He Painted
Many of the other painters of the California Regionalist movement changed the style of their works over time, Dike's metamorphosis may have been similarly organic, but for him the change itself was important. As his earlier quote indicates, he felt that predictability was contrary to art. Over his lifetime his style roughly traversed the same arc as Brandt, a slow move away from representational painting towards abstraction. Waves Spilling Over Rocks and Golden Afternoon were made around 1970, when Dike was decidedly in the latter camp. Dike never went so far as to become a proponent of action painting or non-representational art, certainly he never practiced them, but we do see strong influences from Pollock, especially in the splattered texturing of Waves Spilling Over Rocks. Complex geographies have been boiled down to shapes and splashes of color. Strong directional strokes leave the viewer with more of a sense of motion than the image's subject, more of a feeling. "A painting is good," Dike believed, "because it feels like something."
Ann Cullen Collection photography sponsored by the Bowers California Art Council, Text and images may be under copyright. Please contact Collection Department for permission to use. References are available on request. Information subject to change upon further research.