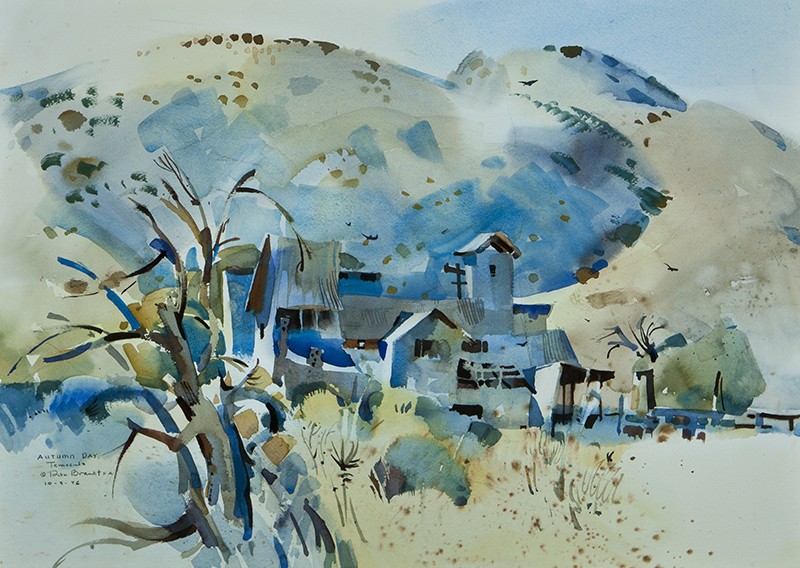 Autumn Day, 1976
Rex Brandt (American, 1914-2000); Temecula, California
Watercolor on paper; 18 x 24 in.
2018.6.2
Ann Cullen Collection
An Open Book
The Bowers Museum's California Bounty: Image and Identity 1850-1930 has been quietly boasting the triumphs of Californian artists since its opening in 2016. Housed in the halls of the museum's Historic Wing, it has been a perfect volume for displaying the finest paintings from our permanent collections. But the story of Californian art has more chapters than these first few shown in California Bounty. It is through the immense generosity of the late Ann Cullen that the Bowers Museum can now properly continue the narrative. Earlier this year, Ann Cullen donated a collection of 53 Californian Scene paintings and other works by the most acclaimed painters of the Golden State's mid-century watercolor movement. Now, with the help of the Bowers California Art Council, this collection has been professionally photographed and is ready to be shared with the world. With this post, we begin a series on these paintings with a brief introduction to the wonderful woman responsible for collection, and a look at one its most influential artists.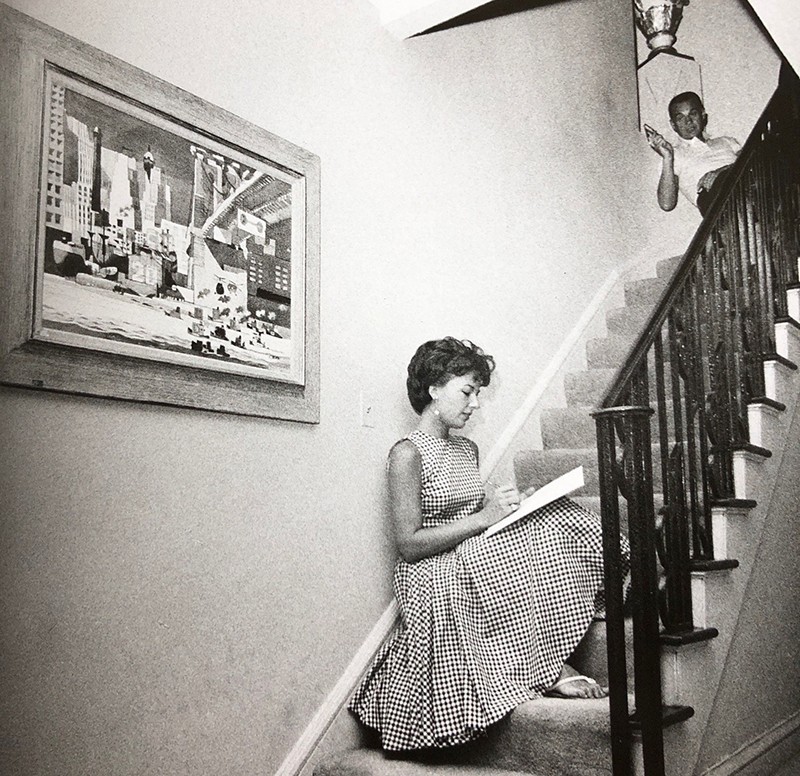 Ann Cullen drawing underneath Dong Kingman's Bridge and Tugboats, date unknown.
Ann Cullen (1928-2018)
Ann Roemheld was born on June 6, 1928 in Washington D.C. It was a time when the film industry was hitting its stride, and after moving the family to Hollywood in the early '30s her father became one of the biggest composers in the business. Ann herself found a few roles on the silver screen, but primarily worked as a runway model. Through her sister, Mary Lou Narz, she was introduced to the famous quiz show host Bill Cullen—a meeting which both would later describe as love at first sight. Ann and Bill married a little over a year later and they shared a wonderful 35 years together until Bill's passing in 1990. As if living in an endless Summer, Ann spent her early life exploring her love for art through a degree at USC and as a talented watercolorist. Being in the spotlight was never as important as her company, though. She was close personal friends with many of California's most important painters, including but not limited to Millard Sheets and Dong Kingman. The same personally dedicated paintings which once lined the walls of her home are now the Bowers Museum's newest pride and joy.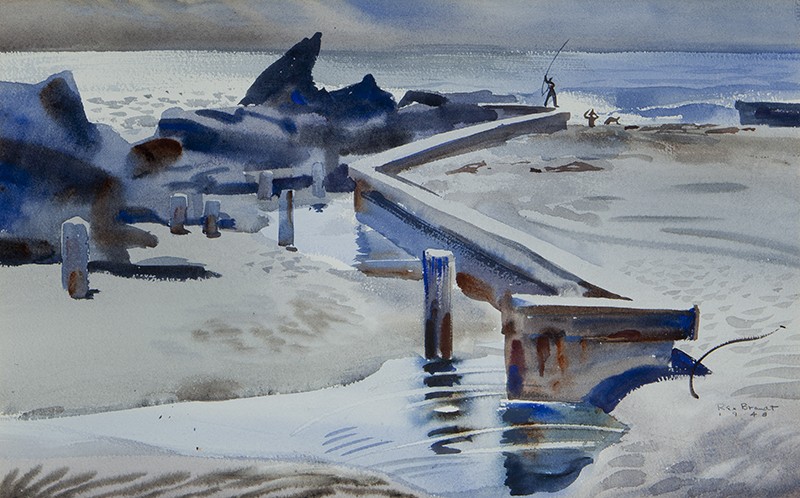 Tide Pools, 1948
Rex Brandt (American, 1914-2000); California
Watercolor on paper; 13 x 21 in.
2018.6.3
Ann Cullen Collection
Rex of Kings
The mid 20th Century Californian watercolor movement had a long roster of important painters and it is no coincidence at all that the Ann Cullen Collection features examples of almost every one of these artists. If we were to boil the movement down to its simplest components, we would probably look at these four: Millard Sheets (1907-1989), the charismatic backbone of the movement; Phil Dike (1906-1990), a poet who worked with a brush instead of words; Emil Kosa Jr. (1903-1968), whose love for his adopted country appeared in every country and urban landscape he painted; and Rex Brandt (1914-2000). Brandt was many things to this elite group. He was the youngest of the four, in many ways looking up to Sheets and Dike who he had become well acquainted with through the California Water Color Association. More than any of the others, he felt that it was his role to impart the knowledge of painting he had earned through experience and create a new generation of Californian watercolorists to follow him—it helped that he had the ability for expressing himself just as well in writing as he did with watercolor. What we see most of all in his paintings is his undying love for Southern California and the quality of light uniquely found here.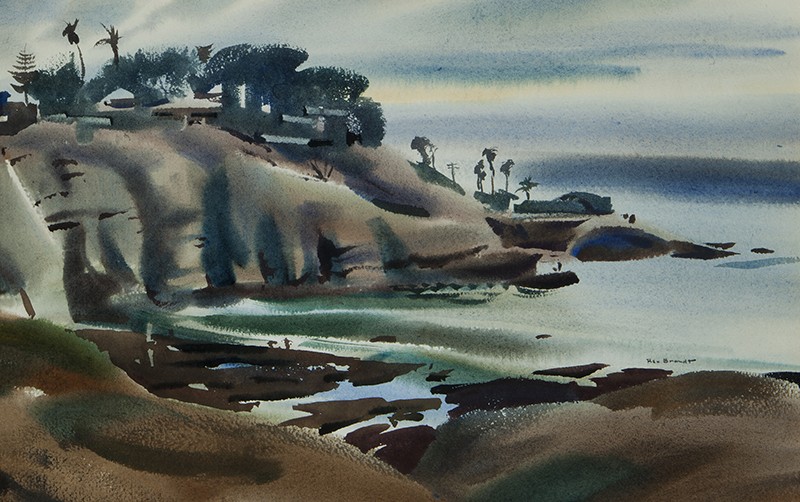 Moro Cove, mid to late 20th Century
Rex Brandt (American, 1914-2000); Crystal Cove, Laguna Beach, California
Watercolor on paper; 12 ½ x 19 ½ in.
2018.6.1
Ann Cullen Collection
Underlying Feeling
While earlier Californian painting movements had been influenced by Impressionism, the art world had changed substantially by the 1930s. The lasting effects of impressionism blended with the burgeoning styles of Cubism and Realism and rather than creating a uniform style, the result was that California Scene Painting covered a wide spectrum from realism to relative abstraction. Brandt had learned both during his time studying at Berkley, and we can see this conflict in some of his early work. In large part due to the direction of the other members of the California Water Color Association, Brandt's work shifted more towards the semi-abstract over time and the four Brandt's in the Ann Cullen Collection speak to his later preference. With this shift, Brandt's underlying assumptions about art changed. He began to believe that the value in art was in its ability to capture the feeling of its subject, and that this was rarely found in a realistic depiction.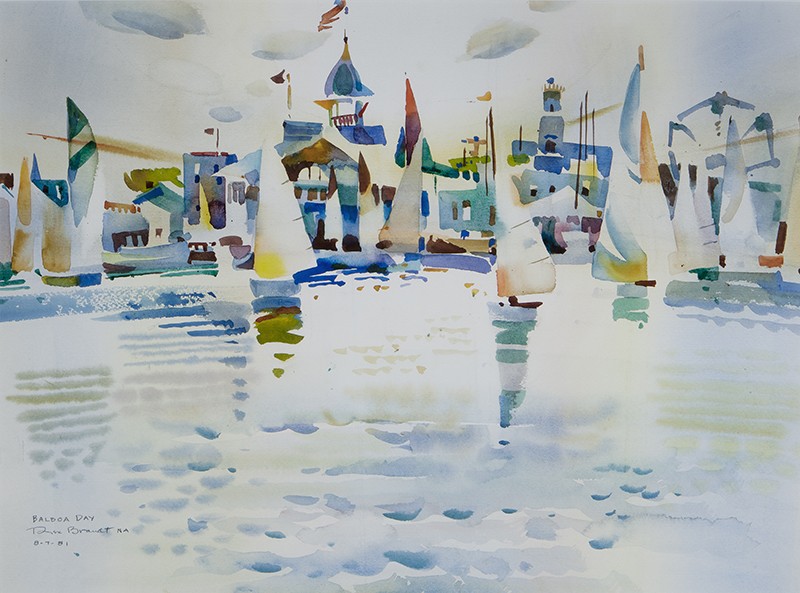 Balboa Day, 1981
Rex Brandt (American, 1914-2000); Balboa Peninsula, Newport Beach, California
Watercolor on paper; 18 x 24 in.
2018.6.4
Ann Cullen Collection
A Bright Painter
The desire to capture the feeling of his subject is perhaps best illustrated by Brandt's most distinctive philosophy: his self-proclaimed obsession with sunshine. Brandt was perhaps the only person to ever distinguish between sunlight and sunshine. For him, the former was the beautiful and foreign light produced by the sun, but sunshine was generated under the right conditions on earth as the result of sunlight mixing with and being improved by human and natural phenomena. Sunshine could be captured in morning's marine layer, found rising and falling on boats in the gentle tide of their harbor, even a feeling evoked in the hearts of sun-warmed subjects. Perhaps sunshine as Brandt understood it is a concept which can only be found in his paintings. If we look closely, we can see it even within the relatively muted selection of Rex Brandt's works in the Ann Cullen Collection, best so in Balboa Day. In all of his watercolors, the usage of Brandt's signature plain white paper makes light the default state of the world. Brandt adds color to paper as if his finished watercolor painting was a sculpture that had been hiding in a block of marble and just needed to be chiseled free.
Ann Cullen Collection photography sponsored by the Bowers California Art Council, Text and images may be under copyright. Please contact Collection Department for permission to use. References are available on request. Information subject to change upon further research.