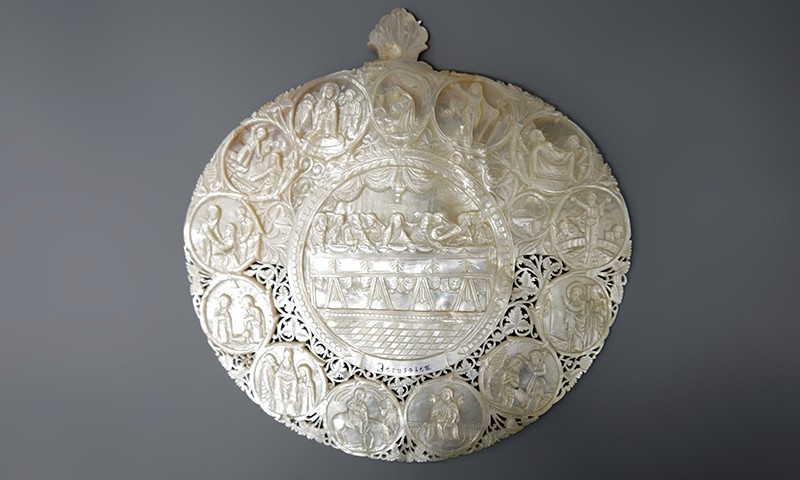 Pilgrimage Souvenir, 19th Century
Jerusalem, modern-day Israel
Mother-of-pearl; 8 ½ x 8 ½ in.
31521
Gift of Mrs. John Carruthers
Getting a Rise out of Spring
Spring is a time of rebirth. Winter's chill recedes, new flowers bloom and trees seemingly come back from the dead. Branches which for all the world appeared to be deceased are given Lazaran life, quite literally turning a new leaf. For Christianity Spring's rebirth takes a more concrete form: it contains the anniversary of the death and rebirth of the son of God, Jesus Christ. More succinctly called Easter, it has effectively transitioned from a religious holiday to a cultural one in which all manner of egg- and bunny-related activities are played out at family gathering. Given that today is Holy Thursday, the day of the Jesus' Last Supper; tomorrow is Good Friday, the day that Christ was crucified; and that this upcoming Sunday is Easter, the day of Christ's resurrection; today's Bowers Blog post takes a look at representations of Jesus in the Bowers Collections.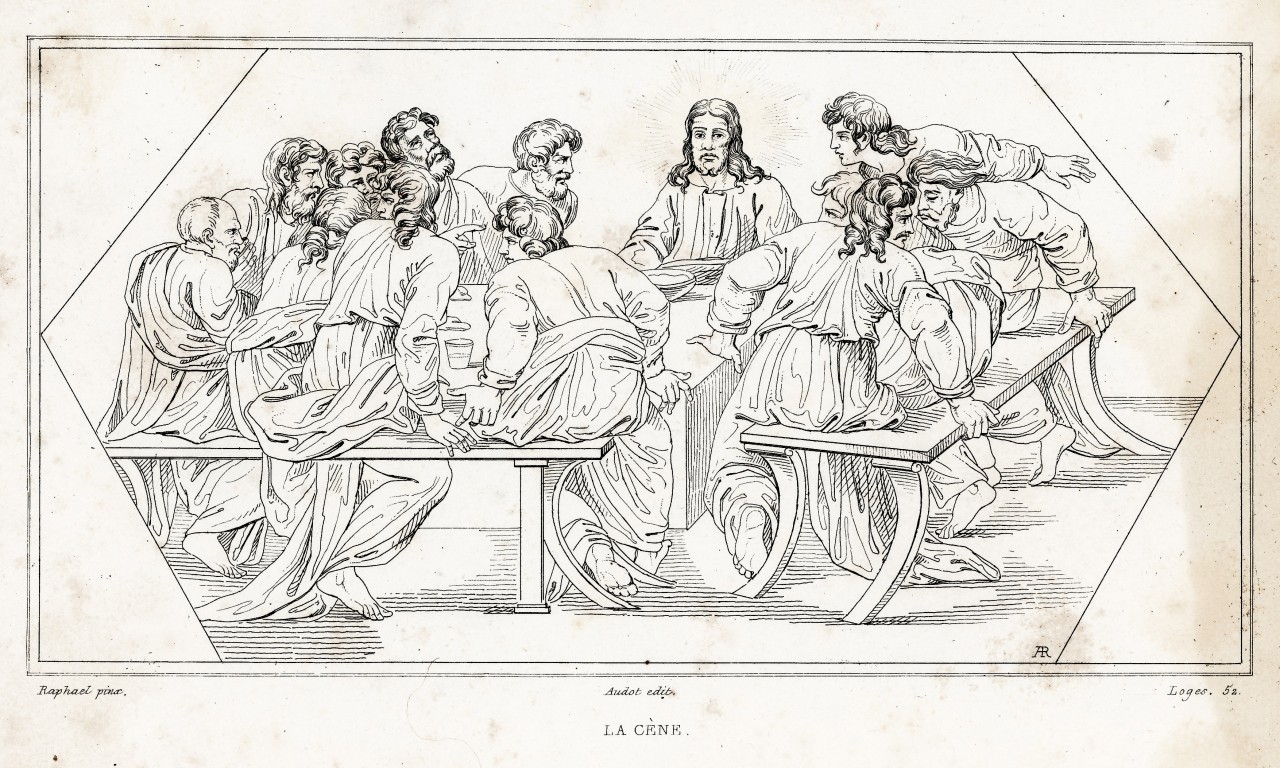 La Cène, 19th Century
Unknown printmaker after Raphael; France
Lithograph on paper; 4 5/8 x 7 in.
32036.34
Gift of the Mrs. Blanche Collet Wagner Estate
A Tale of Two Suppers
Given today's date, we begin with the Last Supper. When most think of the scene, most immediately recall Leonardo da Vinci's mural at the Convent of Santa Maria delle Grazie in Milan, Italy. Certainly, this is the most iconic representation of the scene: Christ and his twelve apostles gathered around him each shocked by his admission that one of them will betray him before the day is out. This 19th Century print does not conform to any of the most commonly-held conventions for the scene. The reason for this being that it was another Renaissance-era Italian who was responsible. Raphael's lesser-known version, duplicated here in lithograph, was created about twenty years after the painting by Leonardo, and sits in the Raphael Loggia in Palazzi Pontifici, Vatican. Rather than all sitting on the same side of an anachronistic banquet table, the apostles are naturally distributed around a non-descript prism.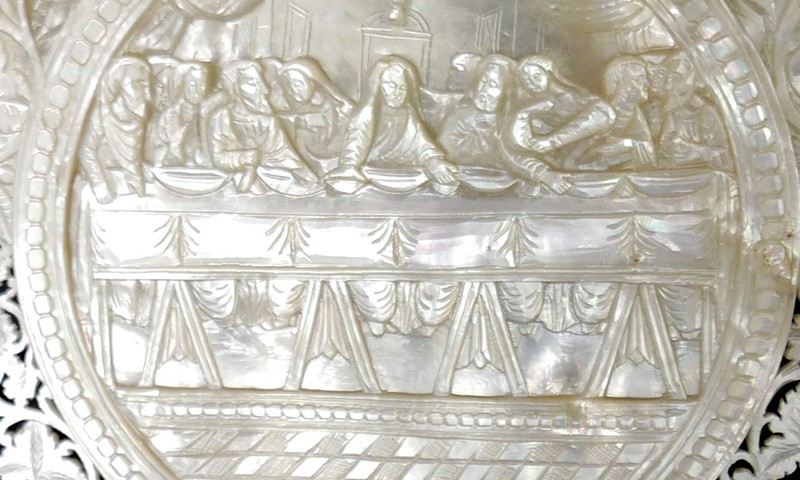 Detail of 31521
Gift of Mrs. John Carruthers
Pearl-grimage
A second depiction of the Last Supper in the Bowers' collections does draw from Leonardo's depiction of the scene and transcends the two-dimensional plane to boot. This beautiful, openwork mother-of-pearl carving is a pilgrimage souvenir, assuredly purchased by someone to have made the then-lengthy trip to Jerusalem. While mother-of-pearl may seem an unusual medium from the Holy Land, clam fishing in the Mediterranean and particularly in the adjacent Red Sea led to both Bethlehem and Jerusalem becoming centers for mother-of-pearl carvings as far back as the 12th Century. Though it lacks any sort of markings aside from the city name, this piece is stylistically highly consistent with other mother-of-pearl keepsakes dating from the 19th Century. As noted above, its principal scene is of da Vinci's Last Supper, but it is surrounded by thirteen images from Christ's epic. Interestingly none of these images depict the single most pervasive image in Christianity: the crucifixion.
Heart of Mary, c. 1750


Miguel Ballejo y Mandirano (Spanish, b?-d?)




Oil on canvas; 30 x 22 in.




89.22.2




Gift of Mr. and Mrs. Gene Wood

Crucifixion, c. 1718-1755


Frances Martinez




Oil on tin; 11 1/2 x 16 1/2 in.




89.22.1




Gift of Mr. and Mrs. Gene Wood
From an Inn, but No Stranger to Mangers
In 1989 the Bowers Museum received a number of paintings which had previously been displayed at the Mission Inn in Riverside, California. Regular visitors to the Bowers Museum will recognize Heart of Mary from our Missions & Ranchos exhibition. This is perhaps the best-known of these paintings. There is some speculation that its name was misattributed at some point, however, it evidently represents another Catholic image, the Seven Sorrows of the Virgin Mary. For more on this distinction see Heart of Mary by Miguel Ballejo y Mandirano. Independent of the context, the secondary focal point of Heart of Mary is the crucifixion. Another painting in this same donation depicts the crucifixion, though. Daringly named Crucifixion, this oil on tin painting—a common medium for devotional paintings and ex-votos in Mexico, where this was painted by Frances Martinez—captures in its time-worn beauty the anguish of Christ's death.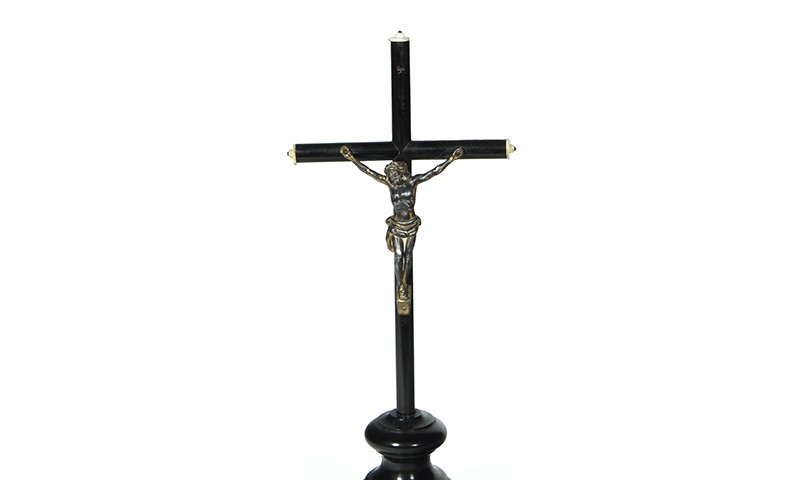 Crucifix Belonging to Doña Josefa Yorba, c. 1850
Unknown maker; Spain
Wood, brass and ivory; 13 1/2 x 5 3/4 in.
3723
Gift of Mrs. Beatrice Smythe Smith
La Croix
The final work in this blog post will also be familiar to Bowers veterans as it too is part of the museum's Missions & Ranchos. It is a devotional item common in Christian households, but there is little ordinary about this particular crucifix. Also like Heart of Mary, this crucifix has ties to the local Southern California area. It was once owned by Josefa Grijalva, later Josefa Yorba, whose marriage to Jose Antonio Yorba tied together two of the largest land grant families in Alta California. This cross is made from ebony, brass and ivory, each of which would have needed to be imported meaning that it was not just owned by an important figure, but was an important object owned by Josefa Yorba. The symbolism of the cross is the so inseparable to Christianity that it is often just represented by it, the rationale behind this is in large part the result of Christ's final miracle: his resurrection three days after his death on Easter Sunday.
Text and images may be under copyright. Please contact Collection Department for permission to use. References are available on request. Information subject to change upon further research.