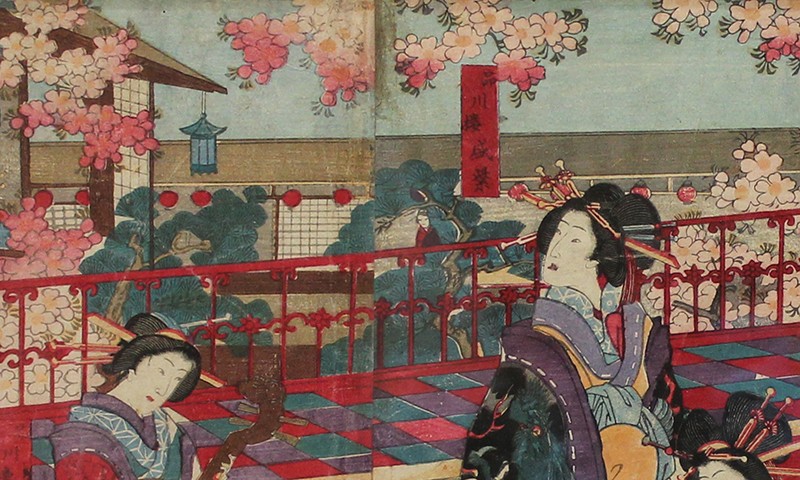 Detail of 94.64.10. Gift of Mr. William Drell.
Love to Spring this On You
As all living in southern California are acutely aware, this winter's deluge has brought with it the happy occasion of a Californian super bloom. The hillsides and shallow valleys of California's inland deserts—so often entirely devoid of flora—have sprung to life, bringing visitors from near and far to view earthen seas of orange and green. Across the Pacific Ocean a similar, annual budding is just beginning to take place in Japan: the cherry blossom bloom. The Bowers Blog has previously introduced ukiyo-e woodblock prints in What Became of the Floating World; this post looks at two ukiyo-e prints by Utagawa Yoshiiku, each of which feature Japan's national tree in full bloom.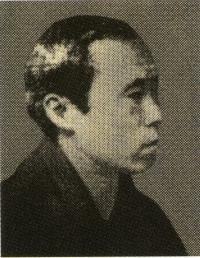 Utagawa Yoshiiku, n.d.
Origin Story
Born in 1833, Utagawa Yoshiiku developed an interest in woodblock printing early in life and at the first opportunity joined the school of Utagawa Kuniyoshi, one of the late Edo period's preeminent printmakers. Utagawa Kuniyoshi was as masterful a teacher as he was an artist, and he and his pupils are credited with the seemingly impossible distinction of having created as many as 50% of all surviving wood block prints from the Meiji period. Many of Kuniyoshi's students such as Yoshiiku's rival, Utagawa Yoshitoshi, are now remembered as the greatest printmakers of the era. Yoshiiku himself never achieved the fame of many of his contemporaries but in recent years his oeuvre containing thousands of prints has been increasingly revisited. Even with a fraction of his master's talent his works manage to be highly evocative. Like many print makers of the Meiji era his subjects are also fascinating and widely varied. Prints might depict gruesome acts from stories or historic battles, but he was every bit as comfortable presenting the scenes of the floating world that were so intrinsic to the medium.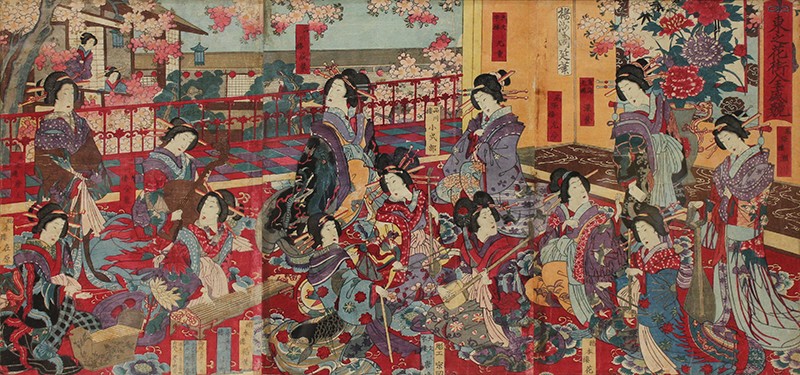 A Luxurious Competition in Yoshiwara, 1860-1870
Utagawa Yoshiiku (Japanese, 1833-1904); Tokyo, Japan
Woodblock print on paper; 13 x 27 1/2 in.
94.64.10
Gift of Mr. William Drell
A Luxurious Competition
Both prints featured in this post fall into the largest archetype of Meiji woodblock prints, ukiyo-e or scenes from the floating world. In the Meiji period as in Edo period before it these prints drew heavily from the newly-renamed city of Tokyo's red-light district, Yoshiwara. A Luxurious Competition in Yoshiwara is set in a teahouse-brothel in the very same pleasure district and depicts a "face viewing" competition in which patrons would vote on the consort with the most poise. A "face viewing" typically presented the women of the establishment engaged in picturesque and refined activities such as flower arranging and musicales. The traditional Japanese instruments in this print indicate that the event was a musicale. Blossoms from the cherry trees in the below gardens allow the overwhelmingly red palette of the triptych's three prints to continue into the upper portions of the print.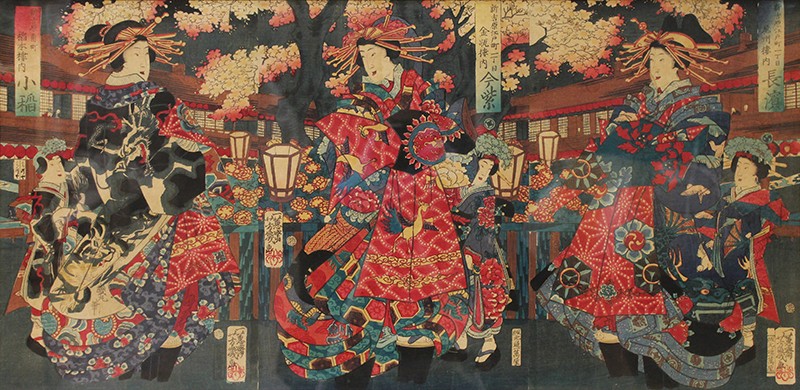 Viewing Cherry Blossoms by Lantern Light, 1869
Utagawa Yoshiiku (Japanese, 1833-1904); Tokyo, Japan
Woodblock print on paper; 13 3/4 x 21 1/8 in.
94.64.9
Gift of Mr. William Drell
A Dedicated Viewing
This scene is also set within the well-tread geographical boundaries of Yoshiwara. Rather than depicting a single brothel as the previous print, however, the title blocks in Viewing Cherry Blossoms by Lantern Light indicate that each of the triptych's three prints represents a different brothel by way of its premier courtesan. The first print—from right to left as opposed to left to right—is for the Bishu Mansion, with Nagahama seen wearing a splendid dark blue furisode; the middle title block translates to Golden Vase Mansion and is represented by an unidentified courtesan; the final print is Inamoto Mansion and identifies the woman as Shoto, or Little Rice-plant. Each courtesan is assisted by young women from their respective brothel. The vibrant cherry blossoms are so well-illuminated in the night scene that they themselves almost appear to be giving off light.
A Luxurious Competition in Yoshiwara, split into its individual prints. Gift of Mr. William Drell.
The Cherry on Top
Just as flower-viewing is practiced in Southern California, the time-tested tradition of travelling to ideal sites to view the Spring cherry bloom is so prevalent in Japan that the term hanami is used specifically to refer to such a trip. The cultural importance of these flowers was particularly codified into artwork following the Meiji Revolution—the same timeframe in which these prints were created. As part of developing a sense of nationalism the cherry blossom was used as a distinctly Japanese motif during the presentation of cultural and fine arts on the world's stage. Aside from being a national icon, the cherry blossom's ephemeral nature also lent itself well to ukiyo-e, which allowed artists like Yoshiiku to surround the transitory subjects of the floating world in equally transitory frames.
For more on cherry blossoms, craft-making and live musical performances be sure to visit the Bowers Museum's own Japanese Cherry Blossom Festival on April 7th!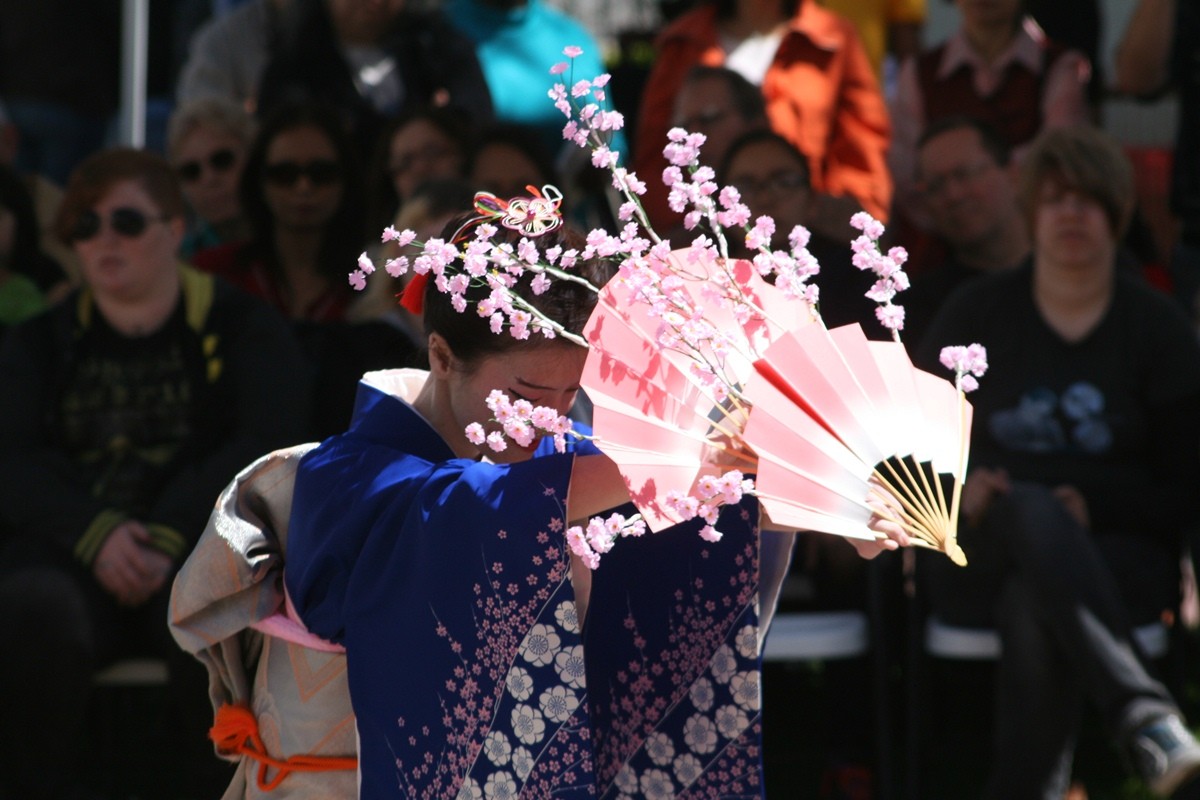 Text and images may be under copyright. Please contact Collection Department for permission to use. References are available on request. Information subject to change upon further research.