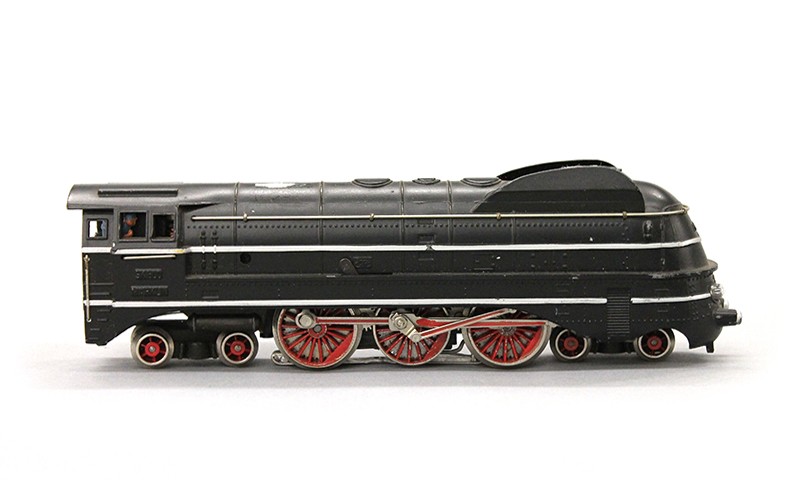 Märklin SK800 Steam Locomotive, 1946
Gebr. Märklin & Cie. GmbH; Göppingen, Germany
Metal; 7 in.
80.78.21
Gift of Mr. Richard D. Lusch
All Aboard
The winter holidays bring with them an array of traditions and customs, most of which date back hundreds and hundreds of years. The tradition featured in this post is a newer one, roughly 130 years of age, and it is that of the Christmas model train. Best known for lazily circling the Christmas tree with either the low rumble of wheel on tracks or the occasional squeak of an unlubricated wheel, odds are you know someone who puts up the annual train set along with the rest of their Christmas décor. This belated Christmas post takes a brief look at a collection of trainsets donated to the Bowers Museum back in 1981 and explores the history of these trains and some details about them.

Märklin Electric Locomotive and Passenger Car, mid 20th Century
Gebr. Märklin & Cie. GmbH; Göppingen, Germany
Metal and cellon; H0 Gauge, Various Dimensions
80.78.2, .6
Gift of Mr. Richard D. Lusch
A Miniature History of Trains
Since their advent in the first half of the 19th century, trains have been as popular a toy as a mode of transit, and were a favorite gift come the Christmas season. In 1859, a German tin smith by the name of Theodor Friedrich Wilhelm Märklin founded a company which created tin toys, particularly doll houses. Realizing that an untapped market could be reached by combining the then-brand-new wind-up technology with the already beloved toy form of trains, they created the first ever model train to run on tracks. In the early years of the 20th century, an American train manufacturer by the name of Lionel went on to create the first ever electric model train. Finally, model trains could safely be powered by a home's electric current. Gone were the days of manually winding up a trains clockwork mechanism. As trains shifted from toys to an increasing complicated activity partaken by hobbyists, the general age demographic for their use went up but their association with gift giving dating back to the earliest carved wooden train toys has ensured their lasting association with Christmas.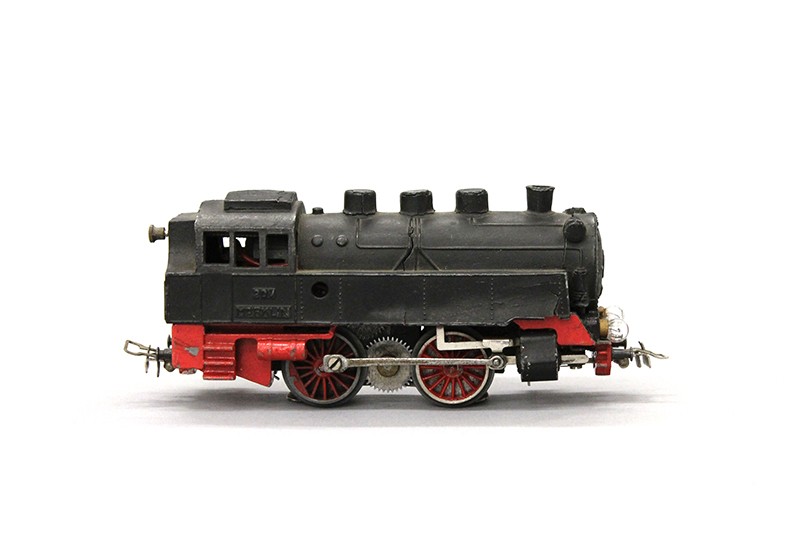 Märklin T-800 Steam Locomotive, 1938-49
Gebr. Märklin & Cie. GmbH; Göppingen, Germany
Metal; H0 Gauge
80.78.36
Gift of Mr. Richard D. Lusch
Gauging Interest
In addition to creating the very first model trains, Märklin was also responsible for several other developments in the miniature train world. Perhaps this makes it no coincidence that all of the trains featured in this post, and nearly every train in the Bowers collection is a Märklin. In the interwar period Germany suffered extraordinary inflation. With the price of materials so high, Märklin was interested in finding a way to lower production costs on their trains and to do so created the H0 or half of zero gauge. The previous 0 gauge had been approximately 1/48th the size of standard train. This new scale was almost exactly half the size, 1/87th a standard train's dimensions. The result was a fairly affordable train that was—due to its size—extremely versatile. As a result, it remains to this day the most popular gauge for train.
Four Märklin Diesel and Electric Locomotives, mid 20th Century
Gebr. Märklin & Cie. GmbH; Göppingen, Germany
Metal; H0 Gauge, Various Dimensions
80.78.1, .5, .15, .17
Gift of Mr. Richard D. Lusch
Now Arriving, Back in 1981
Everything that comes to the Bowers Museum has a story, and the Bowers Museum's train collection is no different. It was donated by a Dr. Richard D. Lusch in 1981. Lusch had collected Märklin trains for over 40 years, but his interest was truly sparked by Märklin's 1942 announcement that they would begin to discontinue certain lines of trains. When Lusch learned that certain train cars would never again be purchasable, he felt it his duty to ensure that they were collected and that they be donated to a museum so that they would be properly maintained. In total Lusch donated 126 discontinued trains. The clear majority of these were locomotive and passenger cars, coincidentally the two most common types of train car. Included in the donation are 51 freight cars, some of which are fascinating niche pieces, including a crane car and a refrigerated beer car from the Danish Carlsberg Brewery.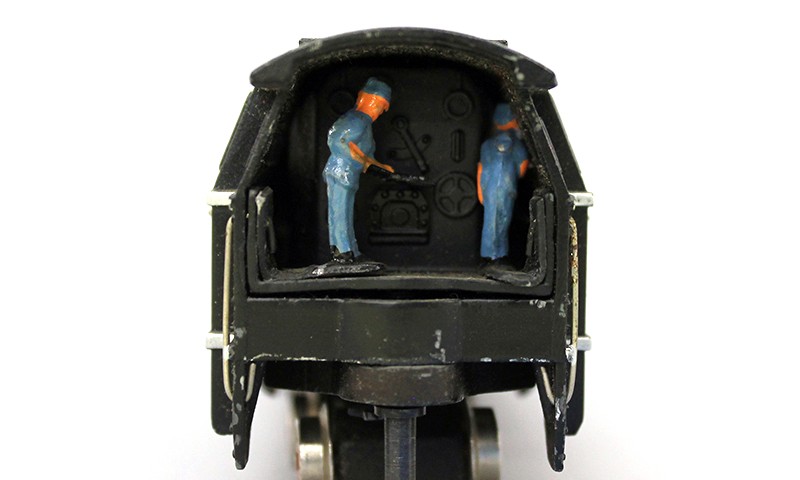 Detail of 80.78.21
Streamlined Steam Liner
The train cars featured in this post are all locomotives or passenger cars, but even within these two car variants, there is a world of diversity. The first is the Märklin SK800 Steam Locomotive, a streamlined express locomotive custom-fitted with engineers. The second and third trains featured in this post are created in a French style—one of them even features port windows. The third train is the T-800, another steam locomotive, though this model has become incredibly rare due to its relatively brief production window. Lusch was far more interested in when Märklin train cars were discontinued than when they were first released. He noted that this model was terminated in 1949. The four trains featured in the final image are all either electric or diesel locomotives. Their markings indicate that the cars are from Germany, Denmark, and even a small, now-defunct line that once ran between New York City and New Haven, Connecticut. Running circuits around a Christmas tree their various designs would have been as colorful as ornaments.
Text and images may be under copyright. Please contact Collection Department for permission to use. References are available on request. Information subject to change upon further research.