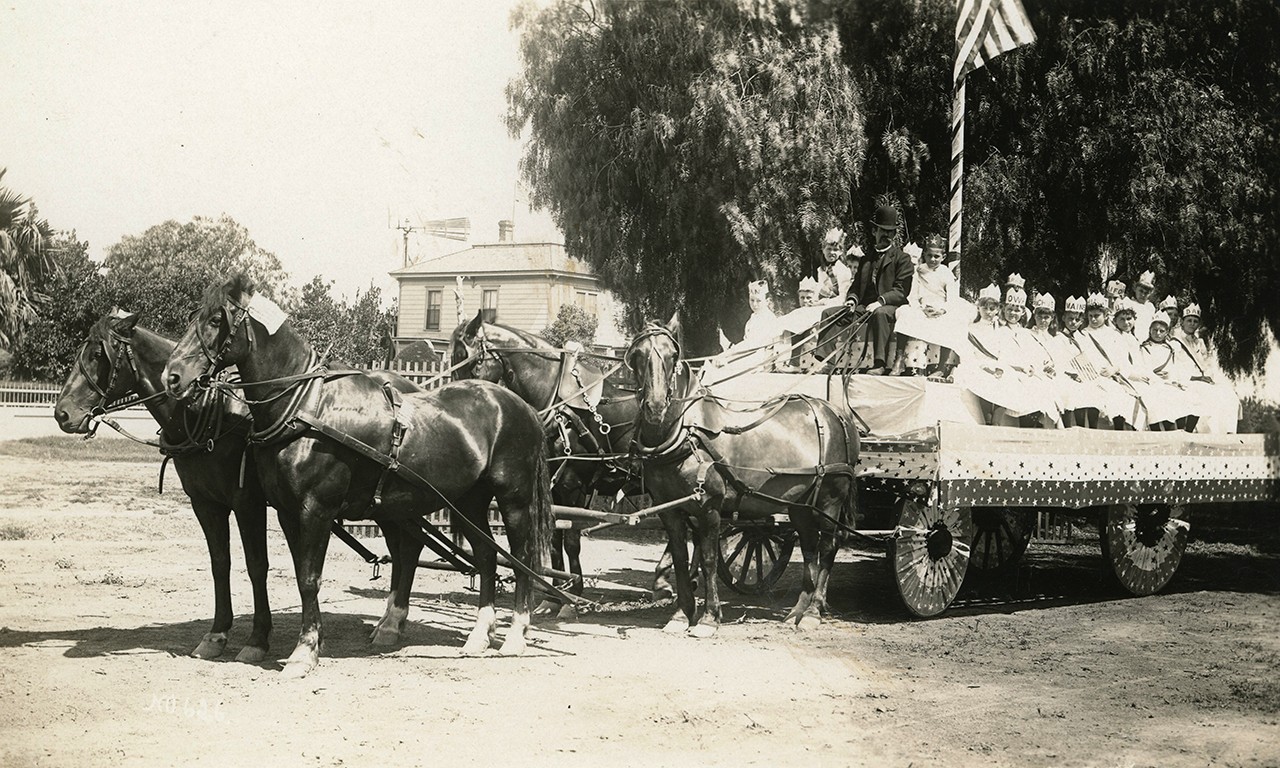 School Children on Float, July 4, 1890
Unknown Photographer; Santa Ana, California
Photographic print; 8 x 5 in.
2983
Gift of Mr. William McPherson
July the Fourth Be with You
There is a lot to like about the Fourth of July. Family, friends and neighbors all come together for a day of celebrating this country's birth with sumptuous barbeque, plentiful drink and colorful, legally dubious fireworks to light up the night's sky. The holiday has a long history not only within the United States, but also right here in Santa Ana, California where parades and a whole cornucopia of events which might now seem dated were once practiced annually. In this blog post, the second in a series celebrating the sesquicentennial of the 1869 founding of Santa Ana, the Bowers Blog looks at several of the early parades and surrounding events that took place on our city's 4th Street through photographs and documents in the Bowers Collections.
The Annual Greased Hog Catch
Interviews with early Santa Ana residents confirm that big parades were eagerly anticipated year-round. While the largest events were for varied occasions such as well-photographed military parades, annual parades of products and more, the largest in scope tended to be the annual Fourth of July party. It included a wide range of pleasure time activities such as singing, no less than two balls, tight-rope walking, a baseball game, a bicycle race, several track and field events with cash prizes—including a 25-yard potato and basket race and greased pole climb event—a slow horse race, a greased pig catch and the old standard: fireworks. Above all of these other items, parades tended to be the main feature of these Independence Day events and would include floats and vehicles from organizations throughout the community.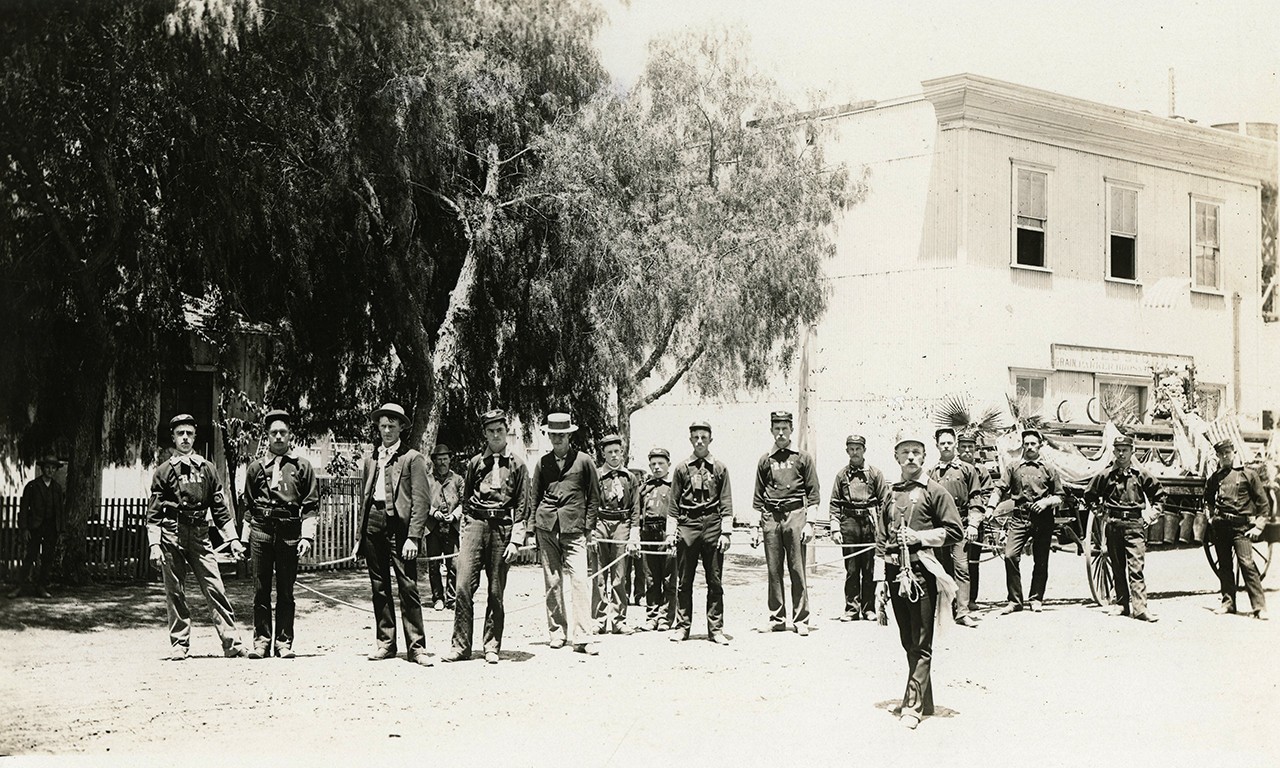 SAFD in Parade Uniforms, July 4, 1890
Unknown Photographer; Santa Ana, California
Photographic print; 8 x 5 in.
2977
Gift of Mr. William McPherson
Heroes of Heart and Hedonism
As mentioned in the first post in this series, Forged in Fire Safety: The First Santa Ana Fire Department, the Santa Ana Fire Department (SAFD) played a pivotal role in the city's early history. It just so happens that the popular organization played a big part as a sponsor of and participant in these early parades. We can see in the above photograph from July 4, 1890 that the SAFD was one of the major parts of the parade just two short years after the fire crew had been put back together in 1888. Fully kitted out in their uniforms with the company bugler taking the lead, both the SAFD hose and hook & ladder companies are ready to march down Santa Ana's 4th Street. Over the next decade, the SAFD became one of the major organizers for Independence Day events and at least the July Fourth, 1900 was provided for "under the auspices of the Santa Ana Fire Department."
Independence Day Parade Program, 1900




Orange County Herald; Santa Ana, California




Paper and ink; 6 1/8 x 9 1/8 in.




8553




Gift of Mr. William McPherson

Emil Markeburg Falling, July 4, 1900




Unknown Photographer; Santa Ana, California




Photographic print




F76.14.19




Gift of Mr. Stanley E. Goode, Jr.
Independence and Icarus
Unfortunately, the same Santa Ana Independence Day event hosted by the SAFD was marred by a tragedy they could not stop, even if it could have been prevented. At 5:00 p.m. on the Fourth a "celebrated aeronaut, Prof. Emil Markeburg," ascended in a hot air balloon in what would be one of the main events of the day's festivities. His great feat was to rise to a height of 500 feet attached to the balloon only by a strap clenched between his teeth. The lack of proper documentation means that much of the story is now anecdotal, but in some versions the goal was to then let go and parachute to safety and in others he would slowly return to earth still hanging from the balloon. Unfortunately, at the apex of the launch, Merkeburg slipped and plunged to his demise, much to the horror of onlookers. The event was never repeated at a Santa Ana Fourth of July celebration.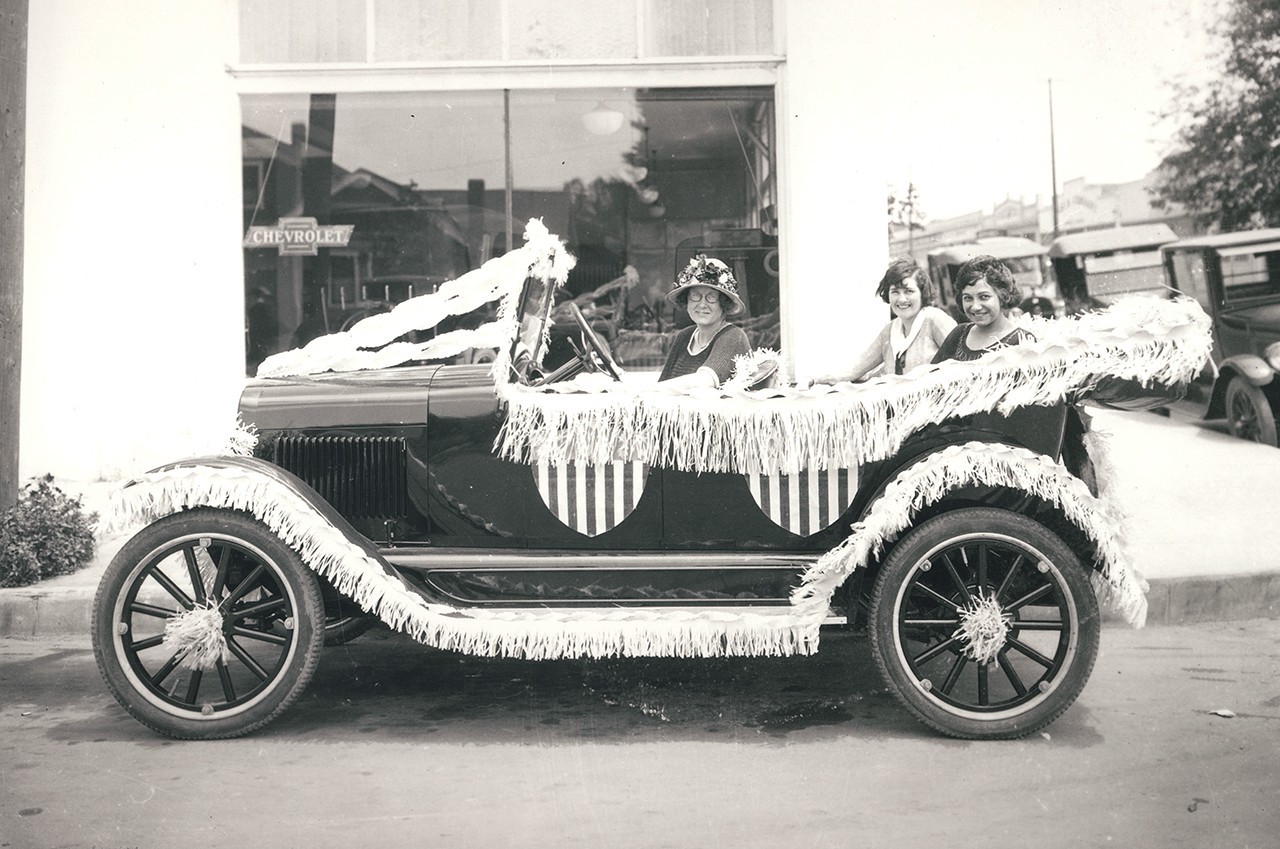 Three Women in Decorated Vehicle, July 4, c. 1920
Leo Tiede (American, 1889-1968); Santa Ana, California
Photographic print; 8 1/4 x 6 1/4 in.
37057.139
Leo Tiede Photography Collection
Motorized Parades
As automobiles rose to prevalence in the 1910s, they started to become a part of parades. The above photograph shows a group of unidentified women getting ready to celebrate the Fourth with wheels. Over the course of the 20th Century the events pertaining to Independence Day celebrations in Santa Ana continued to develop into the myriad events that are now held in and around downtown Santa Ana every year.
Charles and Ada (Rear Right) Bowers Celebrating the Fourth with Family, July 4, 1918
Unknown Photographer; Santa Ana, California
Photographic print; 5 x 3 3/8 in.
2007.7.4
Gift of Judith M. Castagno
A Very Bowers Independence Day
Of course, Independence Day parades would be nothing without bystanders. Seen here celebrating their patriotism from the comfort of their porch steps and safely tucked behind their chrysanthemums, this photograph includes two of the Bowers Museum's favorite Santa Ana residents on the Fourth of July: Charles and Ada Bowers, without whom the creation of the Bowers Museum would not have been possible. Wherever you find yourself celebrating this July 4th, the Bowers Blog wishes you every bit as happy a holiday as the original Bowers had on this day in 1918!
Text and images may be under copyright. Please contact Collection Department for permission to use. References are available on request. Information subject to change upon further research.