Celebrate world cultures through their arts.
The Bowers Museum enriches lives through the world's finest arts and cultures.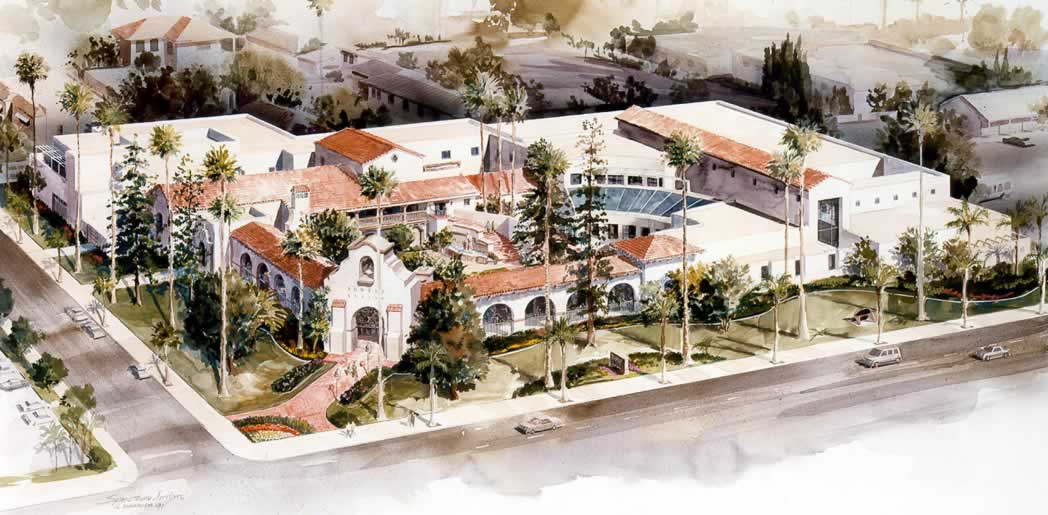 The Charles W. Bowers Memorial Museum first opened its doors in 1936 as a city-run museum devoted primarily to the history of Orange County. In 1987, the City of Santa Ana closed the museum with the understanding that after careful study and a great deal of input from the community, the museum would be reopened as a totally transformed museum, ready to meet the challenges of the 21st century.
In October of 1992, the Bowers Museum (some six times larger than the original museum) opened its doors to a crowd of over 17,000 people. Since this highly successful reopening,the museum has presented over 70 special exhibitions from all over the world, opened six permanent galleries, and watched its membership grow to nearly 8,000 members.
On February 18, 2007, the Bowers Museum opened the new Dorothy and Donald Kennedy Wing which added 30,000-square-feet and increased its total exhibition space. It features two new galleries: The East West Bank Gallery and Anderson-Hsu-Tu Gallery, in addition to the 300-seat Norma Kershaw Auditorium, the John M. Lee Court for events of up to 500 people, the Sharon D. Thompson Foyer, the S.L. and Betty Huang Courtyard, and more to meet the needs of a growing community and audiences. The Bowers Museum has been accredited by the American Alliance of Museums and has been widely acclaimed in broadcast and in print, including many national magazines such as U.S. News & World Report.
For over eight decades, the Bowers Museum has evolved in many ways. From a relatively small museum focusing on Orange County history, the Bowers is now 8.6 times larger. Now it has the distinction of being the largest museum in Orange County, and one of the finest cultural arts museums in the region. Its collections, programs, and exhibitions still include Orange County history, but now reflect the demographics of Southern California by celebrating its diverse cultural makeup, with major emphasis on the fine arts of the indigenous peoples of the Americas and the Pacific. The Bowers Collection has grown substantially since inception, with a current holding of more than 91,000 works of art. Shortly after the Bowers celebrated its 50th anniversary in 1986, the museum closed its doors for a period of self-study, evaluation, and rebuilding for the 21st century. What emerged when it reopened its doors in October of 1992 was a new museum ready for the next millennium. With the addition of the new Dorothy and Donald Kennedy Wing in February of 2007, the museum added a permanent Chinese exhibition, along with additional galleries for special exhibitions and a growing Oceanic collection, a spacious event venue, and a 300-seat auditorium, all to advance its mission to enrich lives through the world's finest arts and cultures.
Voted "Best Museum in Orange County" by readers of the Orange County Register newspaper for 26 consecutive years (2019).
Annual budget increased from $1.5 million in 1989 to $6.5 million today.
Membership growth from 200 members in 1991 to over 7,000 today.
Facility increased in size from original 10,080 square-feet to over 100,000 square-feet today.
Staff has grown from 38 in 1989 to 85 today.
Volunteer corps of more than 300 individuals contributes between 40,000 and 50,000 hours each year.
Developed and opened in 1994 an 11,000-square foot children's museum subsequently named Kidseum celebrated its 25th anniversary in 2019.
Since 1992, presented more than 70 special exhibitions from around the world including exhibitions that have traveled both nationally and internationally.
Negotiated exhibition protocols with Colombia, Taiwan, China, Italy, Israel, Great Britain, Mexico and Ethiopia.
Served more than 80,000 school children annually through docent guided tours, community outreach programs, and participatory art classes.
Hosted numerous academic symposia covering a wide range of topics including Former Secretary of State Madeleine Albright and Renowned Egyptian Archaeologist Dr. Zahi Hawass.
Published many books, monographs, and exhibition catalogues, including Tribute to the Gods, Treasures of the Museo del Oro, Bogotá, Colombia; Visions of Guadalupe: Selections from the Museum of the Basilica de Guadalupe; Guardians of the Life Stream; Seeking Immortality; Partners in Illusion; Contemporary Netsuke; Jade: Ch'ing Dynasty Treasures from the National Museum of History, Taiwan; Beethoven: Musical Treasures from the Age of Revolution and Romance; Shamans, Gods & Mythic Beast: Colombian Gold and Ceramics in Antiquity and Secret World of the Forbidden City: Splendors from China's Imperial Palace; Queen of Sheba; Mummies: Death and the Afterlife in Ancient Egypt; Egyptian Treasures of the British Museum; Mummies of the British Museum; Treasures from Shanghai: 5000 Years of Chinese Art and Culture; Terra Cotta Warriors: Guardians of China's First Emperor; Secrets of the Silk Road; Sacred Gold: Pre-Hispanic Art of Colombia; and Legacy of Bounty: Paintings from the Bowers Museum.
The Bowers Museum was recognized in the July 1993 issue of U.S. News & World Report as one of nine "must see" museums in the United States.