Bowers Internship Program
Thank you for your interest in joining the Bowers Museum Internship Program! Our goal is to collaborate with talented students from our neighboring colleges and universities to provide an invaluable hands-on complement to their academic experience. The Bowers Museum offers an array of internship opportunities for students of all disciplines.
The Bowers Museum is presently seeking interns in the Collections and Public Programs departments.
Please complete the Internship Application Form and submit along with your current resume and a brief cover letter to HumanResources@Bowers.org.
Internships are open to undergraduates, graduate students and recent graduates. Internships are year round, and applications are accepted on a rolling basis, depending upon availability. Interns are asked to commit to a certain number of hours and a specific schedule for a duration of at least 3 months. Internships are unpaid. Due to the unique nature of each department, the qualifications, responsibilities, and duration of each internship will vary. Additional information can be found on the internship application.
For general volunteer opportunities, please submit your volunteer application with a cover letter of introduction that includes any qualifications and/or experience you may have relating to your area of interest. Email your application and cover letter to HumanResources@Bowers.org.
Opportunities range from assisting with art project preparations and execution for our monthly festivals to conducting onsite surveys and helping with mailing assembly. Volunteer applications are accepted year round and positions are appointed as needed.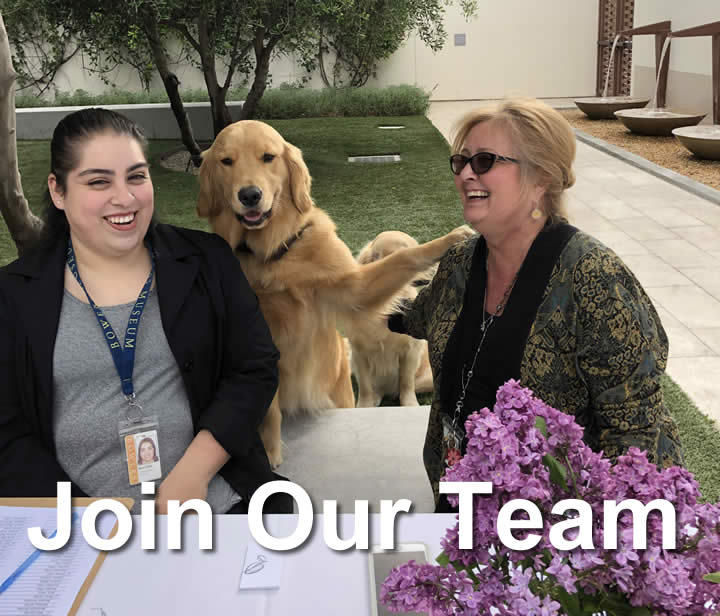 Current Employment Opportunities
Position Title: Museum Educator, K-12 and Family
Department: Education
Reports to: Kidseum Manager
FLSA Classification: Non-Exempt
SUMMARY
The primary purpose of this position is to educate, empower, and guide K-12 students and their supporting community through a variety of subject matters; this includes creating arts integrated experiences for the activities and programs offered by the Kidseum and in conjunction with themes of the Bowers Museum exhibits.
ESSENTIAL FUNCTIONS
Assist and develop curriculum for new programs and reassess content of existing programs to reflect institutional changes
Assist in designing and creating curriculum for use by educators in formal and informal education settings
Must be well read on VAPA lesson planning
Coordinate K-12 programs team to ensure consistent and successful programming
Assist with the development, execution, and evaluation of educational components of K-12 and Family programs
Build and sustain relationships with multilingual families, community partners, and students
Design and present interpretive cultural experiences to school and family groups
Lead students through Bowers galleries for participation in gallery talks and art projects
Select instructive and operational supplies for courses (Summer Camps, After School Learning Center, etc.)
Enjoy working with children, teenagers, and adults
Facilitate with special programs, festivals, and other Kidseum and Bowers events
Confer with students and parents regarding student progress and problem areas, when necessary
Maintain a safe and clean working environment at all times
Other duties as assigned
Conduct all responsibilities in a safe manner according to regulations (OSHA, IIPP, etc.)
QUALIFICATIONS
To perform this position successfully, an individual must be able to perform each essential function satisfactorily. The requirements listed below are representative of the knowledge, skill, and/or ability required. Reasonable accommodations may be made.
Education and/or Experience
B.A. degree in Art History, Education, Arts Education, or related field and three years of teaching or working in museum education; or equivalent combination of education and experience. California Teaching Credential required.
Other Skills, Abilities, and/or Training
Ability to prioritize multiple tasks in a fast-paced environment
Strong organizational skills and attention to detail
Good interpersonal skills and desire to be a team player
Excellent oral communication skills (i.e. ability to deal effectively with others, speak professionally on the phone, etc.)
Creative problem-solving skills
Sense of creativity
Ability to work within strict deadlines
Ability to work extended hours as needed
Ability to work one weekend day
Spanish fluency is a plus
To apply, send your cover letter and resume to HumanResources@Bowers.org; no phone calls please.