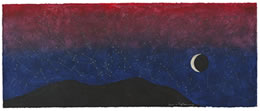 September 21, 2019 - January 19, 2020
Purchase Tickets Now! Group Tours
"Rufino Tamayo exhibition pushes the boundaries of print at the Bowers Museum"- LA TIMES.
"Created...using a 4-ton lithographic stone, the piece fills an entire wall of the museum"- OC Register
"Long before 3D printing there was Mixografia."- COAST Magazine
Dimensions of Form: Tamayo and Mixografia addresses the artistic legacy of modern master Rufino Tamayo (1899-1991). In this display of boundary-breaking work, fifty prints on loan from Mixografía® studio in LA depicting celestial bodies and serpent-gods will accompany an 1,800-pound lithographic stone plate, revealing the innovation behind Tamayo's three-dimensional masterpieces.