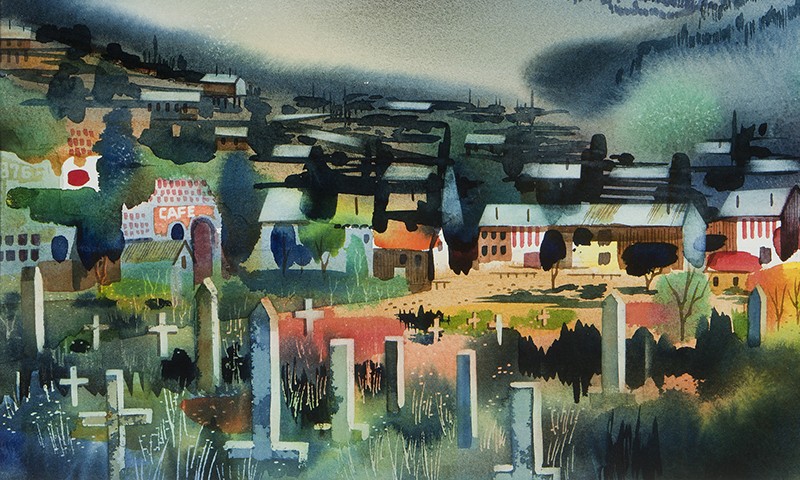 Detail of June Lake, mid to late 20th Century
Noel Quinn (American, 1915 - 1993); June Lake, Mono County, California
Watercolor on paper; 19 1/4 × 26 7/8 in.
2018.6.24
Ann and Bill Cullen Memorial Collection
Quintessential Artist
This post harkens back to the Bowers Blog's 6-part series on the artists of the Ann and Bill Cullen Memorial Collection, now featuring Noel Quinn, another of the collection's major California regionalist painters. Though he was never as well-known as Millard Sheets or Dong Kingman, Quinn built his own niche both with his unique philosophy on color, and with the brush-drafted essays he produced for his ideology's advancement. In this post we briefly look at Quinn's life, and then examine how his paintings stand apart from those of other California Scene painters of the 1930s and '40s.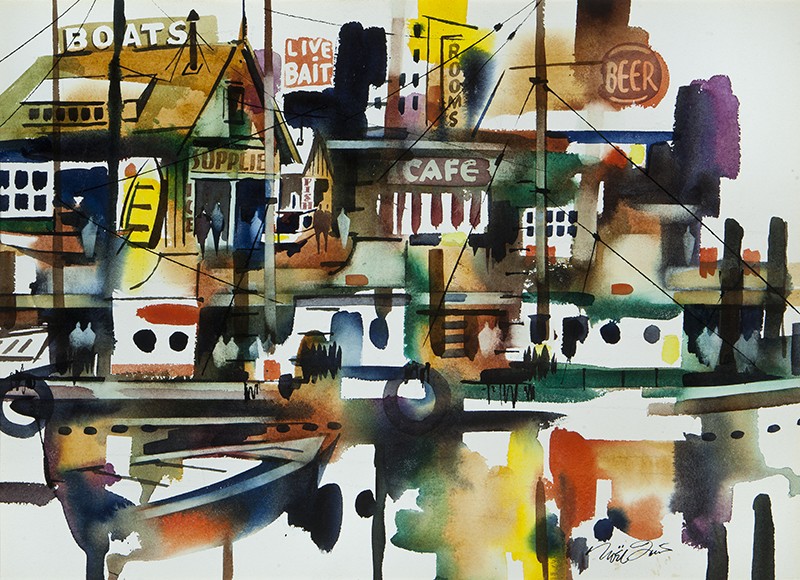 Dockside, c. 1960
Noel Quinn (American, 1915 - 1993); California
Watercolor on paper; 19 1/4 × 26 3/4 in.
2018.6.23
Ann and Bill Cullen Memorial Collection
Noel, Noel
Quinn chanced into his unlikely name by being born on Christmas day—Noel being the French word for Christmas. Though sources on Quinn are murky on his relationship with the holiday, the name's language was indisputably prophetic. After graduating from the Rhode Island School of Design, he followed American and British artists of the lost generation to Paris and studied under Cubist painters such as André Lhote and Art Deco designers like the mononymous Cassandre. His first real work as an artist also began in Paris, working as an adman for J. Walter Thompson Advertising Agency. Sensing the direction the wind was blowing, he departed Paris for Los Angeles at the onset of World War II. It was here that be became an influential member of the California Water Color Society and close friends with the other artists of the society. Like Emil Kosa Jr. and Phil Dike, he worked in Hollywood as a production designer, supplementing his primary income with more contract work and a job teaching at the Otis Art Institute.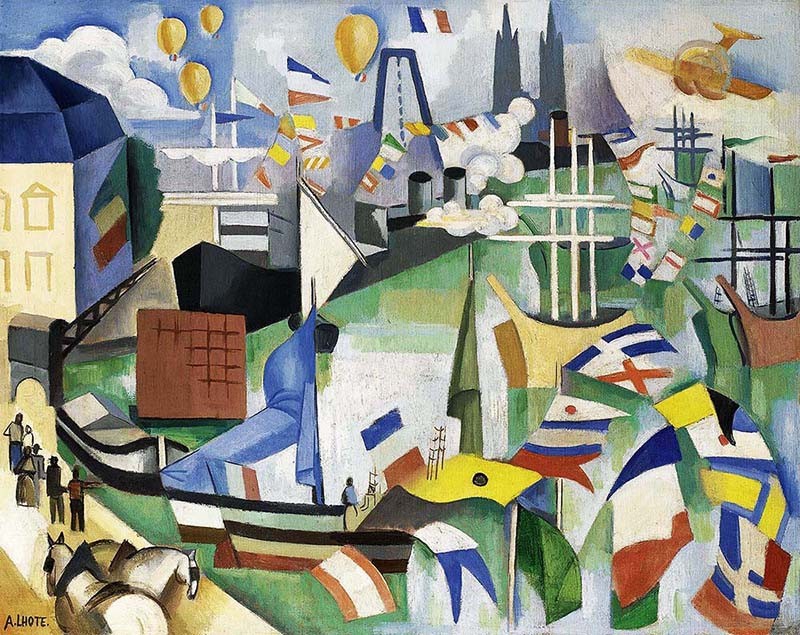 14 July, Port of Bordeaux-Poincare, 1913-14, by André Lhote
Well-Reported
Unfortunately, Quinn's life has never been immortalized into a formal biography. Many of the stories surrounding his life are anecdotal—but this is not to say that they are not worth repeating. For instance, multiple sources confirm a young Adolf Hitler once approached Quinn asking for an earnest review of his art. It was with much pride that Quinn would tell this story, for he was harshly critical of the villain-to-be's works and denounced Hitler as a "reporter" of subjects rather than an artist. The provenance of the two paintings featured in this post perhaps lacks the same historical significance but is also an interesting one. Tino Pontrelli was a lesser-known Californian artist, mostly famous for his magazine illustrations, but was a close associate of Quinn after having studied painting under him at the Otis Art Institute. Sometime during his lifetime, Pontrelli received these two paintings from Quinn and his widow sold them directly to Ann Cullen following Pontrelli's passing in 1995.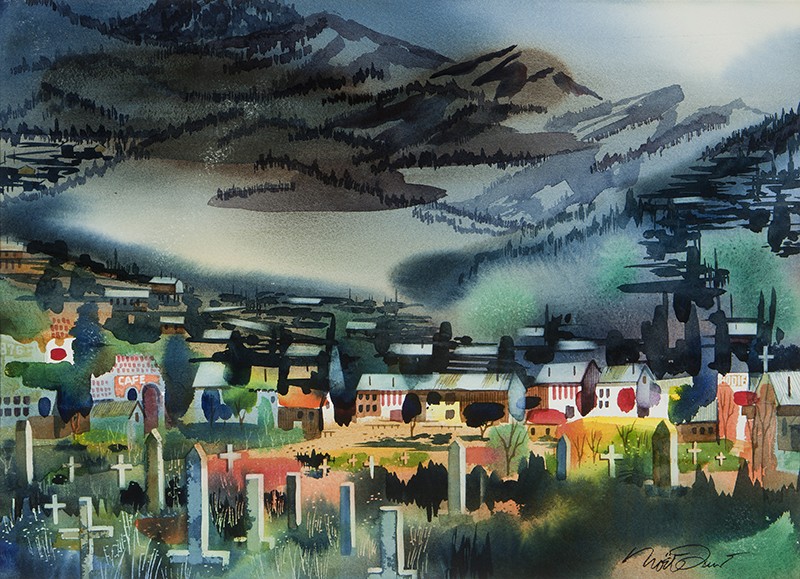 June Lake, mid to late 20th Century
Noel Quinn (American, 1915 - 1993); June Lake, Mono County, California
Watercolor on paper; 19 1/4 × 26 7/8 in.
2018.6.24
Ann and Bill Cullen Memorial Collection
Bounty of Color
Perhaps more than any of the other artists we have looked at in the Cullen Memorial Collection, Noel Quinn was influenced by Cubism. André Lhote was an excellent teacher of Cubism, and Quinn's time spent learning the fractalated geometric style from Lhote permeated throughout his oeuvre. After his move to the Golden State his style made him something of an oddball in the California Water Color Society. Certainly, he took up the prerequisite watercolor medium—a decision André Lhote likely would have scoffed at—and yes, Quinn painted en plein air, capturing the same boisterous and lonely Californian scenes as his contemporaries, but outside of his commercial works, the degree of abstraction found in his paintings was at an entirely different level from Brandt, Kosa Jr., or any of the other California Scene painters. Even for Brandt, who dabbled heavily in abstraction and Cubist influences, it was the scene which first met the viewer: a painting of boats in a bay, a barn laid out before a shaded hillside, and so on. Quinn did not emphasize the scene. In June Lake, and especially in Dockside, Quinn's paintings evidently favor color and form. With watercolors, Quinn liquefied Cubism—making forms which would have been so definite for Lhote, melt or dance their way out of their containers. Buildings are half-lit by swaths of yellow extending well beyond their walls. June Lake Village is a prism refracting all seasons of the year. Quinn was passionate about color to the point of pretention. In an interview with the Los Angeles Times he said, "You don't really see [color]. Only experience allows us to do that." In Quinn's work though, it would be difficult to miss the bouquet of hues he presents.
Ann Cullen Collection photography sponsored by the Bowers California Art Council. Text and images may be under copyright. Please contact Collection Department for permission to use. References are available on request. Information subject to change upon further research.