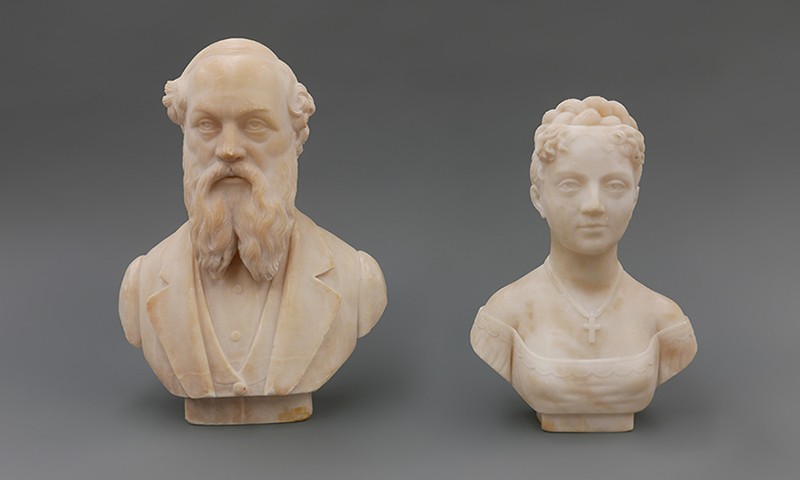 Busts of David Hewes and Franklina Gray, 1877
Giuseppe Andreoni (Italian, 19th Century); Pisa, Italy
Marble; Various Dimensions
2697, 32782
Gifts of Mrs. D. Eyman Huff and Mr. & Mrs. James A. Moore
Total Bust
With American Visionary: John F. Kennedy's Life and Times having just left the Bowers Museum this past weekend, the portraits section of the much-beloved California Bounty is now set to return in its full glory in the next few days. With it there are few exciting additions coming to the exhibition. The first of these is a rare portrait painted by both Alberta and William McCloskey coming to the Bowers courtesy of the Laguna Art Museum in exchange for a Bowers painting going to their upcoming Art Colony: The Laguna Beach Art Association, 1918-1935. The other new arrival happens to be the subject of this post. It is a recently rediscovered bust of "the Maker of San Francisco," David Hewes.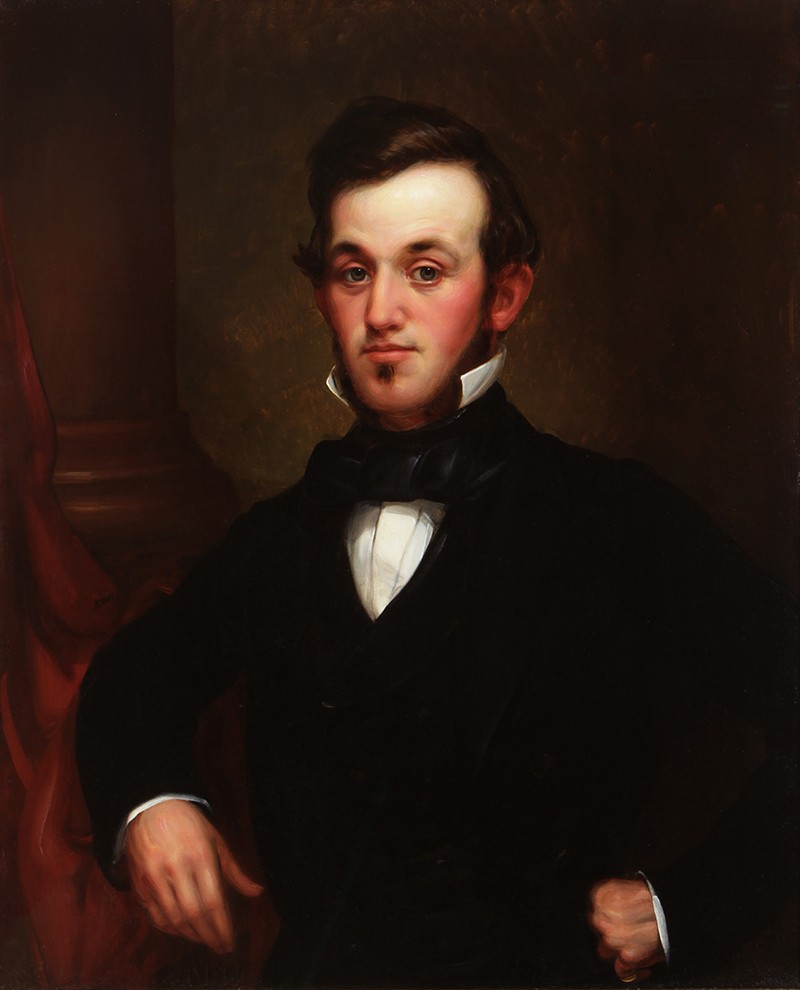 Portrait of David Hewes, c. 1854
William S. Jewett (American, 1812-1873)
Oil on canvas; 35 1/2 x 28 1/2 in.
5541
Gift of Mr. William McPherson
Midas Touch
Regulars of California Bounty might already recognize a much younger version of Hewes' face from a painting of Hewes by William S. Jewett made in 1854. The Bowers Blog has previously featured this painting in Portrait of David Hewes, 1854. In it the major accomplishments of Hewes' life are outlined, but to summarize here, he lived a life in which most of his business ventures were gilded but his personal life was less fortuitous. Hewes' most famous action was quite literally making a golden railroad spike and then presenting it to Leland Stanford to be driven in celebration of the completion of the First Transcontinental Railroad. Other big claims to fame included levelling the hills and shanties of San Francisco so that the city could be built into what it is today, and the Hewes Ranch in Orange County which became one of the county's largest citrus plantations.
Endless Summer
The story of this bust begins in 1875 when David Hewes wedded the previously widowed Mathilda Gray. The pair were both avid connoisseurs of fine art and decided to spend what would become a two-and-a-half-year long stint honeymooning across Europe and the Middle East with Mathilda's daughter and sister in tow collecting artworks and décor for their San Francisco home. In total the pair visited 22 countries collecting varied works of art. Some portions of the journey to the Middle East and the Egyptian Nile were undertaken by David Hewes alone on account of Mathilda's poor health, foretelling her tragic future. When Hewes did rejoin his family in Italy, they travelled to Pisa to purchase some sculptural works. It was here that he met a sculptor who advertised to English-speaking audiences and from him Hewes commissioned busts of himself and his beloved step-daughter, Franklina Gray.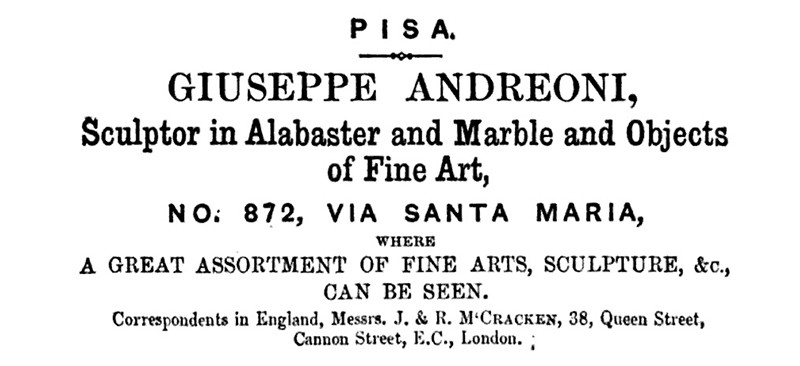 Advertisement for Andreoni appearing in an 1870 handbook for travellers.
Andreoni
Giuseppe Andreoni was the Pisan marble sculptor behind these busts. Publications indicate that he was likely born circa 1825 and worked mostly between 1870 and 1894 when his last signed work was created. All that is known about him outside of what can be discerned from his work is that his son Orazio Andreoni set up shop in the latter years of the 19th Century and also became a marble sculptor of some renown. Andreoni's works were all created from either alabaster or from the locally quarried Carrara marble. His true skill lay in his ability to capture loosely hanging fabrics, an ability which was sadly wasted on the busts he made for tourists like Hewes and his step-daughter. Still, the purchased busts were prized by both Hewes and Franklina, each taking them with them throughout their lives.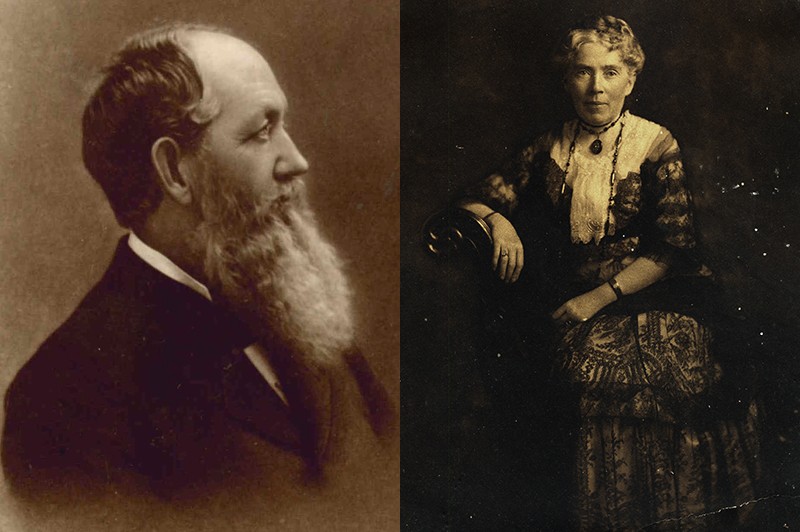 Photographs of David Hewes and Franklina Gray, late 19th and early 20th Century
Various Photographers
Photographic prints
5641, 35214
Gifts of Mrs. Richard W. Jones and Mrs. Stella May Preble Nau Estate
Returned
At the conclusion of their endless old-world summer, David and company returned to San Francisco in 1877 only to be met with the almost immediate worsening of Mathilda's health. Having spent so long gathering furnishings for their home, they packed up and moved south to Tustin in an ineffective attempt to combat Mathilda's bronchitis. She passed away in 1887. Almost thirty years later, near the end of his life, Hewes brought the bust of himself—perhaps a nostalgic reminder of those happy years he spent with his wife—to the newly created David Hewes Realty Corporation. He passed away shortly thereafter and the bust came into the possession of D. Eyeman Huff, the new manager. When the Bowers Museum was founded, the bust was donated so that the sculpture of one of Orange County's premier figures could be properly preserved. Franklina, who married W.S. Bartlett following the family's return from Europe also kept her bust with her. In 1965, long after Franklina's death, her descendants discovered that the complementary bust of Hewes was in the Bowers Museum's collections and donated their Franklina's marble likeness so that it could be kept "near the David Hewes when possible."
Partly in celebration of the re-opening of California Bounty, this weekend the Bowers Museum is kicking off our Summer Concert series with a multi-media concert featuring projected images from the exhibition accompanied on stage by the fabulous Verismo Ensemble! Don't miss this dreamy Summer Sunday afternoon experience!

Text and images may be under copyright. Please contact Collection Department for permission to use. References are available on request. Information subject to change upon further research.