Same Blog, New Home
This week the Bowers Blog is happy to announce a re-release on a new platform! As we continue to improve the way in which we share our collections, we take this opportunity to post about another big project under development in the Bowers Museum's Collections Department: a comprehensive digitization of our collections' approximately 12,000 photographs. The photographs have an immense scope. Everything from aerial survey photographs taken after the bombings of Japan, to stereographs of Teddy Roosevelt, to silly photographs of dogs posed on horses is all housed in the museum's archival boxes. The heart of this collection is a comprehensive detailing of the people and architecture of early 20th Century Santa Ana by Edward W. Cochems and Leo E. Tiede, two local semi-professional photographers. In this post we discuss their lives and their bodies of work.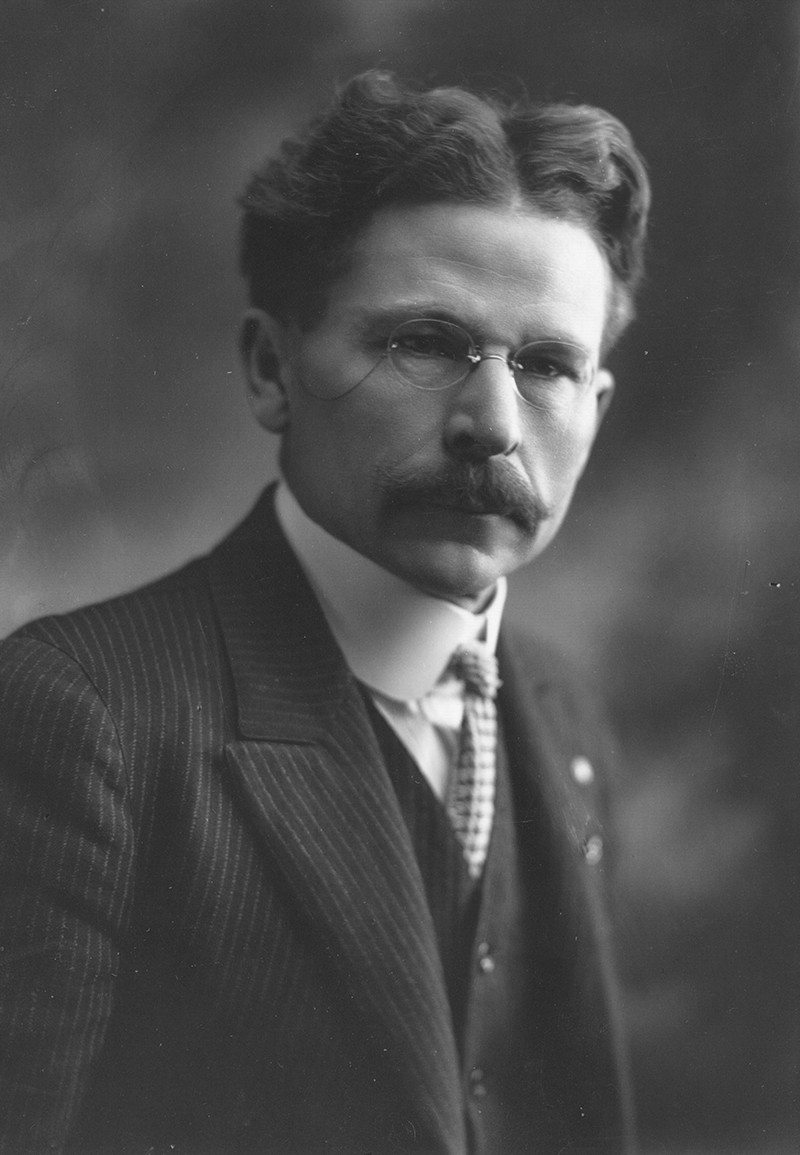 Edward Cochems, c. 1919
Edward W. Cochems (American, 1874-1949); Santa Ana, California
Photographic print; 7 x 5 in.
35473
Gift of Mr. Eldon G. McNeil
Cochems, He Hardly Knows 'Em
Edward William Cochems was born in Chicago in 1874 and moved out to California with his family in 1885. He spent his teen years and early adulthood farming in rural Southern California where he developed a healthy sense of humor. His daughter remarked that he could not only imitate bird calls, but convincingly whinny like a horse. Regrettably, by the end of the first decade of the 20th Century he had found himself significantly drained by his work as a salesman. Cochems invested himself into everything he did, and it was quipped that he was so good at that he literally had a nervous breakdown. Realizing that his life was in need of a change, Cochems purchased his first camera from a magazine. With absolutely no training whatsoever he began to photograph commercially and quickly grew a knack for it. By 1915 he moved to Santa Ana and established himself in the growing community as a pivotal member of several fraternal organizations—perhaps most famously revitalizing the Santa Ana Breakfast Club. Cochems loved photography so much that he was working up until two years before his death in 1949 when he finally became too ill to continue to work.
If Its Beauty We Take It...
Both Cochems and Tiede were commercial photographers first and foremost, but took great pleasure in practicing their craft as hobbyists as well. In the 30 plus years Cochems worked as a professional photographer between arriving in Santa Ana and laying down his camera in 1947, he worked out of four different studios, helped establish at least one small newspaper, taught photography as an adult education course, and organized an association of Santa Ana photographers. All of this and so much more is represented in the approximately 800 Cochems photographs the Bowers Museum holds. His work was by no means limited to Santa Ana, but much of it does focus on the local area. Architectural studies now show insight into a beloved city which has changed greatly over the course of the last hundred years, but Cochems brand of highly staged photographs also serve as time capsules for farmhands smiling tired smiles and women in their best furs standing on the rocks of Californian beaches.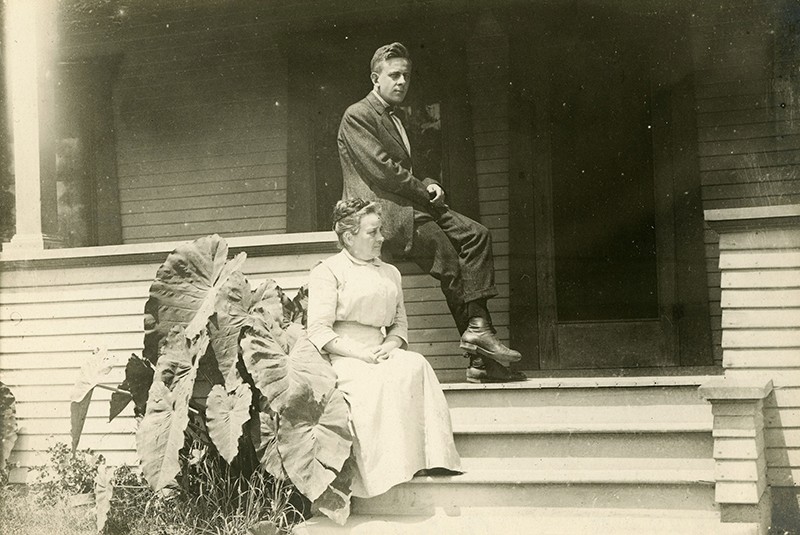 Leo Tiede Outside His Home, early 20th Century
Leo Tiede (American, 1889-1968); Santa Ana, California
Photographic print; 5 x 7 in.
37827.2
Leo Tiede Photo Collection
All Tiede Up
The biographical facts of Tiede's life read almost exactly like Cochems'. The younger photographer was born in the midwestern city of Belmont, Iowa in 1889 and moved out to California in 1913. He took to photographing almost immediately and worked until 1950 when he retired from commercial photography. In an unlikely coincidence, the two photographers' careers overlap within a year or so. There is evidence that Tiede and Cochems knew each other as well, though they were not members of any of the same organizations. In his life, Tiede also ran his own private studio, but he started out his vocation doing odd photography jobs, including working as the Orange County correspondent for the Los Angeles Times. Tiede passed away in 1968, living to see a much-changed Southern California.
...If It Isn't We Make It
The Bowers Museum's Leo Tiede Photo Collection is more varied than Cochems', though this is perhaps as much due to its size as anything else. All told, it constitutes approximately 1700 photographs, postcards and more from early 20th Century Santa Ana and parts beyond making it one of the single largest donations given to the Bowers. Leo Tiede is not nearly as well remembered in the context of early Santa Ana history as Cochems. Where Cochems took highly staged shots, more often than not Tiede let his subjects find him. Some of his most remarkable photographs are towering industrial structures photographed for his job working for the Towner Manufacturing Co. At least one of these was submitted to a catalogue contests where it took silver to a portrait of a Scottish Terrier.

Text and images may be under copyright. Please contact Collection Department for permission to use. Information subject to change upon further research. Uncredited photographs are gift of Mr. Eldon G. McNeil and Leo Tiede Photo Collection. Accession numbers available upon request.