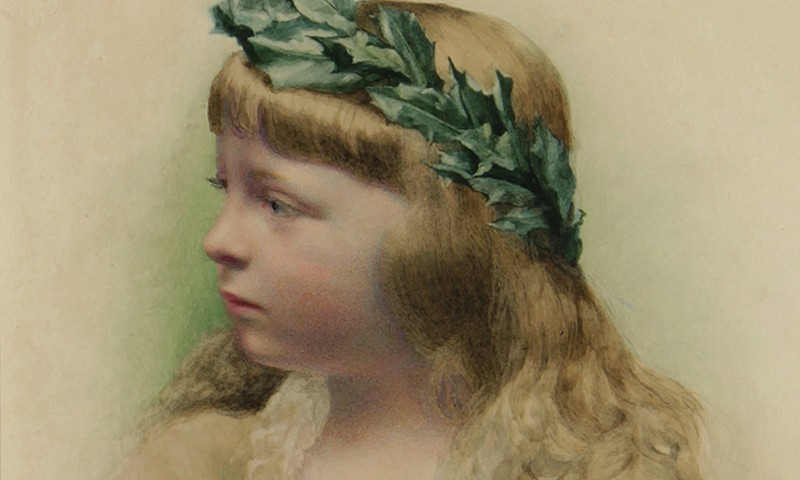 Detail of Untitled (Portrait of Eleanor with Wreath), c. 1892
Alberta Binford McCloskey (American, 1855-1911) or William Joseph McCloskey (American, 1859-1941)
Watercolor; 15 7/8 x 14 1/8
74.22.9
Gift of Mrs. Eleanor Russell
Once Upon a Time
Any visitor to the Bowers Museum will recognize the works of Alberta Binford and William Joseph McCloskey by the immense attention to detail in their still lives, and their incredible ability to capture the soul of their sitters in their portraiture. Individually both were accomplished artists, but throughout the 15 years of their marriage, they drew upon the other's strengths and became greater for it. This post is ostensibly about one of their more spectacular joint compositions, their daughter Eleanor Alberta McCloskey Russell.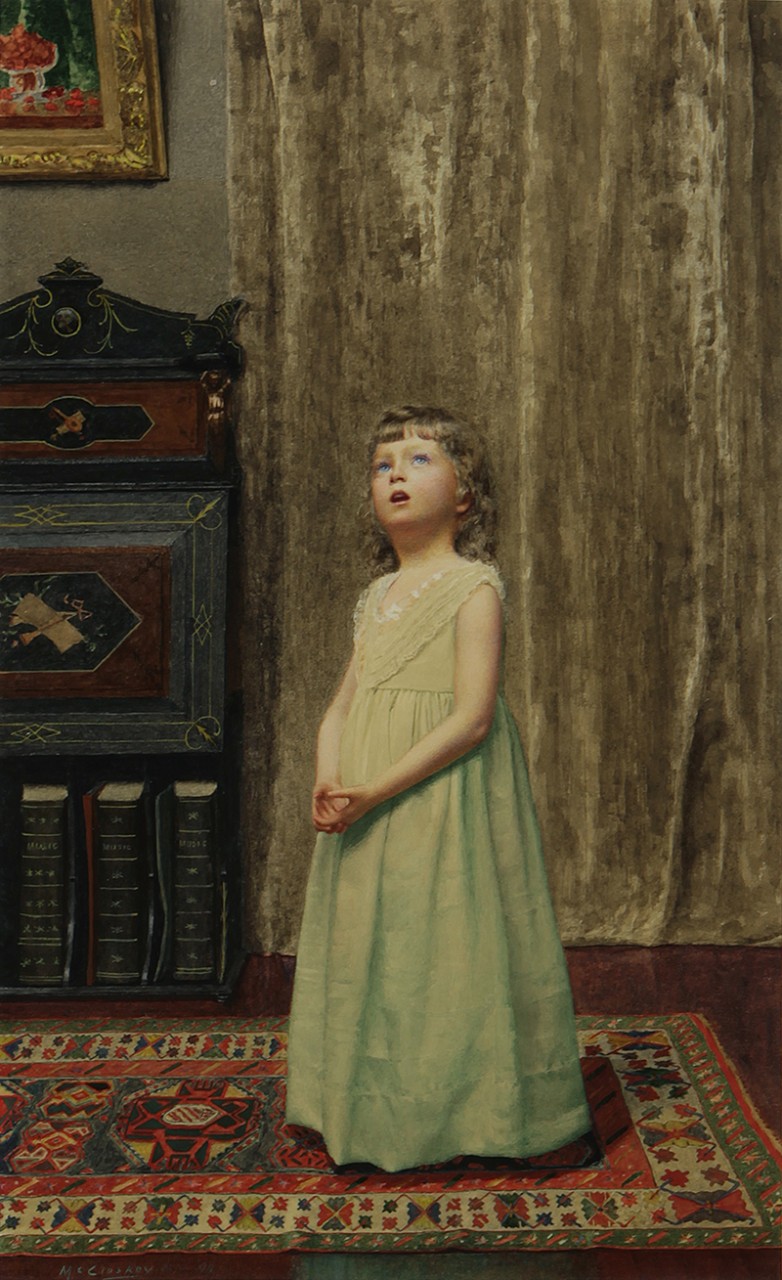 Song, 1890
Alberta Binford McCloskey (American, 1855-1911)
Oil on paper over canvas; 20 × 12 in.
74.22.11
Gift of Mrs. Eleanor Russell
The Denver Duo's Daughter
Alberta Binford and William McCloskey first met in Denver, Colorado in either 1882 or 1883. The pair were big fish in a small sea, immensely talented in a city where the arts were in their infancy, and they were immediately attracted to each other. They fell in love and soon married. About a year later, on March 14, 1884, Eleanor McCloskey entered the world. She, of course, would have had little input in the matter, but she could not have picked a better time to do so. It was during these same late 19th and early 20th Century years that attitudes towards child rearing began to soften. Children had once been treated with a cold indifference, but were finally being understood as the beacons of joy they could be. The love and affection that Eleanor received cannot directly be documented, not even later on in her life by letters or cards between her and her parents. The transcript of the only interview conducted with her regarding her parents work in 1969 also fails to describe their relationship. But where we can see this familial love, clear as crystal, is in their artwork; for as attitudes towards children began to change, so did their frequency in American paintings, and Eleanor became a favorite subject of her parents.
Waiting, c. 1892
Alberta Binford McCloskey (American, 1855-1911)
Watercolor on paper; 25 1/2 × 19 in.
74.22.1
Gift of Mrs. Eleanor Russell
Life of a Model
Mothers and fathers often make great sacrifices for their children: money, energy, the last of something delicious they had been eyeballing in the fridge; but the greatest gift a parent can give their child is time. So, when one considers that portraits required a sitter to remain in place for hours, holding a relatively stationary pose, such paintings of children are either a theft of a child's time or a very mild form of torture by tedium depending on how one looks at it. Young Eleanor McCloskey was painted a lot. In the Bowers' collections alone, we have four paintings or drawings of her. The total count may have been as many as thirty—all before her 10th birthday. The question then becomes: was the McCloskeys' penchant for painting their daughter a blessing or a curse for Eleanor?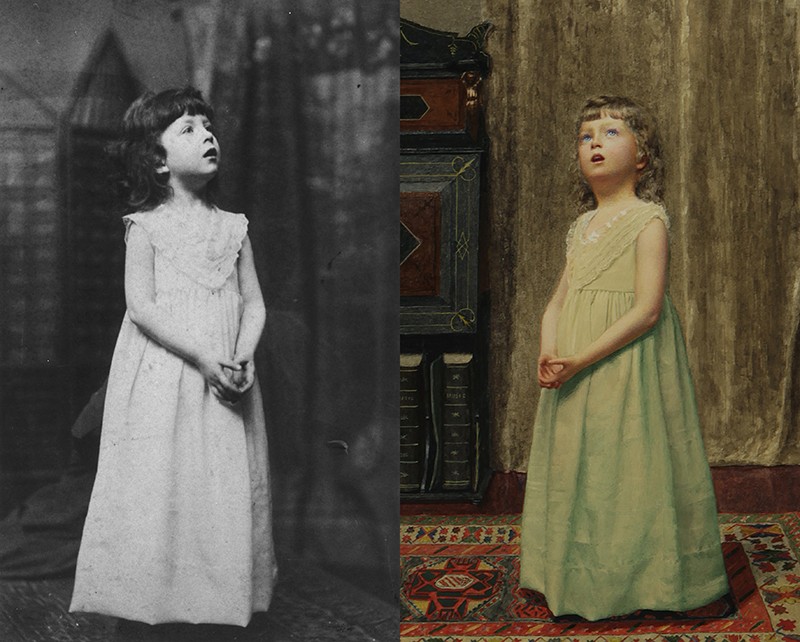 Side by side of a photograph of Eleanor c. 1891 and a detail of Alberta McCloskey's Song
Photograph courtesy of Robert Canete; 74.22.11, Gift of Mrs. Eleanor Russell
Photorealism
Mercifully, young Eleanor likely never had to hold a multi-hour pose. Evidence seems to prove that the McCloskeys were no strangers to painting from photographs. Per recent correspondence with descendants of the McCloskeys' extended family, both McCloskeys sometimes based paintings on photographs. As Nancy Dustin Wall Moure points out in Partners in Illusion, the same appears to hold true for the paintings of Eleanor. At least one of the paintings in the Bowers' collections, Song, was clearly painted from a photograph of Eleanor. More photographs of the McCloskey family would be required to definitively prove the same true for the other paintings of Eleanor, but it seems highly unlikely she was subjected to true portrait modelling at an early age.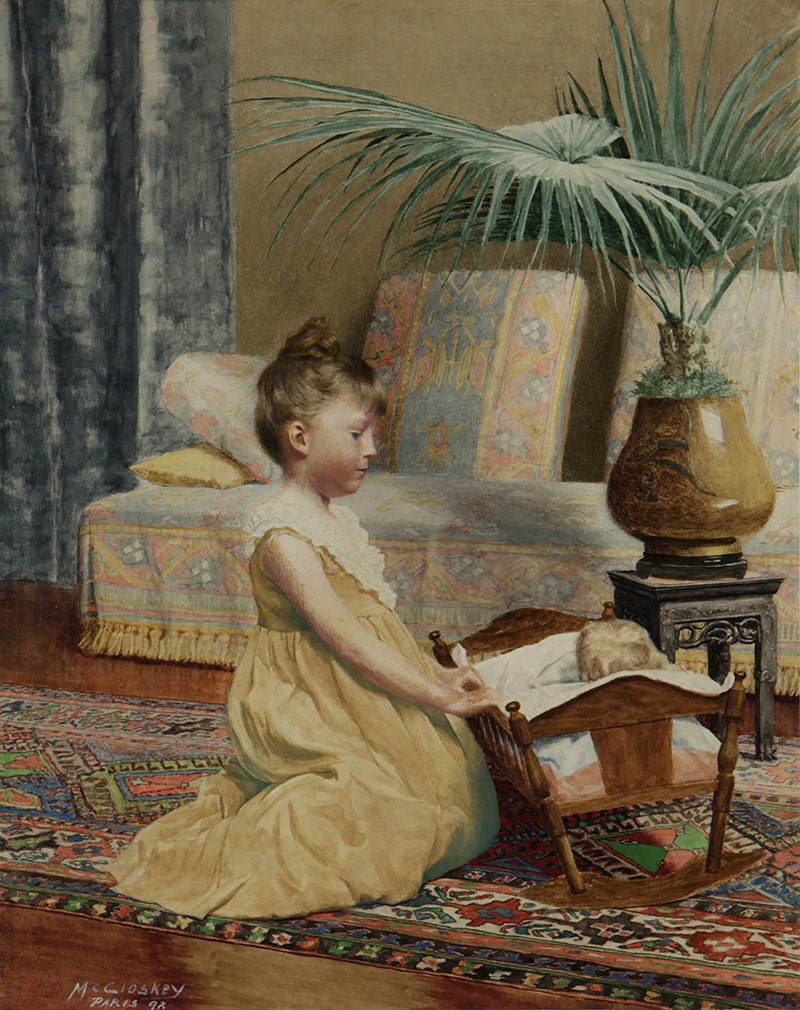 Maternal Cares, 1892
Attributed to Alberta Binford McCloskey (American, 1855-1911) and William Joseph McCloskey (American, 1859-1941)
Watercolor on canvas; 19 1/2 x 15 1/2 in.
74.22.5
Gift of Mrs. Eleanor Russell
Under Lock and McCloskey
What does all of this tell us about the McCloskeys' love for their daughter? She was a beloved subject of theirs, and she was never forced to pose for anything more than photographs. Certainly, these are only fragments of a question whose definitive answer may be lost to time. It should probably be mentioned that the McCloskeys did have another child, William McCloskey Jr. He was less heavily featured in their artwork, to be sure. Maternal Cares, is one of only two know paintings including William Jr., and in it only a tuft of his hair can be seen rising from a cradle. But in William the elder's later years, when he was in dire need of help after the divorce and subsequent death of Alberta, both children jumped to his aid. Together they granted him a second wind. And it was during these years, according to Eleanor, he did the best work in his entire life. Perhaps it was the knowledge in his heart that he loved and was loved by children that spurred him on.
Text and images may be under copyright. Please contact Collection Department for permission to use. References are available on request. Information subject to change upon further research.