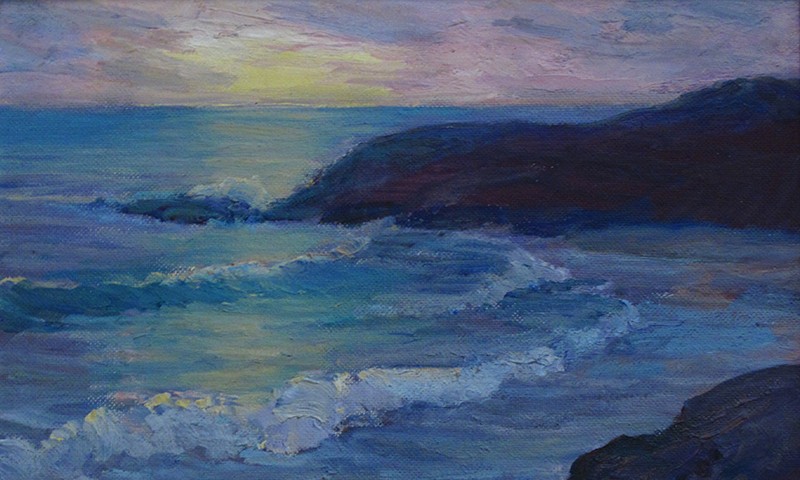 Detail of Coastline, early 20th Century
Nellie Gail Moulton (American, 1878-1972)
Oil on masonite; 12 × 14 × 3/4 in.
F7736
Martha C. Stevens Memorial Art Collection
Stevens Start-off
One of the lesser-known facts about the Bowers Museum's remarkable Fine Art Collection is that we have only paid for one painting. The rest of the Bowers' 1543 currently accessioned paintings were acquired through the immense generosity of donors. The first big boon came in 1948, in the form of a bequest: the Martha C. Stevens Memorial Art Collection. Lovingly named for the wife of Sherman Stevens, a wealthy Tustin rancher, the 89 paintings included therein created the foundation for our collections today. Among famous paintings by Guy Rose, George Inness, and Frederick Childe Hassam, and many others, was Nellie Gail Moulton's Coastline, a beautiful painting of the California coast by a founding California Plein Air painter. Here we discuss the painting and its larger role in cementing the Bowers Museum's Fine Art Collection.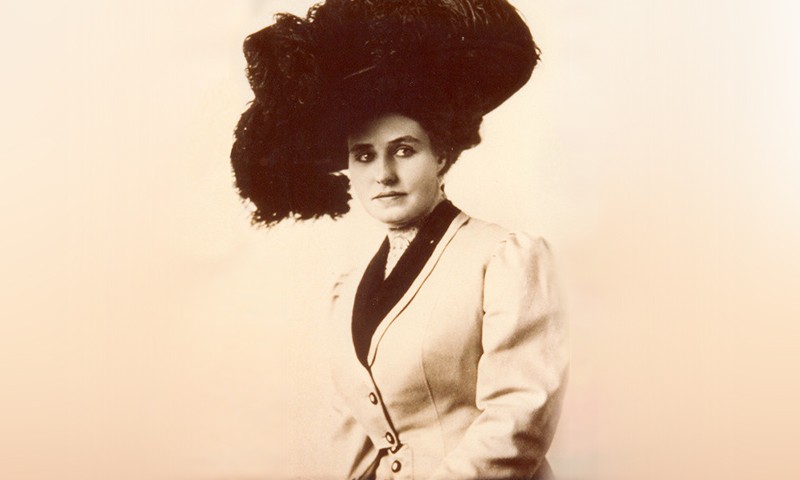 Edited photograph of Nellie Gail Moulton, courtesy of the Moulton Company
Moulton Led
Born on December 8, 1878 in Irving, Kansas, Nellie Gail (1878-1973) spent much of her childhood and early adult life travelling, never staying in one place for too long; but after her family moved to Southern California she began to visit regularly. Her first impression of Orange County was not a strong one: "Who would want to live here?" But while working in Seattle as a school teacher in 1907, Nellie took a routine trip south to visit her family and met Lewis Moulton, another wealthy cattle rancher in Orange County, and the pair married less than a year later. Over time, Nellie Moulton fell in love with the locale, developing a love for painting among the lonely hills she had once critiqued so harshly. She became part in parcel to the Plein Air scene burgeoning in Laguna Beach and painted everything California had to offer, including countless seascapes such as Coastline.
The Emerald Sea, c. 1930
Anna Althea Hills (American, 1882-1930)
Oil on canvas; 7 x 10 in.
F7741
Martha C. Stevens Memorial Art Collection
Painted Hills
Sometime after 1913, Nellie Moulton's desire to study the techniques of Plein Air painting had her cross paths with Anna Althea Hills (1882-1930), a more-established painter from Ohio who had just recently moved to the area. Anna Althea Hills had learned much about the technical elements of painting while attending art schools in the United States and Europe. It was this background met with her natural talent for landscape and marine-scapes that led her to achieve a degree of fame among Southern California Impressionists. Anna Hills became a mentor to Nellie Gail and cultivated her passion for artistry, teaching her much about working with oils. Their friendship led the two to found what is now the Laguna College of Art and Design.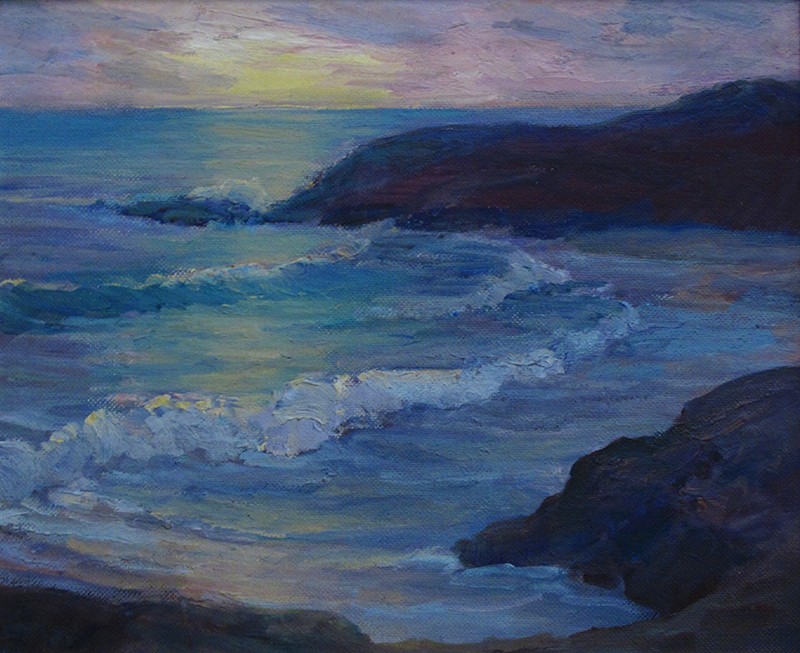 Coastline, uncropped
Martha C. Stevens Memorial Art Collection
Coast is Clear
Coastline depicts a calming scene of the Pacific Ocean's waves crashing on a rocky Laguna-area shore at sunset. Perhaps Nellie Moulton's most notable attribute as a painter can be seen here in the technique she uses to paint the ocean. There are many challenges to painting water, especially en plein air, as the artist is at the mercy of not only to the ever-changing play of wind and tides, but also the quality of light reflected off water as the sun makes its arc across the sky. Nellie's ability to capture the vibrant pinks and yellow of sunset by using complementary colors for the air and sky, confirms her skill as an artist. It should be said too that the major shortcoming of painting in situ, became a strength when properly harnessed. By using slow-drying oil paints, the traditional medium for Plein Air paintings, artists like Nellie Moulton could capture the constant changing of natural light.
Paintings from the Martha C. Stevens Memorial Art Collection by William Wendt, Thomas Dewing, Guy Rose, and

William Ritschel
F7715, F7699, F7693, and

F7674
Soon to be Scene
Much in the same way that the Martha C. Stevens Memorial Art Collection began a legacy of wonderful fine art at the Bowers, as an early Southern California painter Nellie Gail Moulton laid the groundwork for many of the later great Southern Californian artists. In the coming weeks the Bowers will officially announce an incredible new addition to our Fine Art Collection, something which could only have been made possible through the efforts of talented painters like Nellie Moulton, works like Coastline, and generous donors like the Stevens.
Original text guest authored by Kristina Agopian, Intern for the Bowers Museum's Collections Department. Text and images may be under copyright. Please contact Collection Department for permission to use. References are available on request. Information subject to change upon further research.