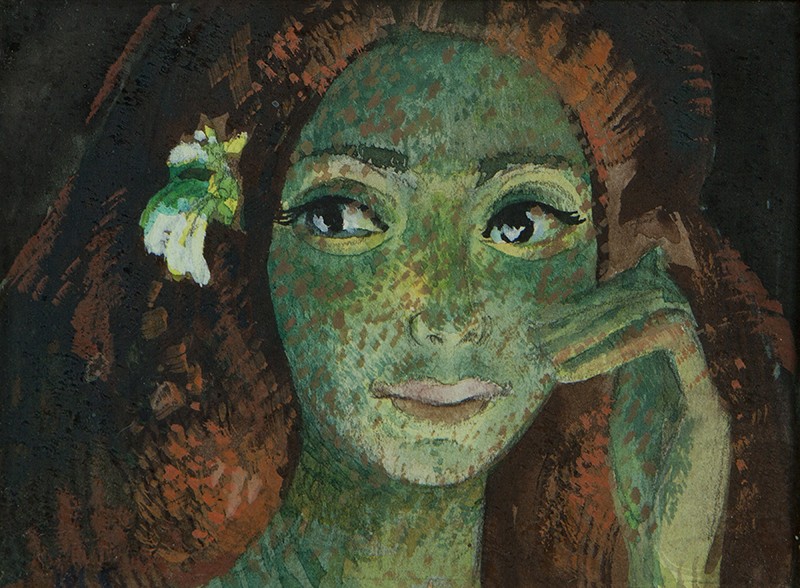 Girl by Candlelight, 1942-1962
Muggs Van Sant (American, 1898 - 1964)
Watercolor on paper; 3 x 4 in.
2018.6.34
Gift of Ann Cullen
Covered by Sheets
The last post in this series on the Ann Cullen Collection left off with Millard Sheets still as a relatively young man working still to create a unique style and find the subjects that would appeal to him most-often throughout his life. Even in these early years he had already achieved a great deal of fame working for the Great Depression-era governmental art programs and had begun travelling abroad. This post continues where the last one left off, beginning by exploring the Cullens' correspondence with Sheets, Ann's later acquisitions of his works, and discussing the following chapters of Sheets' career and travels.
Mexican Evening, 1963
Millard Sheets (American, 1907 - 1989); Mexico
Watercolor on paper; 22 x 30 in.
2018.6.32
Gift of Ann Cullen
Proven Ann's
Exactly 20 of the 48 works in the Ann Cullen Collection are Sheets, four times as many as the next-best represented artist in the collection. This alone makes a discussion of how these paintings came to be in Ann's collection worthwhile. The first note is that Sheets was one of the only California Scene painters whose work was purchased by Ann and Bill together. A letter written from Millard Sheet's wife, Mary Sheets, dated July 17, 1980 evidences this as it is addressed to Bill rather than Ann. Ann's preference for Sheets paintings may to some degree be explained as predilection she shared with her late husband. We certainly see that after Bill's passing in 1990 when Ann began to expand her painting collection, Sheets was an artist whose works she selected for her own collection time and time again. Throughout the '90s, her love of Sheets' works was compounded by a friendship she formed with David Sheets, one of Millard Sheets' four children and owner of the Starry-Sheets Gallery. For the most part paintings were purchased one or two at a time over the course of the '90s, but the culmination to these purchases came in 1998 with Ann's acquisition of the Muggs Van Sant Collection.
Lady of Merida, 1942-1962
Millard Sheets (American, 1907 -1989); Merida, Mexico
Watercolor on paper; 3 x 4 in.
2018.6.41
Gift of Ann Cullen
A Certain Merritt
Merritt "Muggs" Van Sant first met Millard Sheets in the late 1920s while selling insurance in Los Angeles' iconic Bradbury building—Sheets was naturally there to paint the building's wrought-iron staircase. When Van Sant saw Sheets' work he was amazed by his talent. Sheets was immensely personable and was likely taken by Van Sant's interest, and the pair immediately became friends. They spent a great deal of time together over the years. Van Sant, who had never even considering painting, became a hobbyist who would travel California and parts beyond painting alongside Sheets. Their chance meeting led to them becoming friends for life. Part of that friendship was an annual Christmas card. The Muggs Van Sant Collection acquired by Ann in 1998 was a selection of these seasonal greetings cards given to Van Sant by Sheets between 1942 and 1962. The vast majority of these paintings are portraits of young women from Mexico, Europe, Asia and the Pacific Islands. Sheets' career teaching at Scripps College left him with a significant amount of free time—one of ways he occupied this time was to serve as an arts ambassador for the U.S. State Department. The paintings in this collection were all made on location, and rare paintings by American artists in the USSR evidence Sheet's service fighting the cultural front of the Cold War. The paintings also show off the wide range of Sheets abilities as each pays at least minor homage to the fine art aesthetic of the county he was in.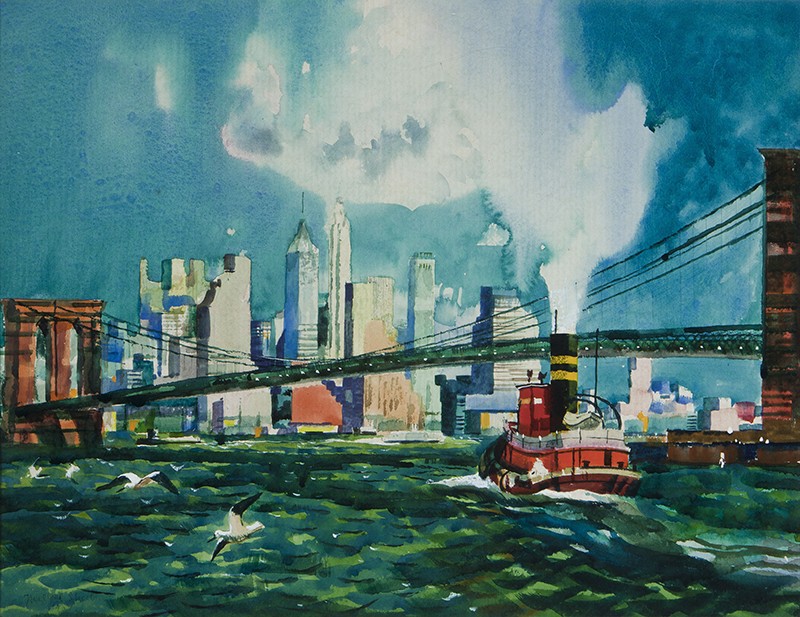 Evening View from Brooklyn, 1967
Millard Sheets (American, 1907 - 1989); Brooklyn, New York
Watercolor on paper; 16 1/2 x 22 1/2 in.
2018.6.27
Gift of Ann Cullen
States by United
Working for the U.S. Government was not the only moonlighting that afforded Sheets the opportunity to travel. Beginning in 1950, he also spent 19 years working for United Airlines. As part of an agreement with Robert Johnson, the executive vice President of United, Sheets travelled around the States painting watercolors of the airline's vacation hotspots. Each year Sheets painted 13 paintings for a December to December calendar featuring stylistically personalized paintings ranging from the waves off the coast of Hawaii to what we see in Evening View from Brooklyn: a semi-abstracted cityscape. Part of the benefit of working for United was the freedom the organization offered, both in locale and artistically. Sheets chose locations, stayed for up to a month getting a feel for whatever part of the United States he found himself in, and painted until he had something that captured the feeling of that place. The calendars were an immense success, only discontinued near the end of the 1960s by which time calendars as marketing materials had already fallen out of fashion.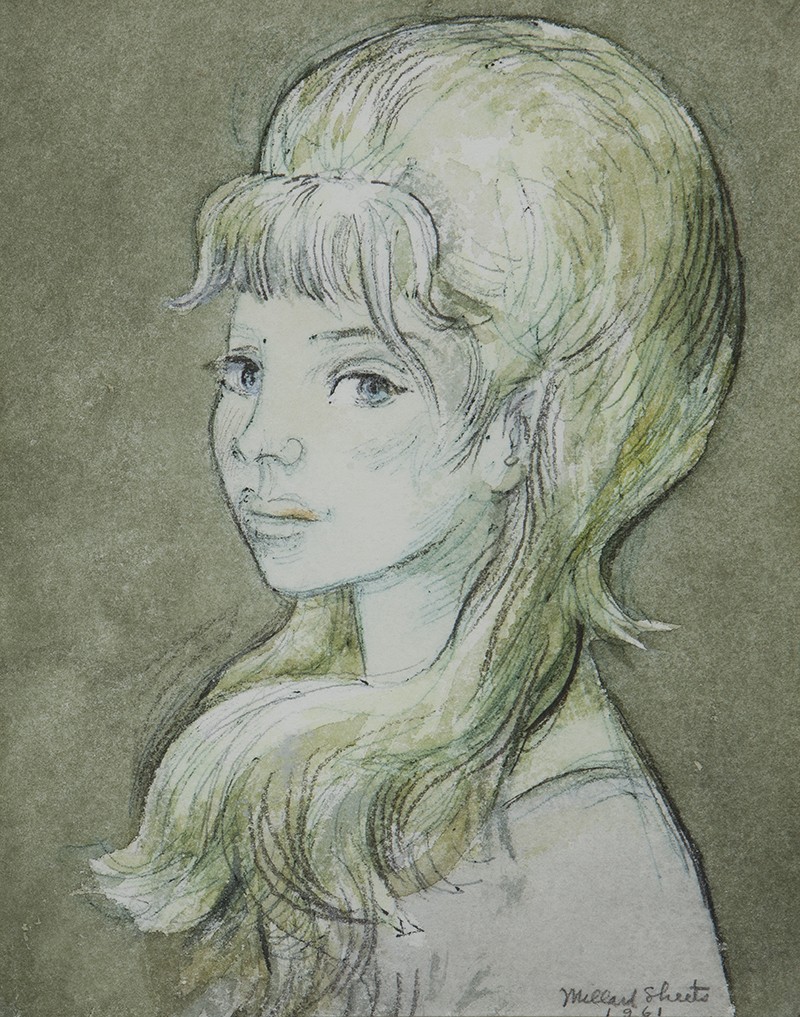 Russian Girl, 1961
Millard Sheets (American, 1907 - 1989); Russia
Watercolor and charcoal on paper; 7 x 6 in.
2018.6.42
Gift of Ann Cullen
Palls
When Sheets passed away in 1989, he was still learning and developing as an artist. He had experienced the entire history of European Fine Art and tempered it by visiting all the countries and cultures he could. For a man who was in reality so many artists combined into one wildly charming person, there could have been no greater pleasure than the life he lived.
Ann Cullen Collection photography sponsored by the Bowers California Art Council, Text and images may be under copyright. Please contact Collection Department for permission to use. References are available on request. Information subject to change upon further research.