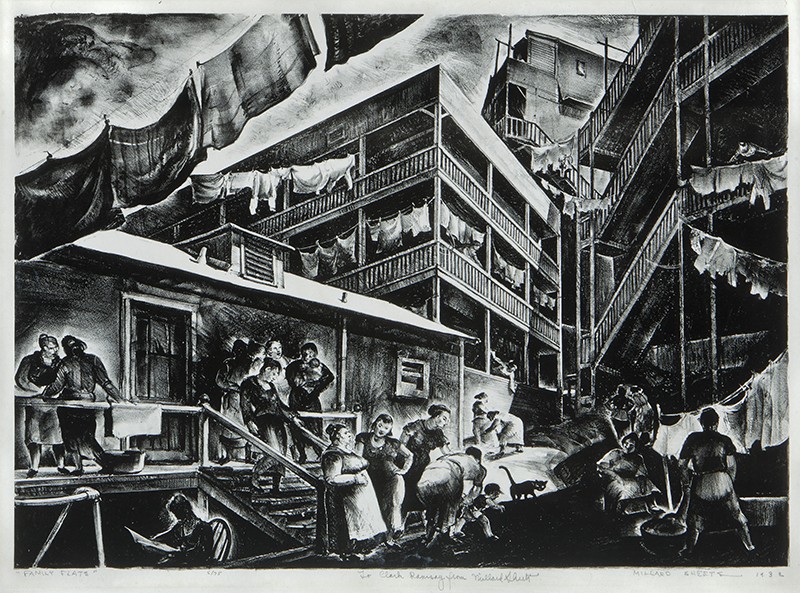 Family Flats, 1932
Millard Sheets (American, 1907 - 1989); California
Lithograph; 16 x 22 1/2 in.
2018.6.26
Gift of Ann Cullen
Three Sheets to the Blog
So far in this series we have examined the close ties between the various painters of the Ann Cullen Collection. In this post we look at the noble heart at the center of the group, the ever-charismatic Millard Sheets. More than any of his contemporaries, he is credited for popularizing the California Regionalist movement and for helping to make Los Angeles the cultural nexus it is today. But Millard Sheets was also many artists in one person. We explore this theme in this first post on Millard sheets by looking at his early life, first trip to Europe, the experimentation he did with medium, and even one of his favorite subjects.

Chouinard Art Institute in Los Angeles, 1920s.
Beginnings
Millard Sheets was born in Pomona, California, 1907. He was never a tortured artist, but his mother passing away during childbirth and subsequent abandonment by his father when presented with the prospect of raising a child alone would have allowed him to be. Millard never let the heartbreak slow him down for a minute. Maybe he even used that loss as kindling for the artistic spark within him. From the age he could hold a brush he was painting and entering his artworks into county fairs and exhibitions. It was through these events that he met many of the pivotal figures who further fanned his flame and set him on the path to becoming a professional artist. After graduating from high school, Sheets attended the Chouinard Art Institute in Los Angeles in large part due to the influence of one such mentor who taught there, Clarence Hinkle. It was here that Sheets first adopted watercolors, his primary medium throughout his life. He also met and formed bonds with Phil Dike and Phil Paradise, two of the major artists of the California Scene Painting movement, and two artists featured in the Ann Cullen Collection. Together this select group grew and inspired one another to reach greater and greater heights.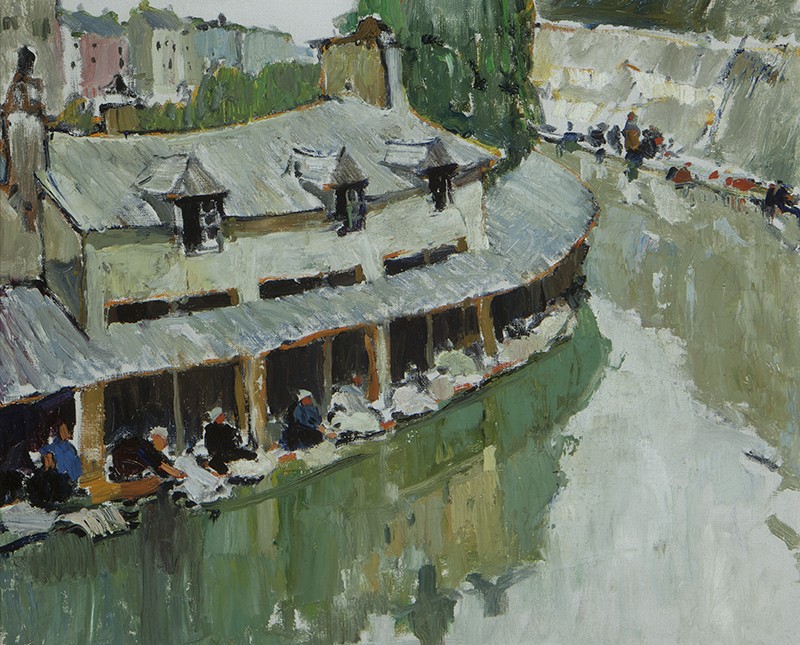 Wash House, 1929
Millard Sheets (American, 1907 - 1989); Dijon, France
Oil on canvas; 17 1/4 x 21 1/2 in.
2018.6.25
Gift of Ann Cullen
Wanderlust Wash
By the time Sheets graduated from Chouinard in 1929 he was already well on his way to fame and had formed a lucrative relationship with Dalzell Hatfield, an influential LA-based dealer. With the money Sheets made from selling paintings he had enough put together to afford an extended trip to Europe—a prerequisite for any aspiring American artist at the time. He left for France in late 1929 painting the port cities of Mexico and Panama along the way. Well before his arrival the art scene in Paris had shifted away from the Impressionism and post-Impressionism he had been exploring at Chouinard towards Modern Art, but Sheets was well-prepared. He had been taught by so many and influenced by so much throughout his upbringing that he could readily switch between styles. Wash House was painted near Dijon, France in a style that suitably falls between European Impressionism and the California Plein Air Impressionist movement he had seen when he exhibited in Laguna Beach. To illustrate his range though, during the same trip Sheets submitted a modern painting to the Salon d'Automne in Paris and had it accepted. Another interesting note about Wash House is that correspondence between Ann Cullen and Mary Sheets hints at how connected Ann was to these artists. In the next post we will explore this in more detail.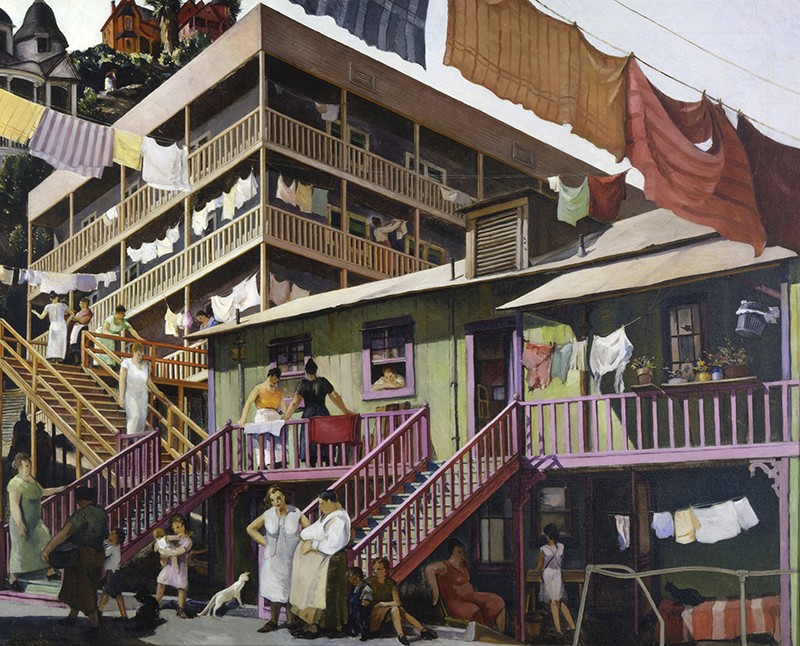 Millard Sheets, Tenement Flats, 1933-1934, oil on canvas, Smithsonian American Art Museum, Transfer from the U.S. Department of the Interior, National Park Service, 1965.18.48
Print off the Old Block
Sheets was the rare breed of master that had talent to spare for dabbling. As was the style of the time, he began his career painting in oils, and we have already mentioned that he began painting watercolors while at Chouinard. During his time in France he furthered his repertoire by studying lithography done using Bavarian lithographic stones and became a proficient printmaker. Family Flats is the curious application of the skills he learnt in France back on American soil. The print is very evidently based off of one of his most famous paintings, Tenement Flats—a fact best supported by Family Flats being an almost identical horizontal reflection of Tenement Flats. The original painting was created for the Public Works of Art Program, a precursor to the Works Projects Administration's art programs, and eventually used to advertise the effectiveness of the later program. Tenement Flats was, however, painted in 1934, while this 75-print run of Family Flats is dated to 1932. If it was the case that the painting takes after the lithograph and not the other way around it would certainly change the established narrative for this defining work.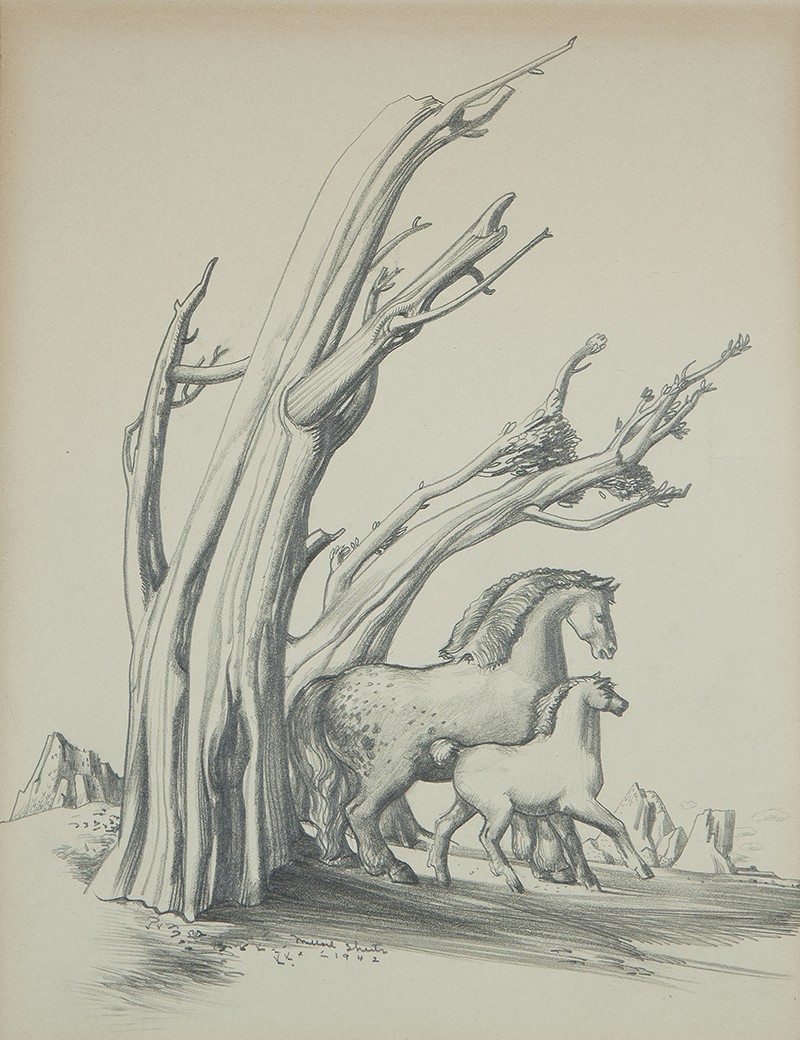 Mother & Child, 1942
Millard Sheets (American, 1907 - 1989); California
Graphite on paper
2018.6.44
Gift of Ann Cullen
All the Pretty Horses
After returning to Claremont from further travels in 1934 Sheets purchased horses, putting him in close contact with the majestic animals for the first time since his childhood. As a young farm and ranch hand, one of his earliest duties was to herd cattle from horseback, and his immense affection for the animals never since flagged. Owning horses awakened something in Sheets, and he began to include them in many of his artworks. Mother & Child is a pencil drawing that exemplifies the expressiveness we see in many of Millard Sheets' depictions of horses. The mare and foal appear to be mid-exchange, almost as if the anthropomorphized creatures really were a kid sharing a funny story he had made up with his mother. A much later Sheets watercolor in the Ann Cullen Collection shows how much he has developed as an artist, but also that his preference for horses was very much unchanged.
Ann Cullen Collection photography sponsored by the Bowers California Art Council, Text and images may be under copyright. Please contact Collection Department for permission to use. References are available on request. Information subject to change upon further research.