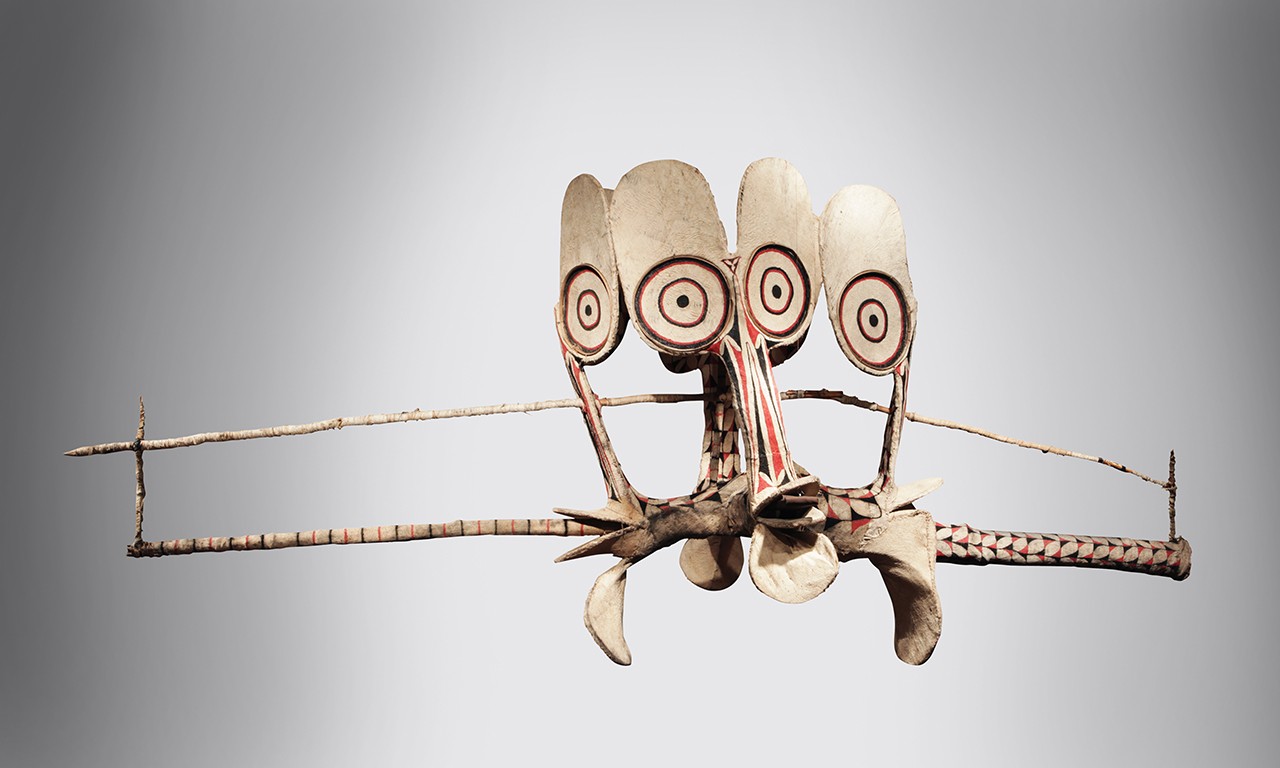 Fire Dance Mask (Vungvung), 20th Century
Baining culture; Gazelle Peninsula, New Britain, East New Britain Province, Papua New Guinea, Melanesia
Bark cloth, bamboo cane and paint; 65 x 53 x 148 1/2 in.
2007.6.1
Gift of Anne and Long Shung Shih
Sparks Like Stars in the Sky
Held at torch-point against a pressing sea of night or built as a pyre to be encircled for warmth and comfort, fire has long been our vanguard against the unknowable nocturne. The Baining culture of Papua New Guinea's East New Britain Province knew of and employed the promethean knowledge of fire long before electric lighting made its way to its villages, but their symbolic battle against the spirits of the night was also played out using large white, red and black pigmented barkcloth masks danced around bonfires. This post examines five Baining fire dance masks, looking at the culture, how and why they are made, how they are used and the significance of their forms.
Remaining Baining
The Baining are one of the two major cultural groups living on the island of New Britain. Though much regarding the culture of the Baining changed over the course of the 20th century, they were traditionally a semi-nomadic people for whom most of the day was spent farming or gathering food. Of the many subgroups that constitute the Baining, the Uramot and the Kairak living in the center of the Gazelle Peninsula were historically the only two to practice night dances with barkcloth masks, the most complex portable object that they created. In the late century Baining fire dances became a popular tourist draw to East New Britain, even serving as a stop for cruise liners.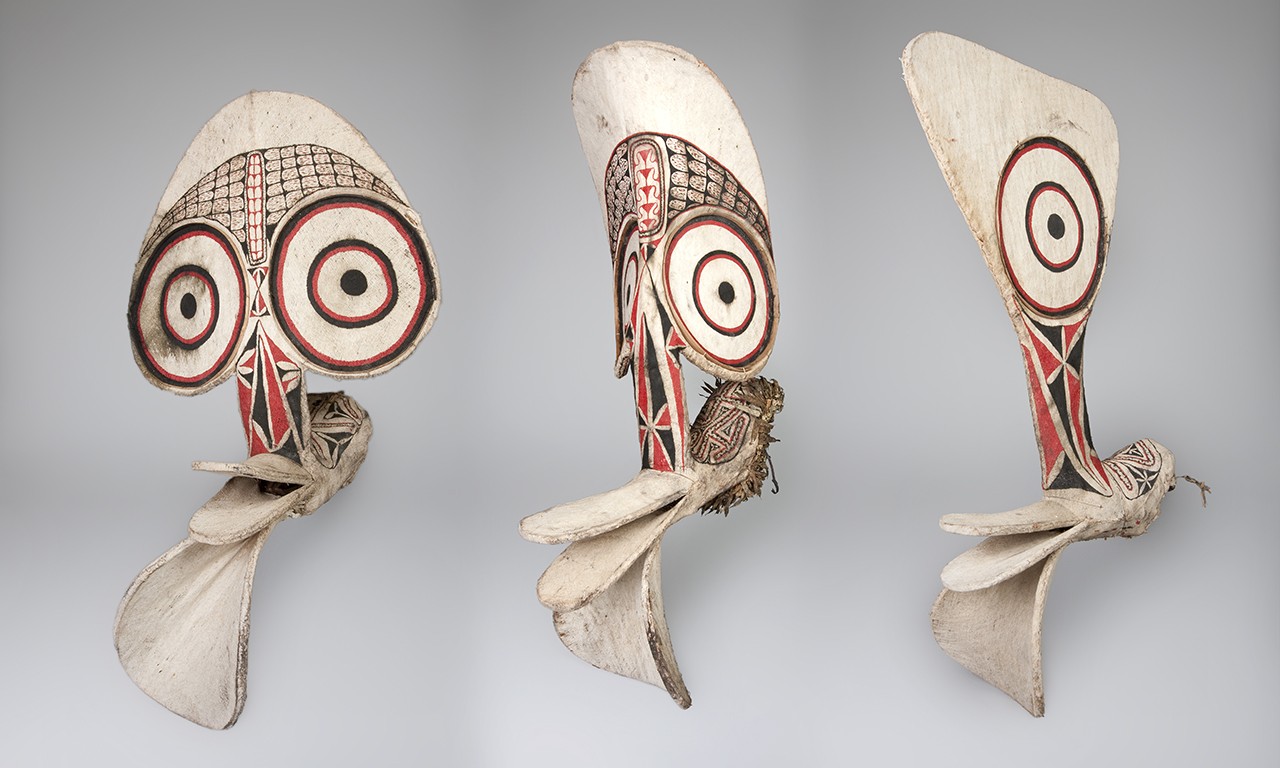 Helmet Masks (Kavat), 20th Century
Baining culture; Gazelle Peninsula, East New Britain Province, Papua New Guinea, Melanesia, Oceania
Bark cloth, bamboo cane, paint, raffia and feather; Various Dimensions
2009.1.2-.4
Collected on behalf of the Bowers Museum by the Roski-Keller-Martin Expedition
Two Masks, Many Faces
There are again two primary types of Baining night dance mask: the kavat, which is a helmet mask that measures approximately five feet in height and between one and three feet from front to back; and the vungvung, which is a gargantuan mask with at least one long, axial bamboo pole travelling its length. These latter masks measure up to six feet in height and up to thirteen feet from front to back. Although both types look cumbersome, they are relatively lightweight, in large part due to being constructed from pounded bark cloth laid out over a bamboo-cane frame. Raffia is used to lash the frame together and to attach the various components of larger masks to one another. These masks are made exclusively by men, with fire dances serving—in addition to the other functions of the ceremony—as an initiation ritual between three distinct age-initiation tiers. Children begin by creating small lingan barkcloth headdresses, young men create kavat, and only the most skilled men create vungvung. While the influx of western tourists has affected the creation of Baining masks—examples like 2018.13.43 use math homework as a liner—it is also credited with reviving a dying art.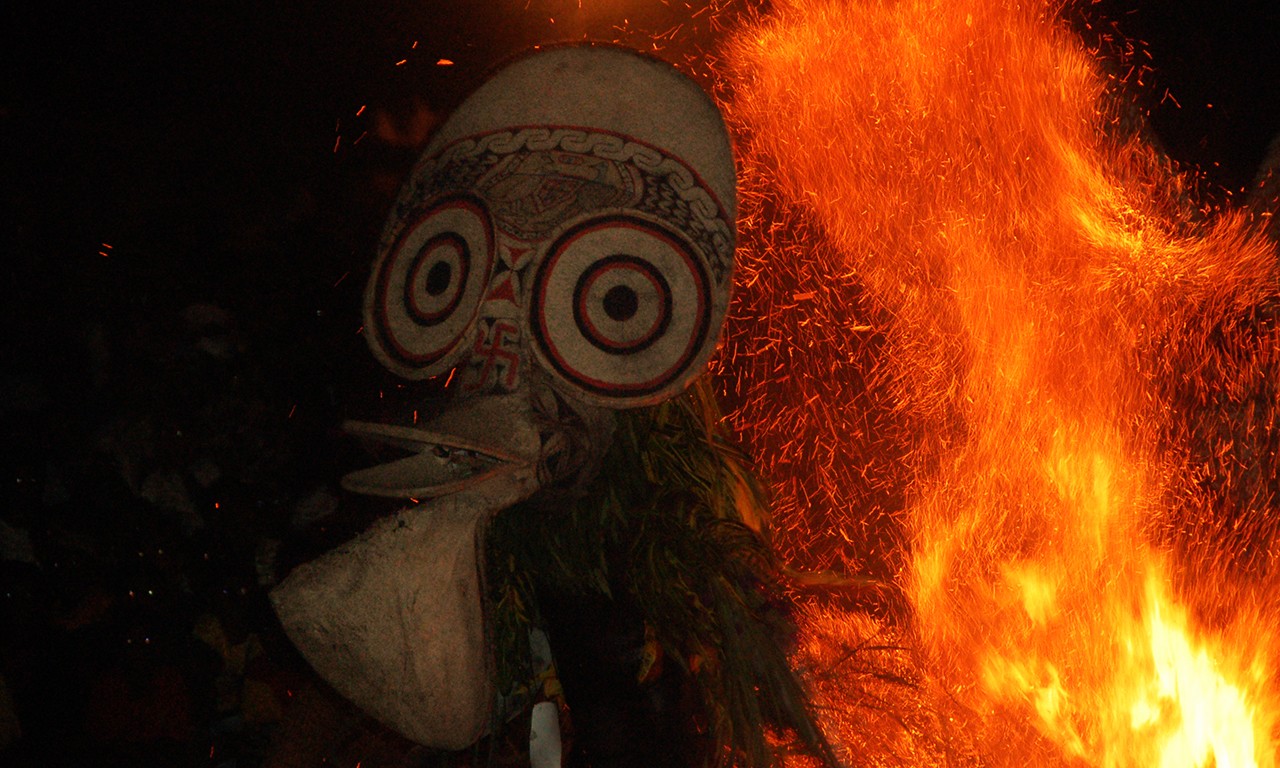 Baining fire dance taken just outside of Rabaul in the East New Britain Province by Peter Keller, July 18, 2008.
Playing with Fire
Fire dances can be carried out for many reasons, the most common of which now is for tourists. Originally a dance would celebrate a birth, mark a new harvest, remember the recently deceased or be done for initiation purposes. Such an event may feature upwards of 30 masks, each acted by men who take turns parading through a designated dance ground. An important part of the ceremony is an orchestra of men playing a variety of percussion instruments. As the tempo of the music increases over time, the two smaller varieties, the lingan and the kavat will briefly dance in or jump through a large, central bonfire. Evidence of this can be seen on the underside of many of the masks in this post which are blackened by smoke. Though the enormous vungvung are well balanced enough that they can be worn by one person, they tend to avoid the fire altogether and are instead led around by the smaller masks. Their defining feature, a large bamboo pole through their mouth, doubles as trumpets from which they can make distinctive sounds. Dances last until daybreak when members of the orchestra finally chase the masks out of the dance grounds.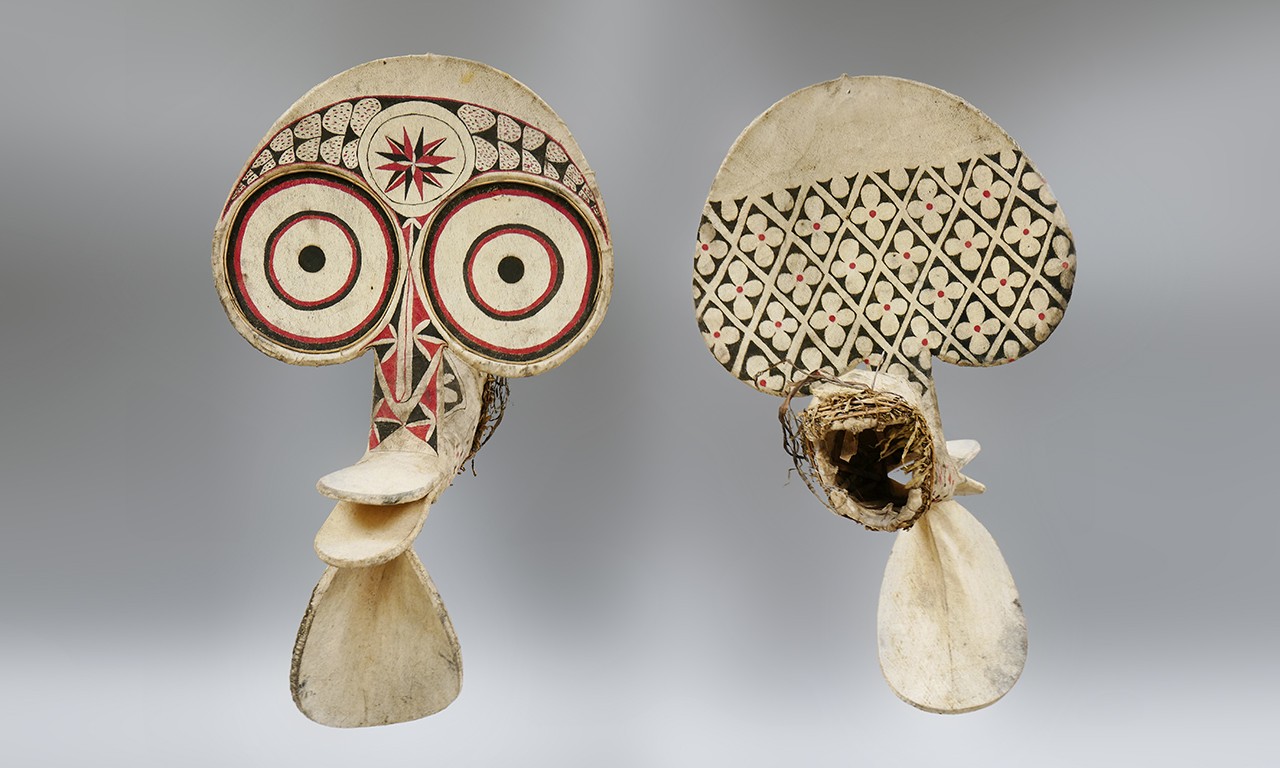 Helmet Mask (Kavat), late 20th Century
Baining culture; Gazelle Peninsula, East New Britain Province, Papua New Guinea, Melanesia
Bark cloth, bamboo cane, pigment, raffia and feather; 51 × 29 3/4 × 30 in.
2018.13.43
Gift of Anne and Long Shung Shih
Meaning in Be-leaf
The significance of both Baining fire dances and the masks in them is complex. Traditionally the masks represented male-associated animals and plants of the bush with this post's examples broadly falling into three archetypes. The most common of these is the leaf spirit—seen in three of the four kavat in this post as having an unbroken, rounded crest. These masks are animistic representations of the large leaves used to wrap meat used in initiation ceremonies. Interestingly, the tree that these leaves come from was thought to have the power to draw evil out of its surroundings. The vunvung in this post features four bilobed crests, each of which represents the spirit of a tree-fork. Trees with these forks were used in Baining architecture as supports. The final form, seen as a crest oriented parallel to the body of the mask with eyes on opposite sides, represents the shoulder bone of a pig. A complex dichotomy exists between these masks and the all-male orchestra, which respectively embody nature and man.
Text and images may be under copyright. Please contact Collection Department for permission to use. References are available on request. Information subject to change upon further research.